The state government is gearing up to clear New Town of roadside encroachments. An administrative meeting was hosted on Tuesday at Hidco Bhavan presided over by urban development minister Firhad Hakim, with Hidco and NKDA officials, the New Town police top brass, local MLA Tapash Chatterjee and Rajarhat panchayat samiti president Prabir Kar in attendance.
"It has been decided that hawkers will not be allowed to take up space on the black top of the roads. There is a Supreme Court order to this effect. Those who cannot be rehabilitated in stalls immediately will be moved to a designated zone close by," Chatterjee told The Telegraph.
In places like in front of New Town Heights, hawkers running tea stalls have laid out tables and chairs occupying much of the roadspace, officials pointed out.
The NKDA, the civic authority of New Town, has built 904 stalls for rehabilitation of hawkers over three years but they have remained unoccupied so far. According to the last census, New Town has 1,694 illegal hawkers. The stalls have come up in seven spots across New Town — an extension behind existing occupied stalls near Candor gate 1, opposite Candor gate 2, beside TCS Gitanjali Park, opposite Ecospace, further off Sukhobrishti in Action Area IIIE, in NKDA Market near the deputy commissioner's office on Street 45, and in Baliguri mouza opposite Jain Mandir in Action Area III.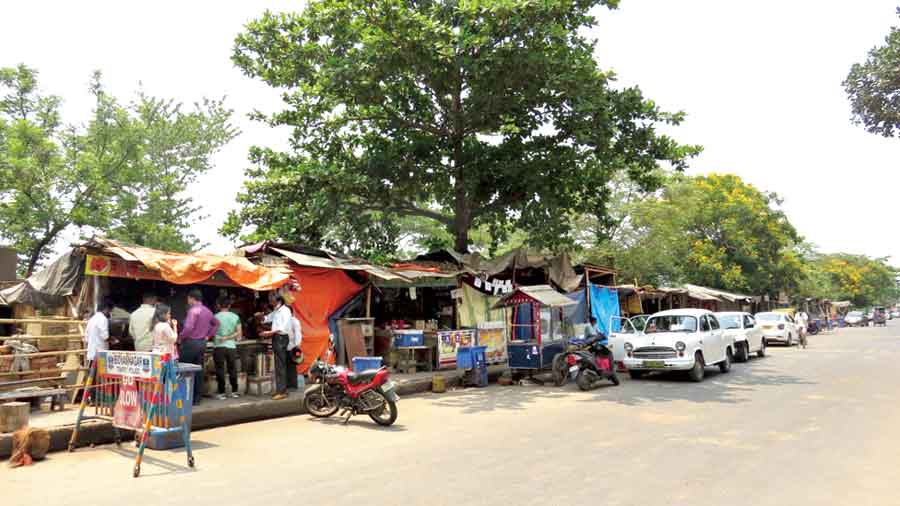 Along Professor Shonku Park behind City Centre 2.
Sudeshna Banerjee
The police will soon undertake a videographic survey to record the number of hawkers, said New Town deputy commissioner Bishop Sarkar.
Once the survey is done, a lottery will be held to rehabilitate hawkers in the stalls that have been built closest to the zone. "Those who cannot be accommodated will be moved to a designated zone in an orderly fashion. No new stalls will be allowed to mushroom outside the zone," said NKDA chairman and Hidco managing director Debashis Sen. The Silicon Valley area will be kept completely free of hawkers as dignitaries from across the country and abroad are expected to frequent the place.
According to NKDA sources, the police survey is expected to bring up a true picture of the number of people actually involved in hawking as there are cases of one person occupying multiple spots. "We think two-thirds of the total number of hawkers can be accommodated in the stalls which will be rented out against a token amount," said Sen.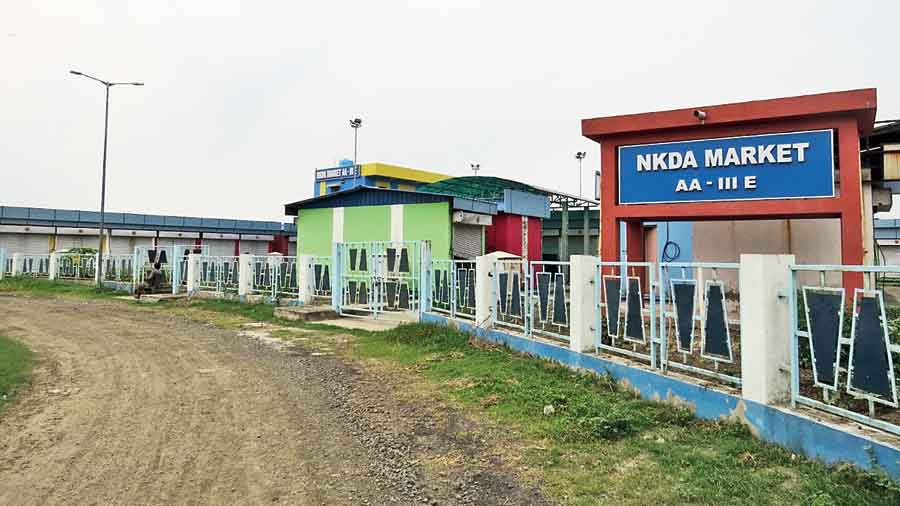 Close to 200 stalls at the NKDA Market in Action Area IIIE stands ready as a big unauthorised market does brisk business outside Sukhobrishti close by.
Sudeshna Banerjee
The NKDA had been successful in rehabilitation at the stalls near gate 1 of Candor Techspace in Action Area III. "The food stall hawkers who used to sit earlier at the gate were rehabilitated in stalls at the back of the office complex about four years ago," recalled NKDA chairman Debasish Sen. They now pay NKDA a rent of Rs 4 per sq ft, plus the electricity consumption charge. With most of the stalls being 70-75sq ft in area, the monthly rent comes to about Rs 300.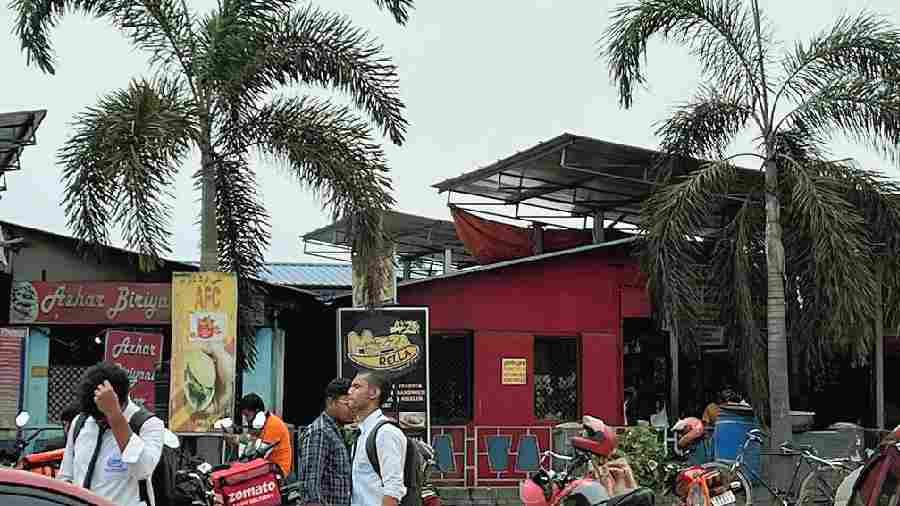 Stalls near Candor Techspace where hawkers were shifted years ago
Though the rehabilitation exercise is expected to take place simultaneously, the first spot to see action is likely to be near Ecospace as the number of hawkers there is almost the same as the number of stalls built.
Residents have been up in arms about the rising encroachment situation in New Town. So much so that the NKDA chairman was accosted at a programme on Sunday at Rabindra Tirtha organised by New Town Kolkata Care Foundation when he was about to deliver his address. A resident of Anahita housing complex complained about the presence of a large number of hawkers opposite the entrance of the complex. Sen heard her out and agreed that the encroachments were a nuisance for several reasons, including unplanned sewerage disposal by the food stalls, but also pointed to economic hardships and increased unemployment after the pandemic that has led to rise in hawking.
In order to ensure that a hawker who takes possession of a stall does not hang on to his old space on the pavement, the officials plan to take occupation first of the encroached space and only then hand over the stalls." He also urged residents not to buy from illegal hawkers. "They are hawking only because they are getting business from residents," he pointed out.