Mosquito swarms are laying siege to Salt Lake and New Town.
Several places along the VIP Road, including Lake Town, Baguiati and Teghoria, too, are facing the menace.
Evening walkers, as well as children, have stopped visiting parks and boulevards in Salt Lake.
The New Town authorities are sending out fogging teams to various localities every day.
Organisers of the two fairs that are on in the township have to continuously fog the fairgrounds to give visitors a respite from mosquitoes.
Most residents, The Telegraph spoke to on Friday, said they are having to keep windows and doors shut to prevent mosquitoes from getting inside while some said were forced to install insect screens on their doors and windows
An official of the Bidhannagar Municipal Corporation's vector control department said they were handicapped by defunct larvicide-spraying equipment and a severe shortage of larvicide.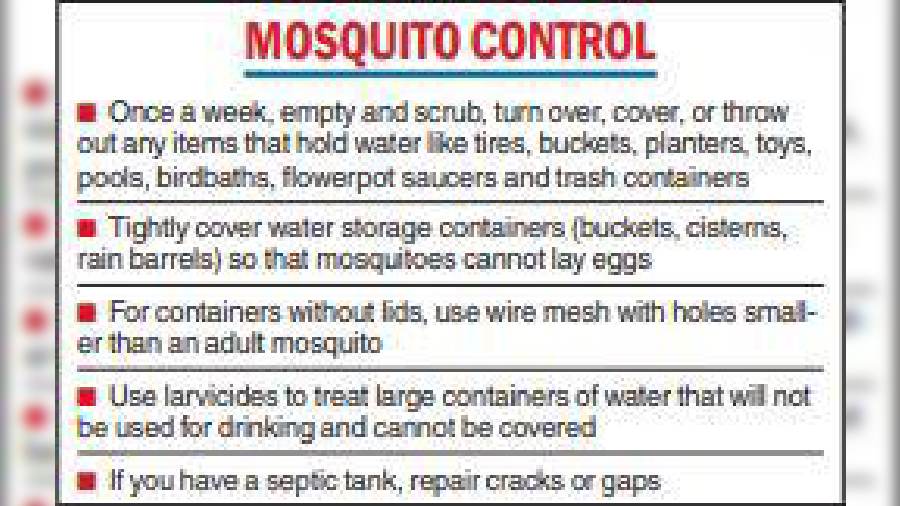 "We are running short of larvicide and fresh orders are yet to be placed. We supply larvicide to all 41 wards but have not been able to do so for the past couple of months," said the official.
Adding to the civic body's and residents' woes, stagnant water of the Kestopur canal and the Eastern Drainage Channel, which cut across Salt Lake and flow past areas off VIP Road such as Bangur Avenue, Lake Town and Baguiati, have turned into a breeding ground for mosquitoes.
Dora Sinha, a resident of BJ Block in Salt Lake's Sector II, said that she applies insect repellents on her hands, feet and neck everytime before stepping out of her house.
"Our evening walks have stopped as swarms of mosquitoes fly over our heads," said Sinha who works for a tech company.
On Friday, The Telegraph spotted several places where there were stagnant pools of water, formed by water leaking from taps and flowing off roadside eateries, in Salt Lake and Sector V.
Public health experts have warned that allowing water to accumulate can result in the formation of a mosquito breeding ground.
The Aedes aegypti mosquito, which causes dengue, can breed in a coin-sized pool of water.
An official of the New Town Kolkata Development Authority, which looks after the civic amenities of the township, said they were spraying larvicide and checking water bodies for potential mosquito breeding grounds.