Road repairs ahead of Durga Puja may have covered the potholes on many roads of Kolkata, but have made the roads more undulating and bumpy. Many roads in Kolkata have bumpy surfaces.
The condition was made worse by the hurriedly done patchwork ahead of Durga Puja. New portions on these roads that were even before the patchwork have now become undulating and bumpy, said many Kolkatans.
Shyama Prasad Mukherjee Road, Rashbehari Avenue, Park Street, Chittaranjan Avenue or Southern Avenue are only a few of the roads with such bumpy surface.
An official of the Kolkata Municipal Corporation (KMC) admitted that last minute repairs did not leave any scope to do anything more than just cover a pothole or a broken stretch by laying a coat of bitumen over the battered portion. As a natural consequence, the stretch on which the bitumen was poured becomes elevated than the road portion around it.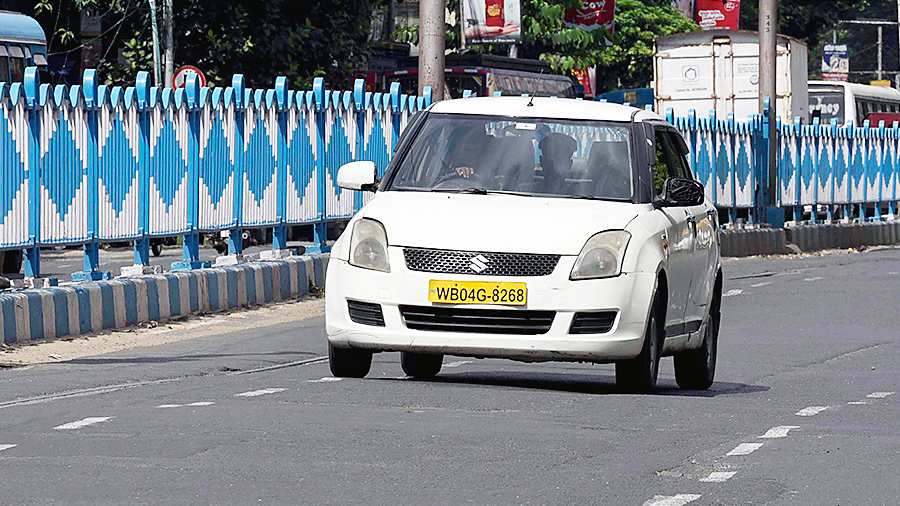 SP Mukherjee Road on Tuesday.
Sanat Kr Sinha
The uneven roads compromise with the riding comfort of passengers; increases journey time; adds tailpipe emission in the ambient air and leads to wear and tear of vehicles. "They can also lead the driver to lose control of the vehicle," said Partha Pratim Biswas, professor and head of construction engineering at Jadavpur University.
"If the depth and the elevation of an undulating road is very high, the driver can lose control if the speed is not slowed down. Such roads are also safety concerns," he added. Biswas said that there is a speed meant for all roads based on the design of the road. Such bumpy roads do not allow a vehicle to travel at the designed speed.
A Kolkatan said that he has to hold the steering tightly on such bumpy surfaces even while driving at 40km/hr to avoid the car swerving to the left or right. Frequent repairs of underground utilities necessitate frequent cutting of roads, sometimes within months after a road undergoes a through repair, said a KMC official. Such frequent cutting of roads leads to ruptures on the surface.
On roads with heavy traffic, the broken stretch has to be covered within a few days, a deadline that does not allow a good repair, said the official.
Avijit Mukherjee, the mayoral council member in charge of KMC's roads department, admitted that urgent repairs lead to formation of new undulating stretches on a road. "We have now begun to make the road surfaces even. We have already done so on 40km length of city's roads and will remove the undulations from another 115km length of roads by March," Mukherjee said.
An official said some of the roads where they have removed the undulations include Sovabazar Street, Surya Sen Street, Ritchie Road, Elgin Road and Ruby-Rashbehari Avenue connector.
Anjan Ukil, an architect who has to travel frequently to other Indian cities, said such bumpy roads was a unique feature of Kolkata. "I understand Kolkata's soil is soft and the city receives good volume of rain, but so does Mumbai. I have noticed that Mumbai has started to build paver block roads in many places. It is time that Kolkata also starts to think about paver block roads," he said.
Agartala-Kolkata train rescheduled
The departure time of the Agartala–Kolkata (Chitpore) inaugural special train rescheduled train has been revised.
The train will leave Agartala at 8.45am on Thursday instead of 9.25am, an official of the Eastern Railway said. The booking of tickets for the Kolkata-Agartala special train is now available.
Concessional booking and Tatkal quota tickets will not be available for these trains. The train will stop at Bandel, Nabadwip, Katwa, Azimganj, Jangipur Road and Malda Town stations.