A man in South 24-Parganas' Champahati used to cycle 30km to Thakurpukur for the past few months before taking a bus to the heart of Kolkata for his daily income. 
On Monday, he boarded a train to Sealdah from Champahati station. The train was so crowded that he barely got a place to stand. But the man was not complaining. 
On the first working day after the resumption of local trains, hundreds of thousands of people from suburbs crammed into suburban trains headed for Howrah and Sealdah in the morning and went back home in the evening. 
On paper, the state government has allowed resumption of local trains with 50 per cent seating capacity. In reality, there was no place to stand on many trains. 
Around 9.35am on Monday, minutes after the Sealdah-bound Gede Local pulled into Bidhannagar station, all that was visible was a sea of heads. Social distancing had vanished. 
An hour earlier, the arrival of a Bongaon local had led to a similar rush at Barasat station. 
A compartment of a Howrah-bound train from Burdwan did not have a single vacant seat. The number of people who stood far outnumbered those seated. 
Railway officials said with the formal resumption of trains, crowd control was virtually impossible. "We can only try to enforce the mask mandate at bigger stations. Apart from that there is very little that we can do," said an official in the Sealdah division.
At Howrah and Sealdah, RPF personnel tried to enforce the mask mandate. There were some prosecutions as well. But in most other stations, masks and other pandemic protocol went for a toss. 
The spokesperson for Eastern Railway said: "We ran the full fleet of trains in Sealdah and Howrah. We have also fined around 300 people at the two stations for not wearing masks."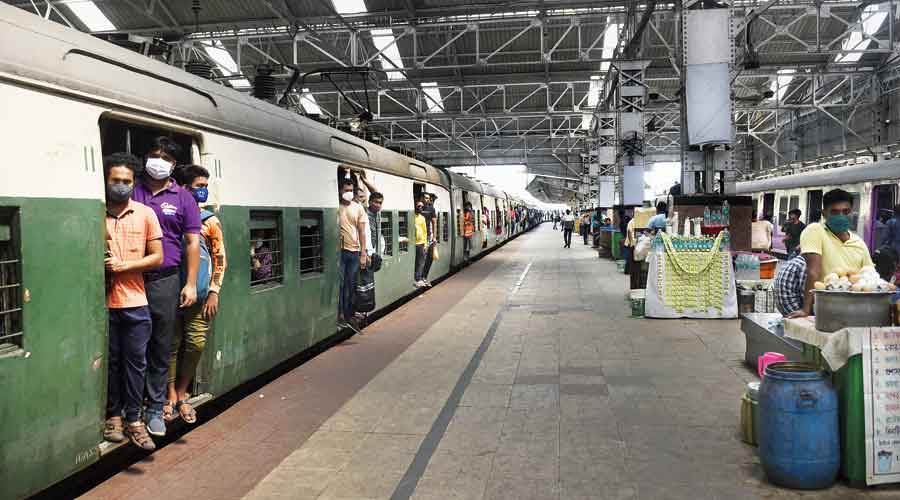 A crowded train at Sealdah station on Monday morning.
Bishwarup Dutta
The overcrowding on trains and in stations triggered fears of a spike in Covid numbers. But for countless daily passengers, the choice between lives and livelihood was very difficult.
Ansar Ali Laskar, a daily wage earner, lives in Chakberia Tematha, around 4km from Champahati station in the Canning-Sealdah route. On Monday, he reached Champahati station to catch a Sealdah-bound train around 7.30am. It was so crowded that he had to "wrestle for an inch of space to stand".
"I am the bread winner in my family. I have not received the second vaccine dose yet. I know I am vulnerable. But being without income is worse and trains are imperative for a steady income," he said.
Laskar could not find a place on the staff special trains that the railways had been running till now because he was not an essential service provider.
On most of the days, he used to cycle 30km from home to Thakurpukur. He kept his cycle at a shop and hopped on to a bus to central Kolkata or Ballygunge station. But the journey took a lot of time and his "work hours" were affected. Taking an auto instead of a cycle would cost him much more.
The resumption of local trains pushed up the Metro Railway passenger count to 3.21 lakh on Monday. The daily average count had been hovering well under 3 lakh every day.