Kolkata's longtime tryst with mishti is in the limelight yet again as Jugal's, a chain of sweetmeat shops in the city, has decided to organise a literature festival on Bengali sweets from December 9 to December 11.
Lahana Ghosh, granddaughter of the founder of Jugal's, on May 31 announced this at Glenburn Penthouse in presence of the who's who of the city. 
The festival is the brainchild of Ghosh, who decided to give up her cushy job in Vancouver, Canada, to return to her roots in Kolkata. 
"The story of mishti is as old as that of Kolkata. Mishti has been an essential component of Bengal's folklore and creative arts," she said.
Actors Prosenjit Chatterjee, Moon Moon Sen, Raima Sen, Saswata Chatterjee, Sujoy Prasad Chatterjee and Ekavali Khanna; film directors Arindam Sil and Anik Dutta; and songwriter-singer Anupam Ray were present on the occasion.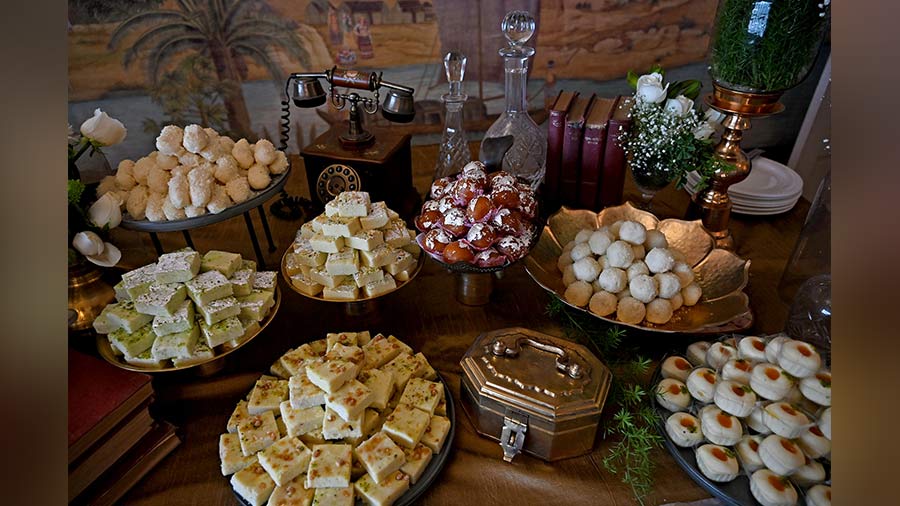 The table laid out by Jugal's at Glenburn Penthouse
Amit Datta/My Kolkata
Shaun Kenworthy, celebrity chef; Madhu Neotia, chair, Neotia Arts Trust; Acharapan Yavaprapas, consul general, Thailand; Nutt Svasti-Salee, consul, Thailand; and Debanjan Chakrabarti, director, British Council, also attended the event.
A table was laid out at the venue with different varieties of sweets curated by Jugal's. 
The first-ever literature festival on mishti is expected to attract writers, historians, food aficionados, actors, directors from home and abroad. 
It will be held across 10 venues and showcase some of Kolkata's iconic addresses, including traditional homes and art galleries. 
"The venues will have the world's longest tables of mishti with over 60 varieties spread out — it'll definitely be a world record of sorts," said Ghosh.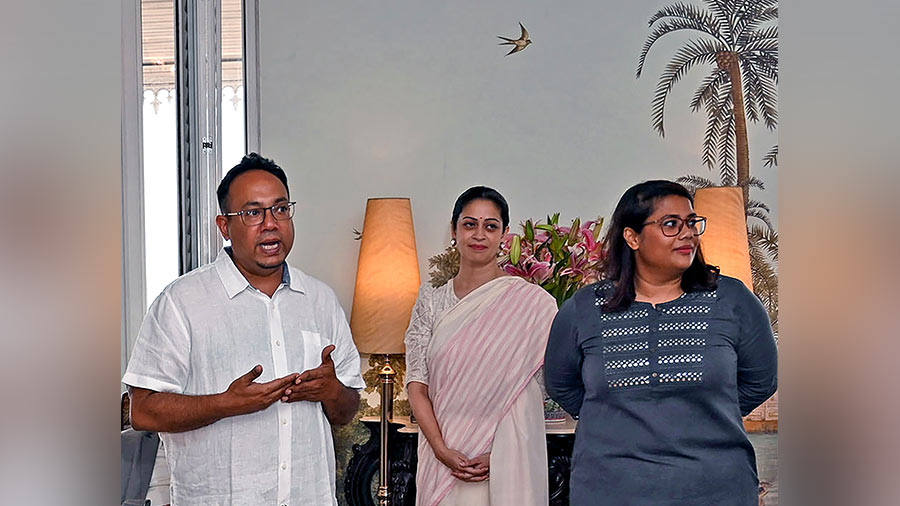 Kounteya Sinha, Oiendrila Ray Kapur and Lahana Ghosh (L-R) briefing the guests and the press
Amit Datta/My Kolkata
"I'm sure that the festival will promote the richness of Bengali culture and its sweets. As a Bengali and mishti-lover, I look forward to the festival," said Prosenjit Chatterjee, who often likes to indulge in mishti doi and mihidana. 
"Culinary literature is part of our history. Each of the varieties laid out here has its own story. I think the literature fest is going to be an important step forward towards the promotion of Bengal's rich heritage," said Sujoy Prasad Chatterjee. 
"Bengalis live on literature and sweets. Food has always played a big role in Bengali literature and cinema. We have seen it in Ray's Goopy-Bagha series," said Anik Dutta, the director of 'Aparajito', a movie tribute to Satyajit Ray. 
Congratulating the organisers, Arindam Sil said, "A festival like this will definitely hold a lot of significance for Bengali culture."
Mother-daughter duo Moon Moon Sen and Raima Sen were also present at the press conference. "Mishti is a very important element in our Bengali household. This festival will touch the right chords of the Bengali sentiment towards mishti," said Raima Sen.
Husna Tara Prakash, second from right, flanked by Shaun Kenworthy and Sujoy Prosad Chatterjee
From Sujoy Prosad Chatterjee's Facebook account
Adding to this, Moon Moon Sen said, "Outside Bengal, people enjoy our sweets but don't know what interesting stories they have relating to the history and names. This festival will take those stories out."
Festival director Kounteya Sinha and creative director Oiendrila Ray Kapur also addressed the press briefing. 
Jugal Kishore Ghosh started Jugal's way back in 1923. The literature festival will be the Ghosh family's gift to the city of joy as part of its centenary celebrations.