The rowing clubs at Rabindra Sarobar have agreed to police's proposal to start specialised training and capsize drill for the members but have raised doubt about the efficacy of having a water ambulance.
In a meeting at the Kolkata police headquarters at Lalbazar, some club officials said if a rescue boat was there, the water ambulance would be redundant. But they said they would comply with whatever rules the police would finalise.
The final standard operating procedure (SOP) to be followed by the clubs to resume rowing in the lake is likely to be issued on Tuesday.
"We have raised two points for clarification. First was the use of a diesel boat as a rescue boat and the second was the need for a water ambulance if the rescue boat is in place," said an official of one of the clubs who attended Monday's meeting at Lalbazar.
The official said Kolkata police officers present at the meeting have promised to "take up the matter of diesel boats with the authorities concerned".
The police had shared the draft of an 11-point SOP with the clubs and sought their feedback, based on which the final list of dos and don'ts will be issued before rowing is allowed to be resumed at Rabindra Sarobar.
Another club official said their primary concern was the financial aspect behind deployment of a water ambulance.
"We charge only Re 1 as student membership. For 100 per cent execution of all points which have been mentioned in the SOP, we will have to spend a considerable amount of money. So, we raised the financial feasibility of a water ambulance," the official said.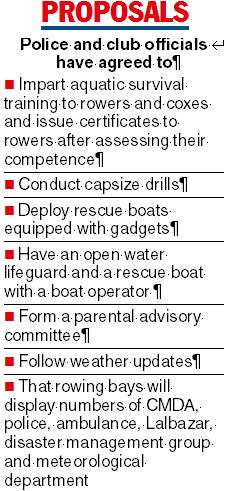 Mayor Firhad Hakim, who is also chairperson of the Kolkata Metropolitan Development Authority (KMDA), the custodian of Rabindra Sarobar, had said earlier that the organisation would approach the National Green Tribunal to allow the use of diesel-powered speed boats for emergency rescue operations at the lake.
The NGT had earlier banned the use of such speed boats at Rabindra Sarobar to protect its environment.
According to the proposed SOP, the rowing clubs have to include aquatic survival training and capsize drill in their routine and issue certificates to those who complete such training so that a rower's competence can be assessed.
One of the proposals made by the police is: "Trainees should get a swim and survive/fit certificate after successfully completing the training and then only rowing clubs should allow the trainees for rowing practice/events. It is advised that rowing clubs should also organise such minimum competency tests of the trainees even if they have to swim and survival fit certificates so that these clubs are certain about the competency of the trainees/ rowers. The trainees/rowers must be able to swim in light clothing... to swim under water, to stay under water..."
The police have also recommended the use of buoyant boats which would float even if they are submerged or overturned in water.