The city's first multi-tier underpass in New Town is expected to open for traffic as well as pedestrians in the coming few weeks.
According to a senior official of the New Town Kolkata Development Authority (NKDA), the subway complex will be a two-tier structure, the first-of-its-kind in the city. The higher level will be for cars and two-wheelers approaching from the Salt Lake side straight towards the Tata Medical Center side and vice-versa. Trucks, buses and heavy vehicles will continue to travel on the surface of this road as they do now. But by dividing the volume of traffic, flow will be smoothened out.A second tier is being built 8m below the first one. This will be for pedestrians. At present, pedestrians have subways to cross this junction from the Smart Street side to Rabindra Tirtha and again from the Fairfield by Marriott side to Mizoram House. The two remaining sides will be connected by this project.So the lower level of this vehicular underpass will have pedestrian subways from the Smart Street side to the Fairfield by Marriott side and another one from Rabindra Tirtha to the Mizoram House side. The stretches will be equipped with escalators on all ends.
Bridge over Kestopur canal
The 1.5km-long four-lane flyover that is coming up near Balaka Abasan in New Town's Action Area I is expected to be completed by end of this year. This flyover will create an alternative route to New Town from Salt Lake and Sector V.The four-lane flyover is being constructed across the Kestopur canal (Salt Lake) and will connect New Town with the Ring Road behind Sector V. The Ring Road circles the water bodies in front of Godrej Waterside. At present the main connector to New Town from Salt Lake is the Major Arterial Road (MAR) that has a high traffic volume throughout the day.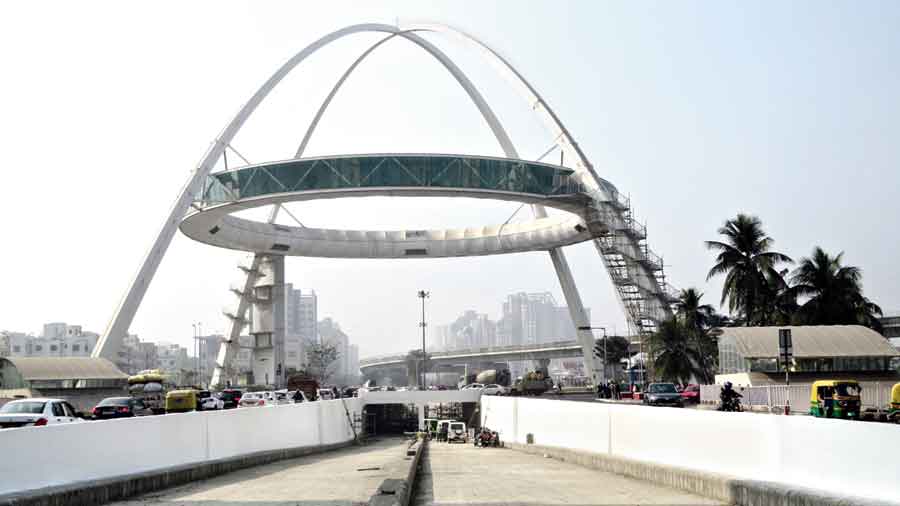 Vehicular underpass at Biswa Bangla Gate
Sensory Park
A sensory park will come up in New Town in the second half of the year. The first of its kind in the city, it will be designed to cater to children with special needs and differently abled persons. The park is located on a 2.5-acre plot in Action Area-II near Neem Banani. Internal fittings and furnishings are being done. The park will have various activities and play zones designed for children with special needs, including games for children with impaired vision where they will be able to play with the help of Braille and experiences based on smell. There will be a water arena, a sandpit and a fossil-dig area as well, along with wheelchair-friendly swings and see-saws.
The park will offer lots of activities for children with special needs, including swings that can be safely latched on to wheelchairs, see-saws with seat belts to ensure one does not fall off, signage and markings in Braille for the visually impaired…
A balloon forest will have waist-high flexible sticks with sturdy balloons attached on top. One would encounter the balloons and make one's way through them to reach the other side.
Tribal Museum
A museum showcasing tribal culture will come up in Eco Urban Village. The two-storeyed structure will be inspired by Black House in Kala Bhavana, Santiniketan.
Eco Urban Village is popular for picnic in winter but draws scanty footfall the rest of the year. The authorities blame the lack of a central attraction for this.
The proposal for the tribal museum had come from Rupchand Kundu, an artiste based in New Town. The galleries are modelled on Kalobari, painted black and with walls having a clayey texture. But they are made of cement as structures made of natural material are tough to maintain.
Coworking coliving space
This will provide living quarters to people from outside the city, especially villages. The hub, christened Smart Connect, will also have amenities like a gym, library, cafeteria and games parlour.IT firms and startups may take up workspace in Smart Connect and employees who work here will get preference for the acco modation. Smart Connect has 86 dwelling units alongside a three-floor workspace close to City Centre II.
Drainage pumping stations
Three drainage pumping stations are being built in Action Area III B, H and G. The target is to deploy them by monsoon.They will prevent water-logging in large parts of Action Area III, including Sukhobrishti, National Security Guard quarters and Arts Acre. It is Rs 65 crore project being executed by public health engineering.