A falling Covid graph encouraged many Kolkatans to step out of their homes on Republic Day, as a result of which the Maidan and malls buzzed with people and restaurants witnessed queues.
The year's first national holiday also saw many Kolkatans going out of the city for picnics. The impression that the latest Covid surge has not been as severe as the previous ones took people away from home.
Many popular spots like the zoo and the Victoria Memorial were closed as a precaution against Covid but people made the most of what remained open.
Families, young couples and friends were found enjoying the afternoon sun on the Maidan. Woolen-clad children played badminton and cricket with their parents. Many preferred to just sit on the grass and chat.
"The Maidan had a good turnout. Even on Park Street, there was a decent crowd. It may not rival the December 25 turnout but was certainly more than what was seen on the last two or three weekends," said a police officer, who was managing traffic in the Maidan-Park Street zone.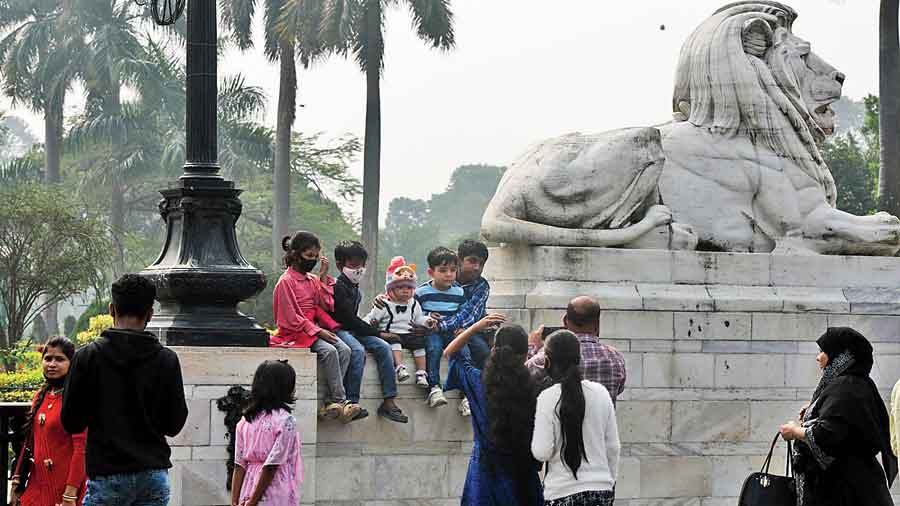 Visitors outside the Victoria Memorial on Wednesday afternoon.
Pradip Sanyal
Two restaurants on Park Street – Mocambo and Peter Cat - had queues of people who had turned up for lunch. "We have put up glass barriers in the restaurants so that people feel safe to eat. Besides, only 50 per cent capacity is allowed now. All these factors are assuring people that they can dine out," said Nitin Kothari, owner of both restaurants.
At Trincas on Park Street, almost all the tables that were open to visitors were occupied. "The occupancy on Wednesday was much better than the rest of January. Because of restrictions we are operating at 50 per cent capacity. All the tables were occupied on Wednesday afternoon. Things are slowly and gradually picking up again," said Anand Puri, an owner of Trincas.
Several people who stepped out said the experience of the last three weeks has shown that the omicron variant of the coronavirus does not cause severe disease and that gave them the courage to step out.
The malls also received a good number of visitors.
At South City Mall, the turnout was at least 50 per cent more than last Sunday. It was even better compared to the other Sundays in January.
"We had 14,500 visitors till 4pm on Wednesday. That's very good," said an official of the mall.
A visitor to Acropolis Mall said there were hardly any parking spaces left when she parked her car in the mall's parking area. "Inside, the mall was buzzing with people. I came because some brands were offering 50 per cent discount on the occasion of Republic Day," she said.
Supratim Khatua, 24, had come with his friend from Dum Dum to spend the afternoon at the Victoria Memorial and the zoo. "Both were closed. So we went back," said Supratim.
Some Kolkatans also organised get-togethers and picnics with friends and family. The owner of a picnic spot in southeast Calcutta said he had received several requests for booking.
"But I rent out the space to only one family at a time keeping in mind the Covid restrictions," he said.