New Year's Eve on Park Street was busy but nowhere as crowded as Christmas Eve.
The crowd swelled briefly as the evening progressed but unlike Christmas Eve, a majority of revellers wore masks. Those who did not were stopped by police and forced to wear one.
Cops played a proactive role, on Park Street and across the city, to ensure that people had their faces covered.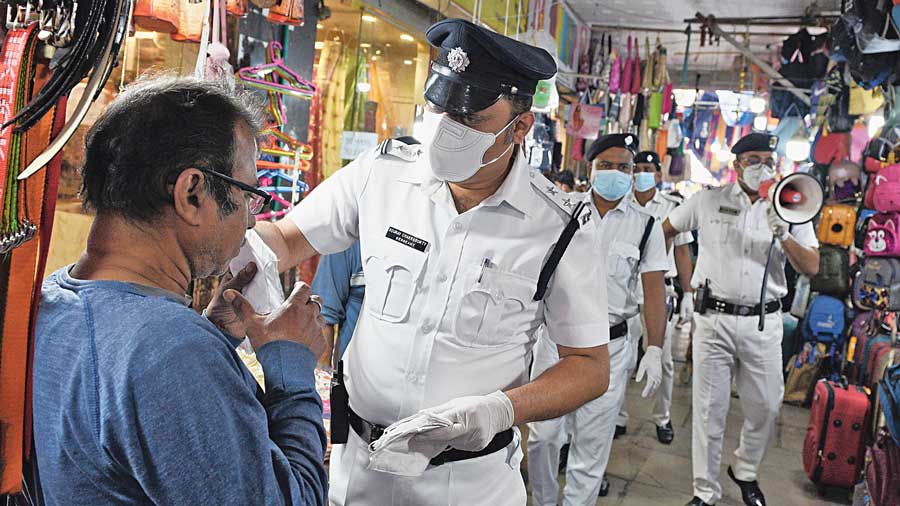 Police hand masks to people in Gariahat on Friday afternoon.
Pradip Sanyal
In all, 464 people were arrested in the city for not wearing masks in 24 hours till 8pm on Friday. Bidhannagar police arrested 439 on Friday for violating the Covid protocol.
The fear triggered by a fresh surge in Covid infections also forced last-minute changes. Many Kolkatans who had planned outdoor celebrations chose to stay indoors.
Around 7.30pm, scores of people waited behind the ropes, held at two ends by cops, at the intersection of Park Street and JL Nehru Road in the central business district.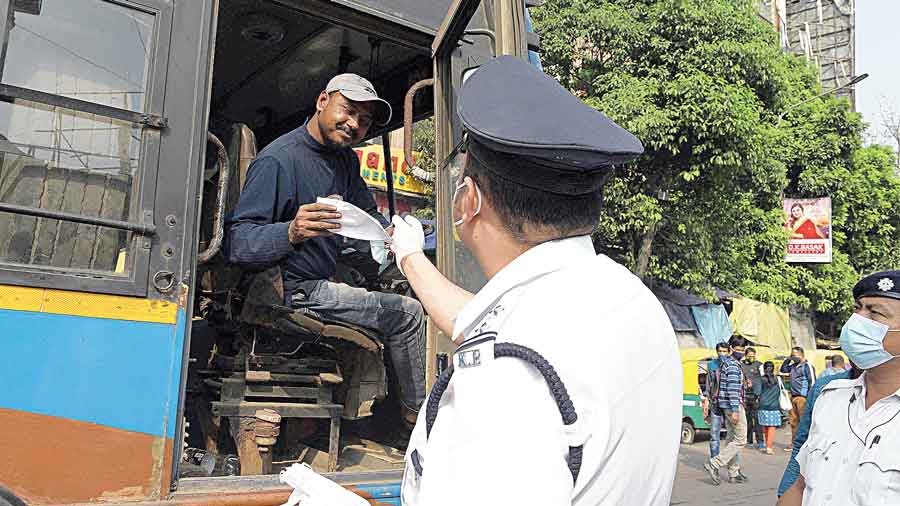 A cop gives a mask to a bus driver in Gariahat .
Pradip Sanyal
Every time the ropes were lifted, the crowd crossed the road. A similar arrangement was also visible at the intersection of Park Street and Rafi Ahmed Kidwai Road.
Guardrails were placed along the pavements, slicing off a section of the road on both sides, creating separate channels for pedestrians so the movement of vehicles was not hampered.
Cops deployed in the channels stopped pedestrians without masks. Every now and then, a group of young people got admonished by a cop for removing masks while taking pictures.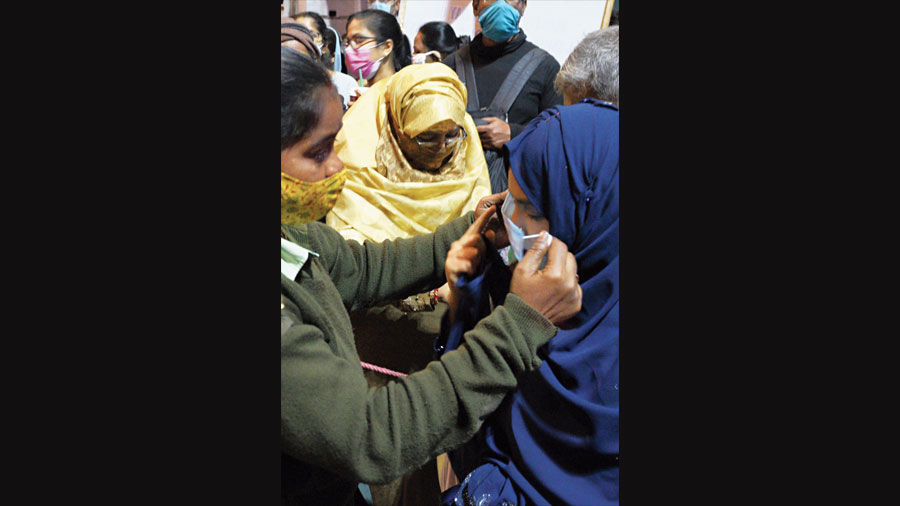 A civic volunteer hands a mask to a woman on Park Street on Friday.
Pradip Sanyal
Kolkata's new police commissioner, Vineet Goyal, visited Park Street around 8pm and inspected the arrangements. He stopped at the crossings along the road to interact with the officers posted there.
"We have adequate arrangements here. We will ensure that no untoward incident happens tonight," Goyal said.
Traffic was reasonably smooth. But occasionally, cars slowed down because the occupants wanted to click the illumination.
The Telegraph had reported how thousands — many without masks — had descended on Park Street on Christmas Eve.
Many who had masks on removed them immediately after they stepped on the road, mostly with the excuse of taking selfies.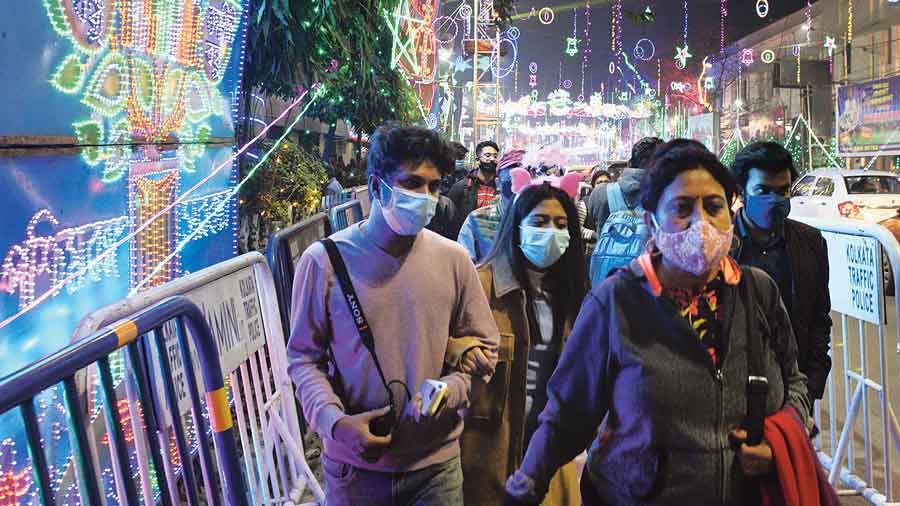 Revellers on Park Street on New Year's Eve.
Pradip Sanyal
Huge crowds of maskless people were seen at other public places on and after Christmas.
There were around 3,000 police officers on Park Street and the adjoining roads on New Year's Eve. Announcements were made on Park Street from 4pm, urging people to wear masks and maintain social distancing.
Senior officers said there was a stark contrast between Christmas Eve and New Year's Eve in terms of Covid protocol compliance by revellers on Park Street.
"The majority of the people are wearing masks today. A few who are spotted without a mask are being handed one. If anyone violates rule even after that, we will prosecute them," said an officer at the Park Street-JL Nehru Road crossing.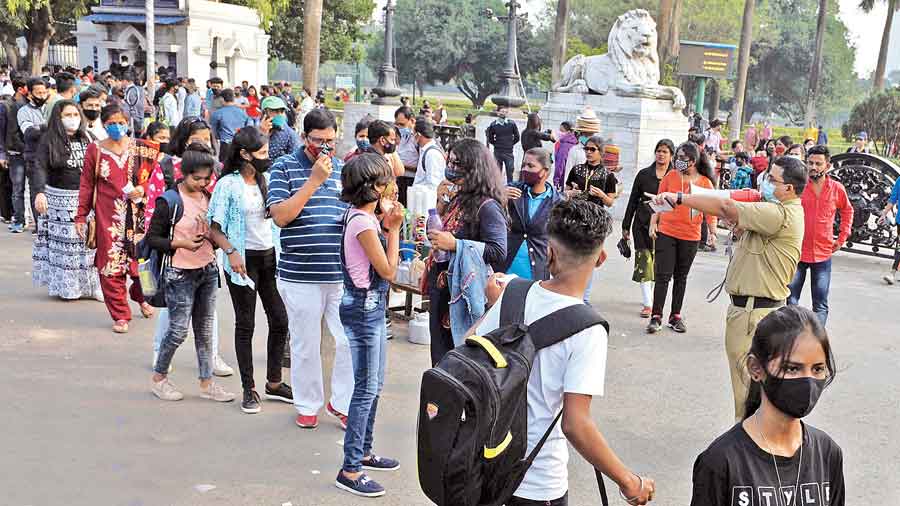 A policeman uses a loudhailer to tell visitors to Victoria Memorial to follow the Covid protocol on Friday afternoon.
Pradip Sanyal
The spiralling Covid cases seem to have stoked fear in the minds of people.
Pronab Das and wife Sanhita Guha, who are settled in Connecticut in US, had arrived in Kolkata a couple of weeks ago, their first visit to their home town in over two years. The couple were supposed to attend a New Year's Eve bash at a Salt Lake lounge.
"But we changed our minds after seeing the sharp spike in the number of cases. Both of us have elderly parents at home. We cannot take any risk," said Guha, 35, who is from Belghoria on the northern fringes of Kolkata.