Space came at a premium at malls, markets and eateries on the last Sunday before Durga Puja.
Old favourites Gariahat and New Market to glitzy malls, the shopping hubs teemed with people looking for clothes and accessories.
Sangeeta Mukherjee, Ayanita Sarkar and Bipasha Kar were on a bench on the first floor of South City Mall with several shopping bags lying sprawled in front.
"This is our third stop after Dakshinapan and Gariahat. We want to make the most of the last Sunday before Puja," said Mukherjee, who works in the human resource department of an information technology services and consulting MNC. "I have bought saris and accessories. I am looking for some formal clothes now," said Mukherjee, a resident of Shyambazar.
For Kar, also an employee of an IT services major, Puja was not the only reason to shop. She is getting married in November. "But that does not mean the Puja shopping list will get compromised," said Kar.
Mallika Sen, a Tollygunge resident, was navigating her way through the atrium with a clutch of bags in her hands. "Most of these are for my husband," said Sen, who teaches political science at a college.
Pratik Sharma, manager of the outlet of an American premium apparel brand in the mall, said "60 per cent" of people walking in bought something. "The Saturday footfall was around 1.2 lakh. Going by the trend till evening, today's count should be more," Manmohan Bagree, vice-president of South City Group, said on Sunday evening.
At Acropolis, the entire weekend saw an impressive turnout. "This week we have seen 3 per cent more footfall and sales than 2019," said K. Vijayan, general manager.
Many people from the districts contributed to the festive frenzy. Rajat Pal, a resident of Kalyani, was at Gariahat with his son. "We bought shoes and kurta pyjama," said Pal.
He did not bring his wife and three-year-old daughter because "they would not be able to walk in this rush".
Heavy police deployment kept the traffic running at the Gariahat intersection. Every time civic volunteers lifted the nylon ropes, a stream of people crossed the roads. Every now and then, an officer reprimanded a jaywalking pedestrian.
At Gariahat and New Market, there was not an inch of space on the pavements. On Lindsay Street, a woman was frantically looking for a police officer. She alleged her wallet was lifted by someone by taking advantage of the crowd.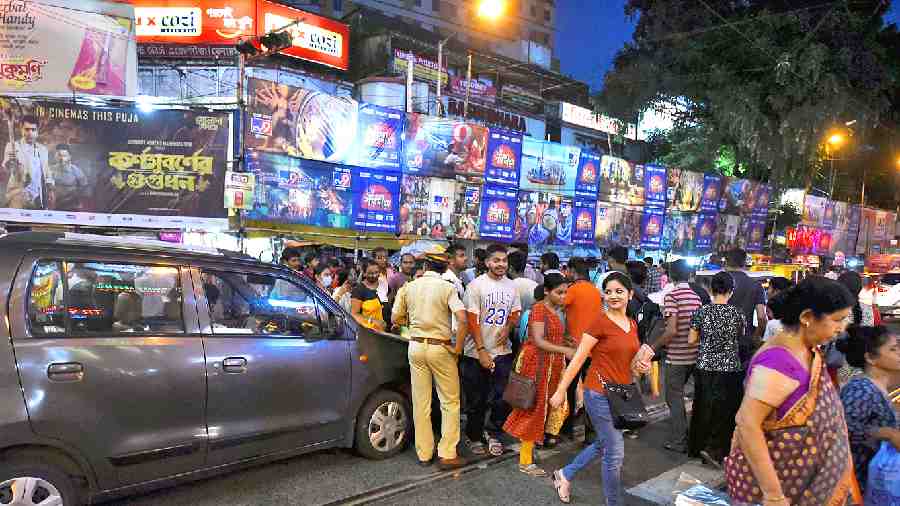 Puja shoppers at Gariahat late on Sunday evening.
Picture by Gautam Bose
Diners
Markets and malls have not been the only crowded places in the city.
Restaurants near the shopping hubs saw a never-ending queue of people. Park Street, the old favourite, was not left lagging.  A couple from Kasba went to Bar-B-Que on Park Street for lunch on Saturday.
After waiting for 40 minutes, they tried the take-away counter, only to be told of a "waiting time" there as well.
Around 2pm on Sunday, the Deshapriya Park outlet of Oudh 1590 had at least 20 people waiting outside.
"Our outlets in New Market and Hatibagan have been witnessing a rush even during the lean hours. Basically, there is no lean hour," said Kabir Azhar, director of Aminia Restaurants.