The BSS School
A fest is not just about giving students a good time. The BSS School hosted its annual inter-school fest, Interface 2022, with an aim to reach out to the marginalised children and give them some happy memories.
Going by the tagline — A Fest with a Cause — Interface, in association with its title sponsor PC Chandra and aided by NGO SHER, donated new clothes to over 200 children of Dayapur village in the Sunderbans just before the festive season. New clothes were also given to the children from the Women's Correctional Home, Alipore, and The Future Hope School.
The three-day event began with some fun sporting events such as basketball and tug of war on September 24. St James' School's basketball team and DPS, Megacity's tug-of-war boys stole the show in the boys' category. The host school girls clinched the gold in both events.
An inaugural ceremony took place on September 28. Birla High Schools director Mukta Nain was the chief guest, while entrepreneur and member of the Calcutta Debating Circle Swati Gautam was the guest of honour. The participating schools at the fest included St Lawrence High School, South Point High School, Indus Valley World School, Patha Bhavan, Pramila Memorial Advanced School, Don Bosco, Park Circus and others.
The on-stage events on September 28 included picture extempore, eastern vocal duet, radio drama and eastern dance. There were a number of off-stage events, too, such as comic writing and sketching, photography, model making and product pitching, non-fire cooking and quiz.
The next day was the grand finale with the western band, western dance performances and a fashion show turning out to be major draws. The host school was the overall winner. They passed on their trophy to Patha Bhavan, the first runners-up. The event ended with a performance by musician Anupam Roy.
"The event is important in our school calendar. We always try to shape leadership skills. But through this fest, we reach out to the marginalised children and gave them a good time as well," said principal Sunita Sen
Sushila Birla Girls' School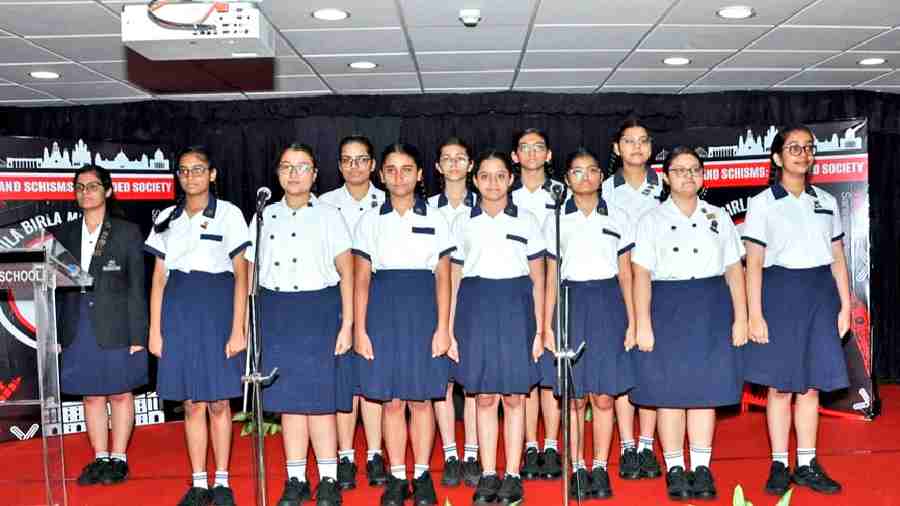 The Sushila Birla Girls' School celebrated its memorial day through a TED talk on the TED X platform on September 29. The theme was — Of Isms and Schisms: A Divided Society.
The event took place on the school premises and was streamed live on the school's Facebook page.
Students of Classes XI and XII were the audience, hearing speakers address various key issues ranging from children's return to school following the pandemic to the workplace gender divide.
The speakers were additional chief secretary (state) for Sunderbans affairs Atri Bhattacharya, entrepreneur Swati Gautam, actor Sohini Sengupta, special educator Reena Sen, journalist Kounteya Sinha and the school's director Sharmila Bose.
"This year, we invited speakers from diverse fields to inspire and encourage the young minds. The school has also initiated a TED-Ed club for the students of Classes IX and XI to give them a platform to explore, think critically and discuss ideas," said principal Koeli Dey
Calcutta Public School, Bidhan Park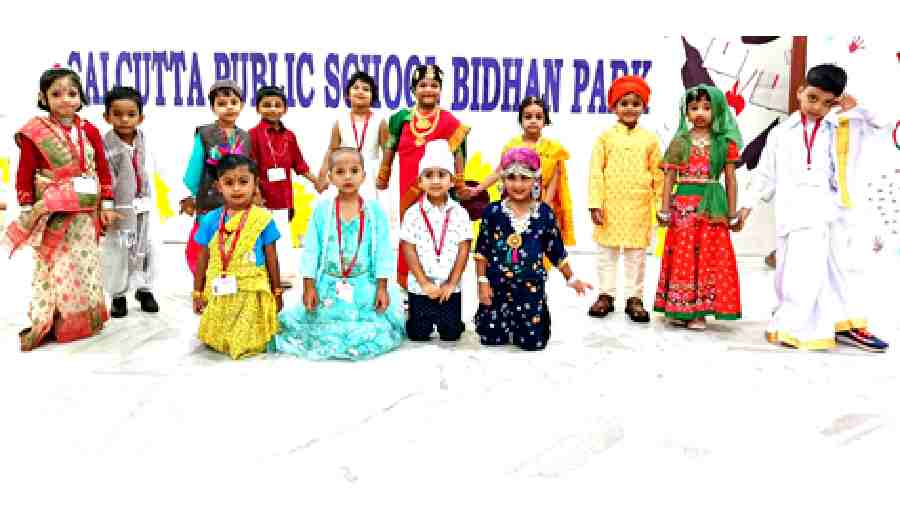 Two years of lull later, Grandparents' Day was again celebrated in style by Calcutta Public School, Bidhan Park, on the school premises on September 6.
Students of Nursery and Upper Kindergarten welcomed their grans for a day of fun-filled activities and interactions.
Children of Upper Kindergarten danced to Aye tobe sohochori and Chak dhoom dhoom. Nursery's tiny tots presented action rhymes such as Twinkle Twinkle Little Star, Clap your hands and more. UKG students also put up a fashion show.
"We have been dedicating a day to these lovely people every year. Kudos to the students for putting up such a brilliant show," said principal Protichi Lahiri Sengupta.
Birla High School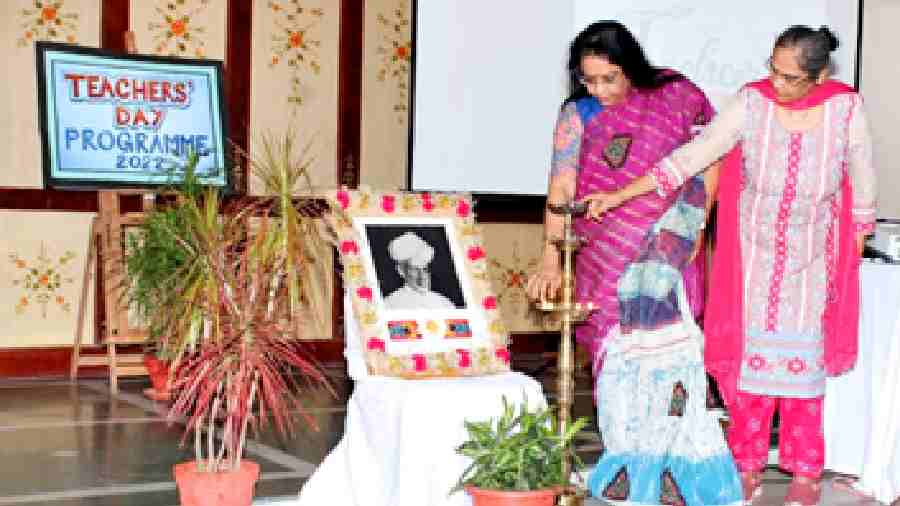 A treat was waiting for the teachers of Birla High School as they reached the school's assembly hall on September 9. The student council had organised a Teachers' Day programme in secrecy.
Principal Loveleen Singh, secretary-general of Vidya Mandir Society V.N. Chaturvedi and headmistress Farida Singh, along with the teachers and students from Class XII, were present in the audience.
The emcees of the day were Arya Sarkar and Arya Banerjee of Class X. Rajmit Banerjee of Class XI began with a solo rendition of Guru Vandana.
Students of Classes IX and X dressed in colourful kurtas, presented an eastern music performance. It was followed by an acoustic band performance. Birla High School's dance ensemble presented the final performance.
"The pandemic was an endurance test for all teachers. Teachers' Day is an important event in our school calendar," said principal Loveleen Saigal.
Asian International School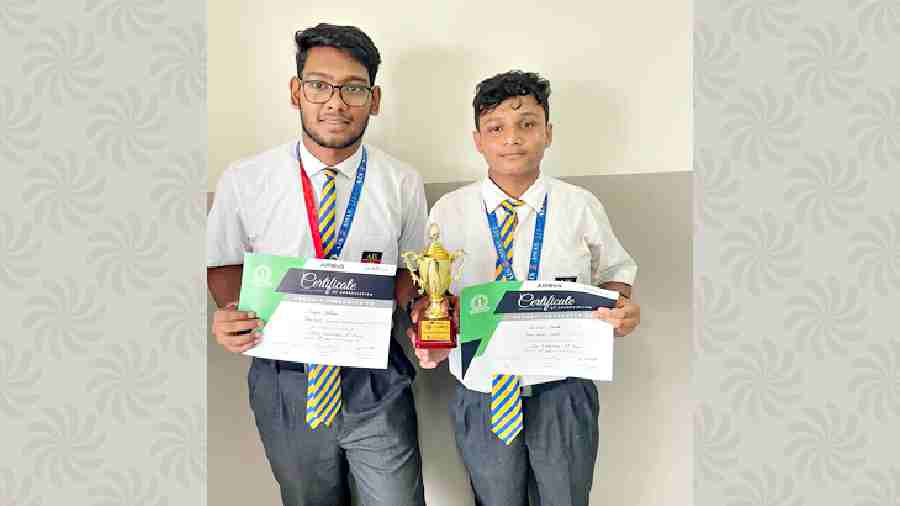 Two Class XI students of Asian International School created an AI-driven voice assistant to rank fifth in national exhibition, Airbus Pravega 2022, organised by theIndian Institute of Science, Bangalore.
Sasmit Mondal and Sayan Behera went through a series of rounds. They created a virtual voice assistant model, named "Lara Voice Assistant" and presented it at the event's grand finale on September 4.
Sasmit said: "Lara Voice Assistant works on the principle of AI and machine learning."
"Our school earned the honour of being one of the top five institutions in the exhibition held by the IISC, Bangalore. This is quite an achievement for us," said principal Vijaylaxmi Kumar.
Lakshmipat Singhania Academy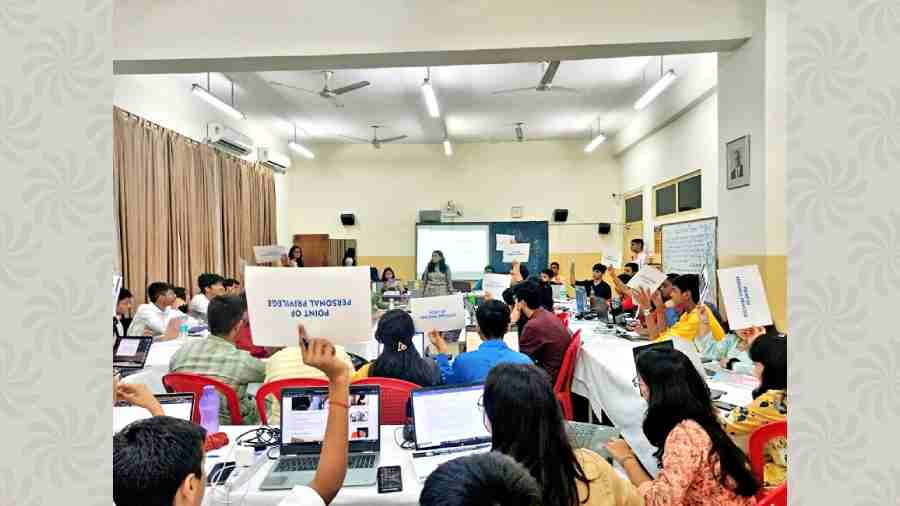 It was a war of words and ideas as nine schools battled it out at the seventh edition of Lakshmipat Singhania Academy's Model United Nations (MUN). The participants were the students from Classes VIII to XII.
The three-day event that took place from September 27 to 29 saw a series of discussions on the South China Sea conflict, resurgence of war in Europe and the recent developments in the Israel-Palestine conflict. The teams were the Association of Southeast Asian Nations, North Atlantic Treaty Organization, United Nations Security Council and the International Press Corporation. The discussions were chaired by Khushboo Gupta, Varenya Mehrotra, Harshita Saraf and Aarav Bharany of Class XII, respectively.
Chief guest Pradeep Guptoo, who is also secretary of the Calcutta Debate Circle, said: "Most of the problems in the post-pandemic world require intense debating and discussions, tempered with a sense of compromise. Without this, it will be very difficult to grapple with the world as it stands stiff on us."
After three days of debating, lobbying and documentation, the Calcutta International School won the best delegation award while St James' School received the outstanding delegation award. Other participating schools included The Heritage School, Don Bosco School, Park Circus, Mahadevi Birla World Academy, Birla High School and DPS, Newtown.
"MUN in schools allows students to develop confidence and leadership skills through experience. Children use this opportunity to practice research, public speaking, teamwork, negotiation and writing skills in a safe and structured environment," said director Meena Kak.