Narayana School, Newtown
Narayana School, Newtown, hosted the fifth edition of its annual academic exhibition Scientia for Classes III to XII on November 5.
The expo saw students displaying their exhibits on subjects such as science, mathematics, social studies and literature.
Students from Class III to XII also took part in a cultural programme. Songs such as Ae watan, Madari, Happy Diwali, Thousand Miles and Dhak baja; dance performances on songs such as Aaja nachle, Barso re, Deewani Mastani, Mohe rang do laal and Apsara Ali were part of the show. The students also played the keyboard on the occasion.
Models on volcanos, windmills, rockets, satellites and heart pumps were part of the science exhibition.
Transport and communication models and charts on the seven wonders of the world covered the social studies fair.
Students also wrote reviews and made models based on their favourite books such as Harry Potter, The Jungle Book and Alice in Wonderland.
The maths exhibition featured clocks of different shapes and designs, charts on fractions, angles and shapes.
The event included stalls selling electronic gadgets, home decor items, jewellery, food and ethnic apparel.
"Scientia 2022 is an academic exhibition where students are encouraged to think creatively and design models and posters on topics they have learnt in school and demonstrate them to the audience. After seeing the audience's positive reaction, we are confident that our think tank has already begun developing ideas for the next exhibition," said D. Sarika, cluster principal, Narayana, Bengal.
"We conducted the expo to encourage personality development, team building and leadership abilities of our students. They came up with projects on subjects, including science, art, health and communication and their efforts were recognised by several eminent personalities and visitors," said principal Venkataraman N.S.
Indus Valley World School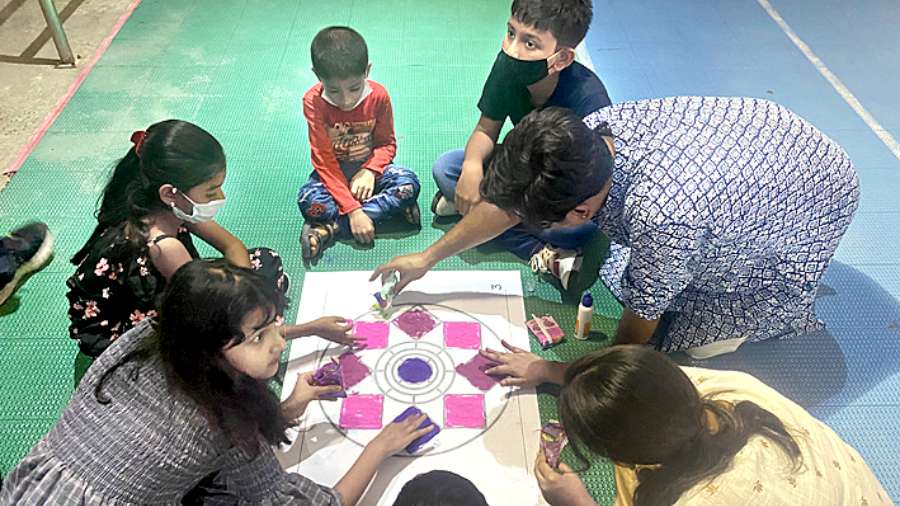 It was that time of the year when one gives and shares. Students of Class VI, student members of Interact Club as well as teachers and staff members of Indus Valley World School hosted a magical evening for 60 underprivileged children of the neighbourhood on October 20, on the occasion of Diwali.
The event was graced by Prabir Chatterjee, former governor of Rotary District 3291.
The school gates were opened for the children from the neighbourhood slums who dropped in to play and celebrate with the students. The idea was to help the schoolchildren understand the value of what they have and the importance of sharing and reaching out to those less fortunate.
The children enjoyed rangoli-making and lighting sparklers together, under the watchful eyes of parents and teachers. This was followed by a fireworks display. The evening came to an end with the distribution of refreshments to all and special gifts for all the underprivileged children.
Every child cherished the fun moments and returned home high on empathy.
"It was a huge learning experience for the children. They bonded as they took part in joint activities. Everybody celebrated the true spirit of Diwali. Even the parents, who were present, wanted more such events," said director Amita Prasad.
Heritage Academy High School, Howrah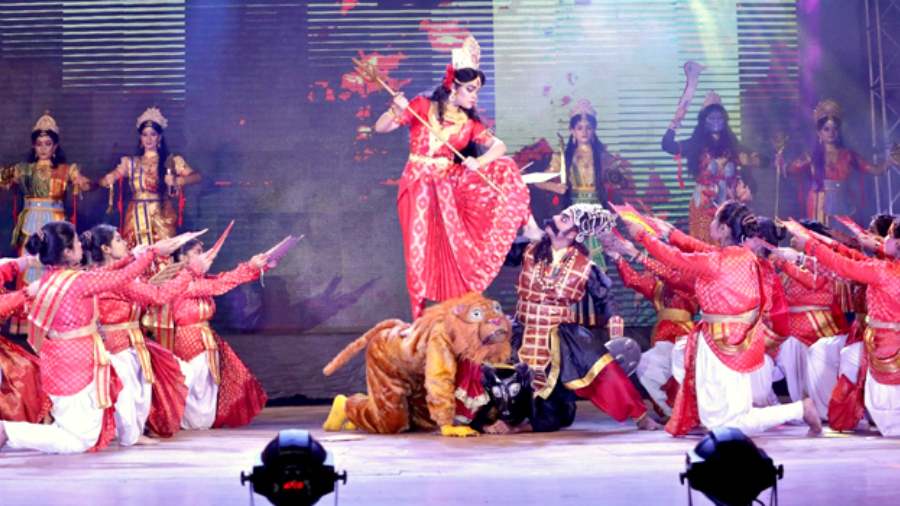 After two years of low-key celebrations, the students, teachers and staff members of Heritage Academy High School, Howrah, got together to stage a cultural programme at Sarat Sadan on September 28. Christened Essence 2022, the school's annual programme included an assortment of performances.
The programme was inaugurated by school secretary Gautam Sadhan Bose. The opening dance was about Goddess Durga overpowering Mahishasur. The tots of Play House danced to It's a Beautiful Day.
Preparatory II students presented a contemporary dance followed by a dance recital titled Udaan by Classes III and IV.
Students of Classes VIII to XII brought alive scenes of Macbeth on stage. A dance drama, Mera Desh Mera Wazood, followed as the grand finale, evoking feelings of patriotism and the feeling of unity among all present.
The programme was the result of a lot of hard work on part of both the teachers and students. After overcoming the challenges of the pandemic, it was great to see everyone happy and putting their creative shoes forward," said Bose.
St Augustine's Day School, Shyamnagar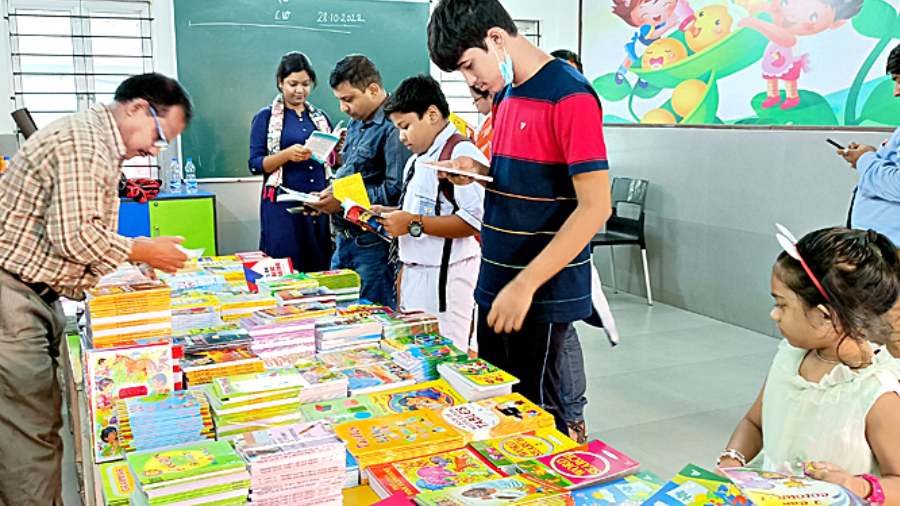 St Augustine's Day School, Shyamnagar, organised a book fair in association with Pauline Books on October 29 to encourage students to read more. The event was held from 10am to 4pm on the school premises.
The fair started with a mass at 7.30am which was officiated by Fr Michael in the school's chapel. Sister Philo, Sister Lilly and Sister Sofia from the Daughters of St Paul were the organisers from Pauline.
The event commenced with an introduction, a short prayer, followed by a speech by principal Rev. Rodney Borneo. The sisters were felicitated too. The books on display were both fiction and non-fiction. The non-fiction ones were on general knowledge, mathematics, art and craft and moral values.
"The habit of reading is one of the best traits that we can inculcate in our students. The fair had a range of books on different genres to choose from. We will have more such events in future," said the principal.
Delhi Public School, Newtown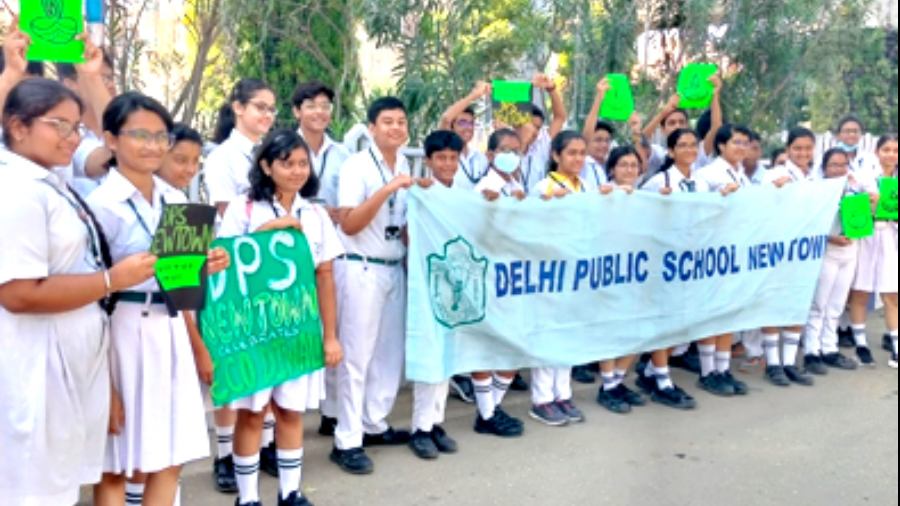 This Diwali, the Interact Club members and Class VIII students of Delhi Public School, Newtown, decided to leave their comfort zones and educate vendors in the vicinity of the school and the nearby CK Market against using plastic.
They distributed paper bags — handmade from old newspapers by themselves — to the vendors. The aim was to encourage the use of environment-friendly bags in busy marketplaces.
The students also led an anti-cracker march for a safe festival. They joined local police in a green Diwali march from Biswa Bangla gate to Axis Mall.
"In keeping with the essence of Diwali, we at Delhi Public School, Newtown, tried to celebrate and brighten up the lives of the marginalised children. We also demanded a safer festival this year," said headmistress Rahi Mukhopadhyay.
Sushila Birla Girls' School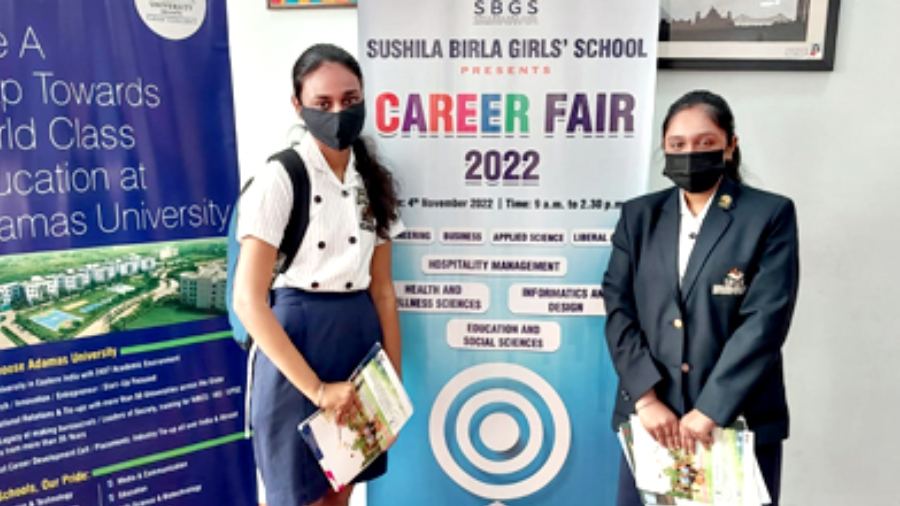 From courses on design and culinary arts to data science and social studies — a career fair held at Sushila Birla Girls'School had all that and more on November 4.
The school welcomed over 50 universities and colleges from India and around the world to set up kiosks and discuss with students of Classes XI and XII all the courses up for grabs.
The student sought information on popular courses such as engineering, business, applied science, liberal science, health and wellness science, hospitality management and educational studies.
Class XI and XII students of Birla High School, Mahadevi Birla World Academy and Shri Shikshayatan School also attended the fair.
"We wanted to give our students, and those of visiting schools, an extra edge in this competitive world. Interacting with university representatives and learning about new career options will prepare them for real challenges," said principal Koeli Dey.