A police effort to make autorickshaws take U-turns on Ultadanga Main Road through a place different from the one they had been using so far resulted in operators stopping their service on Monday morning.
Auto services being stopped during the Monday morning peak rush left office-goers battling for alternative modes of transport.
Around 7,000 autos of at least a dozen routes connecting Ultadanga to different parts of the city, including Salt Lake, Sovabazar, Baguihati, Jorabagan and Kankurgachhi, operate every day.
Several hundreds of commuters depend on autos for their daily commute around Ultadanga.
Commuters who reached the auto stand near Bidhannagar station had to either hire taxis or walk to the nearest bus stop near Hudco to reach their destinations as drivers refused passengers on Monday morning.
The impasse was resolved after several hours of deliberations with a team of senior police officers led by an assistant commissioner of police.
"The operators have agreed to use a particular gap in the median divider on Ultadanga Main Road, which is different from the one we had suggested. We will study the impact of this and meet them a week later," said a senior officer of Ultadanga traffic guard.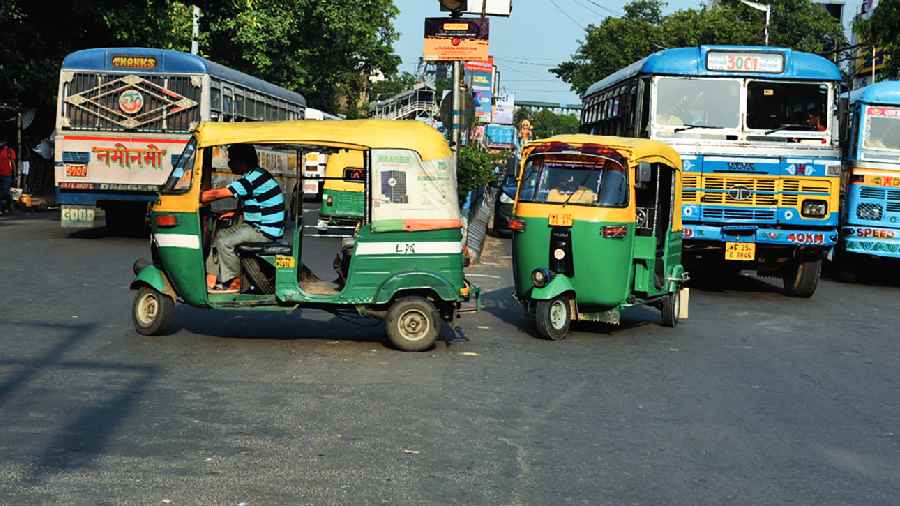 Autos take U-turns at the number 15 bus stand cut on Ultadanga Main Road on Monday.
Pradip Sanyal
The police said three-wheelers dominated most of the road space around Bidhannagar railway station, a melting pot for passengers who use the suburban network from Bongaon and Barrackpore to reach Kolkata by train.
In the existing system, autos from the Hudco-end take the Ultadanga underpass. Some distance ahead, they take U-turns through a gap in the median divider near the number 15 bus stand to reach the auto stand in Ultadanga.
"Since there isn't enough space for small vehicles and autos to take U-turns together at this spot, we felt the three-wheelers should move ahead and take a turn through the gap near Muchibazar," said a senior officer.
"We have been observing for some time how vehicles headed towards Khanna from Ultadanga were forced to move slowly after crossing the underpass because of autos."
Several auto drivers said the Muchibazar turn was a kilometre from the one they take now and taking it would mean incurring a higher cost.
"It would mean overlapping of routes since zones are earmarked. It would create unnecessary trouble among auto drivers," said auto driver Sukanta Ghosh.
"We have decided to take U-turns at a point between Muchibazar and the number 15 bus stand," Ghosh said.
The point the auto operators have chosen has a traffic signal with a right-turn indicator, like the one at Muchibazar, the police said.
"We will study the peak hour traffic now. A report will be drawn up and senior officers in Lalbazar will take a final call," said the officer.