Kolkata police on Wednesday alerted a gathering of senior citizens in Alipore against an online trap by fraudsters sending text messages saying that their power supply was going to be disconnected in the next few hours.
Police said at least four such cases had been reported in Lalbazar in the last few weeks, in addition to the cases being handled by the cyber cells of the nine police divisions.
A senior officer of the anti-bank fraud section of the detective department said elderly people were most vulnerable to such frauds.
"Please do not make any online transfer when prompted by any stranger even if they ask for only Rs 10 or Rs 11. Neither the banks nor the power utility services ask for personal banking details or send links to make any payments," said the officer at an event in Alipore attended by members of Pronam — an initiative for the welfare of elderly citizens of the city.
Several elderly Kolkatans who attended the programme arranged on the occasion of World Elder Abuse Awareness Day, said they receive such messages on their phones often.
"Both my children stay abroad. I live alone here in Parnasree. My children keep reminding me that I am not supposed to click on any link sent from an unknown number or share any personal details with anyone," said a 64-year-old resident of Parnasree.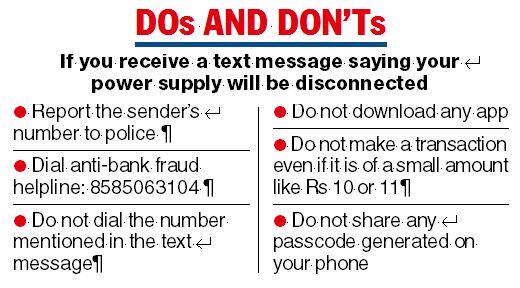 An 84-year-old man who came to the event with his wife said he had learned to make online transactions only during the pandemic. "I feel scared when I read about these things (online frauds) in the newspapers. Whenever I receive any text message that looks suspicious, I call my son (who does not live in Kolkata) and check with him," he said.
Elderly citizens were vulnerable to fraudulent phone numbers easily available on the Internet as well, cops said.
"There is a tendency to search for helplines or customer care numbers directly on Google and other search engines. Search engines can be manipulated and fraudulent numbers can be easily inserted," said an officer.
The police said several were getting duped through advertisements on social media platforms, too. "We have to identify a fake advertisement from a genuine one," the officer said.
"For example, if there is an ad that looks too good to be true, chances are it is a fraud. If you come across an advertisement of a reputable restaurant offering two plates of a delicacy at the cost of one, you should verify with the restaurant before directly making any online payment," the officer said.