Kolkata and Delhi are among top 10 cities worldwide with the largest population exposures to extreme heat and humidity, according to research findings released on Monday that have also flagged different drivers of exposure for the two cities.
The study, which measured how exposure to heat and humidity has increased over the past three decades, has estimated that population growth has contributed to 74 per cent of Delhi's increase in exposure but only 48 per cent in Kolkata (see chart below for top 6 cities worldwide).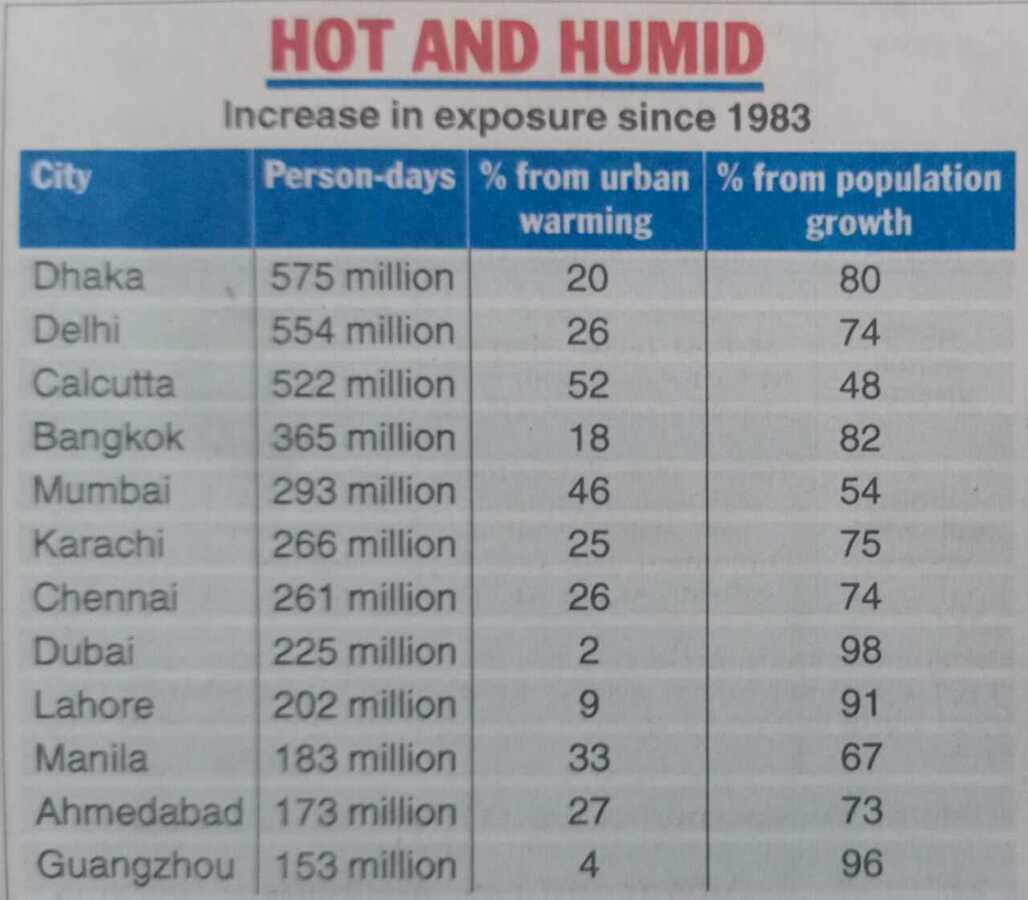 Scientists at Columbia University in the US who analysed population and temperature changes in 13,115 cities worldwide have estimated that the count of person-days during which city residents were exposed to extreme heat and humidity has nearly tripled from 40 million in 1983 to 119 million by 2016.
They defined extreme heat and humidity as any temperature above 30 degrees C on the so-called "wet bulb globe temperature" scale that combines the effects of heat and humidity on human physiology, or equivalent to what 41 degrees Celsius or higher feels.
Temperatures in urban settlements are generally higher than in rural areas because of sparse vegetation and an abudance of concrete, roads and other impermeable surfaces that tend to trap and concentrate heat, leading to a so-called urban heat island effect.
"This has broad effects — it exacerbates pre-existing health conditions, increases morbidity and mortality, impacts people's ability to work, and results in lower economic output," said Cascade Tuholske, a scientist at Columbia University's Earth Institute and the study's lead scientist.
Dhaka, the worst-hit city, has had an increase of 575 million person-days of extreme heat and humidity since 1983, but only 20 per cent of this exposure is due to warming and 80 per cent due to its population growth — from 4 million in 1983 to 22 million now.
In Delhi, too, which saw an increase of 554 million person-days, 74 per cent of this increase emerged from population growth. In other words, while Delhi has experienced warming, its population growth has been even faster.
But 52 per cent of Kolkata's increase of 522 million person-days has come from urban warming, while 48 per cent from the population growth. Other Indian cities where nearly half or more exposure has resulted from warming include Hyderabad, Kanpur and Mumbai.
The study has suggested that over 2,200 cities worldwide have an additional month of extreme heat compared with 1983. And 21 cities, including Kolkata, have added 49 additional days of extreme heat and humidity since 1983.
The study analysis has revealed a previously undocumented period of excessive extreme urban heat in Syria in the summer of 2010, around six months before a civil war between the government and opposing domestic forces.
While scientists have earlier cautioned that extreme climate could trigger conflicts, the Columbia researchers said the finding from Syria illustrated the advantage of relying on high resolution analysis of temperature changes to investigate links between climate and conflict.
The study underlines the need for locally tailored solutions and early warning systems to reduce harm from extreme heat in urban settlements, the researchers said in their study, published on Monday in the US journal, Proceedings of the National Academy of Sciences.
"This could serve as a starting point to identify ways to address local heat issues," Kristina Dahl, a researcher with the Union of Concerned Sciences, a science advocacy organisation in the US, who was not associated with the study, said in a media release.
Possible options could include planting trees or modifying rooftops with lighter colours or vegetation so that they trap less heat.