The portion of the footpath along the northern boundary of the Indian Museum in central Kolkata where waste had accumulated for several days was cleaned on Tuesday.
The Telegraph reported on Tuesday that waste was lying dumped on the pavement in the heart of the city for days, at a time when Kolkata and its suburbs are reeling from dengue infections. Proper disposal of solid waste is a key component of any drive against mosquito-borne diseases such as dengue and malaria.
What it took to clean
An official of the Kolkata Municipal Corporation (KMC) said borough and ward-level officials were informed about the pavement along Sudden Street where the waste had been lying. The nudge from senior officials immediately pressed them into action.
This newspaper saw a moving compactor vehicle parked next to where the waste was lying. Four men were sweeping the footpath and picking up the waste.
On Monday, sacks, a leather seat, bamboo poles, polythene, wooden plank and sludge scooped from a drain were lying on the footpath.
The cleaners put bleaching powder on the footpath on Tuesday to subdue the stench that was emanating from the area.
A Kolkatan said he had spotted the waste last week, too. He called it a terrible sight, more so because it was lying next to the Indian Museum, a 200-year-old institution. 
Why was it not done earlier
A KMC official blamed lack of supervision for the accumulation of waste.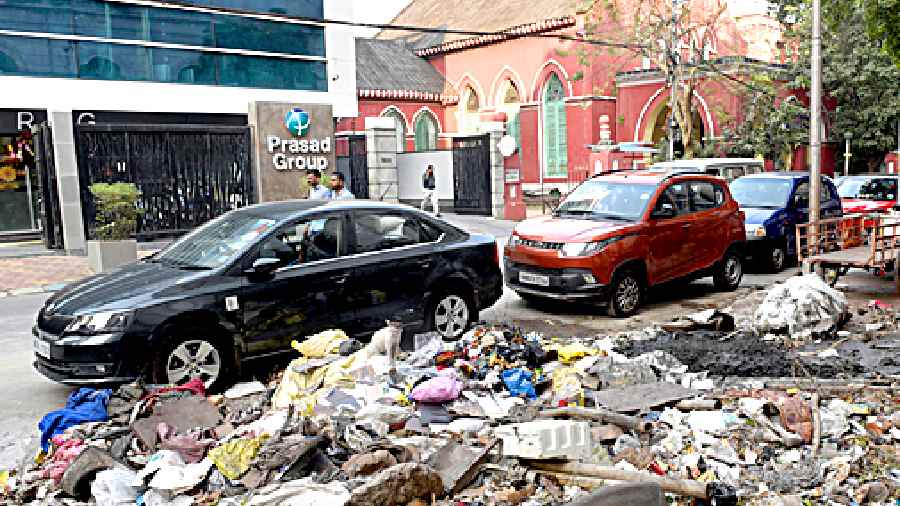 Garbage on the same footpath on Sudder Street on Monday
Pictures by Bishwarup Dutta
Another official cited a dearth of cleaners and supervisers. "Ideally, every ward should have one supervisor and there are supposed to be several block-level cleaners in each ward," said a KMC official.
"But nearly half the supervisor posts are vacant. And there are far fewer cleaner than what we need," the KMC official said.
"The cleaners are not doing their work properly," another KMC official said.
"The cleaners are supposed to work from 6am till 1pm. But in many places they work till 10.30am or 11am. That is affecting conservancy work."
Is it a city-wide problem?
Waste lying along roads is a common sight across Kolkata. This newspaper has reported about several such spots over the last few days.
Accumulated solid waste almost always provide ideal conditions for mosquitoes to breed. Waste contains small containers like paper or earthen cups, which turn into mosquito-breeding sites once water accumulates in them.
The dengue virus is spread by the Aedes aegypti mosquito, which can lay eggs even in a spoonful of stagnant water.
Mayor Firhad Hakim has asked KMC officials to impose penalties on people found littering public places. Individuals littering a road will have to pay Rs 525 for the first offence. The fine for the second offence is Rs 735 and for every subsequent offence, Rs 1,050.