Kolkata Municipal Corporation (KMC) on Friday set up a seven-member committee to "review excess expenditure" at a time officials said the civic body was facing a financial crunch owing to spiralling costs.
The announcement came along with the information that the city's 14 mayoral council members will have tablets of their own. Tabs will be also issued to the mayor and the deputy mayor. 
Officials said the gadgets would cut cost on stationery and ensure a better watch on projects. The civic body has decided that the tabs to be bought can cost up to Rs 49,000 each.
"This (procurement of the tabs) is a one-time investment for five years," said Sandipan Saha, mayoral council member in charge of information technology and education.
"This is an extension of the KMC's e-governance initiative. We want to bring down the cost of stationery by ensuring the mayoral council members use tabs for daily activities."
The committee to "review excess expenditure" will be headed by Tapas Chowdhury, special municipal commissioner, and include officials from various departments of the civic body.
"The committee will submit a report, along with their observations, to the municipal commissioner within a month," reads the circular, which was issued by municipal commissioner Binod Kumar. 
Since mayor Firhad Hakim presented a Rs 4,410-crore civic budget with a Rs 177-crore deficit in March, the civic body has been struggling to arrange for funds for various projects. 
Revenue receipts have revealed that till January, the KMC had received about Rs 180 crore of property tax out of an outstanding amount of around Rs 2,500 crore. 
Civic officials were forced to extend a waiver scheme on the penalty and interest for unpaid property tax to mop up some of the outstanding amount.
Officials across departments said that for some time now, the civic body had been struggling to arrange for around Rs 133 crore every month to pay salaries and pensions.
Officials said a recent assessment revealed that revenue collections of some of the departments — including advertisement, buildings, licence and assessment — have been way below the target.
Demolition charge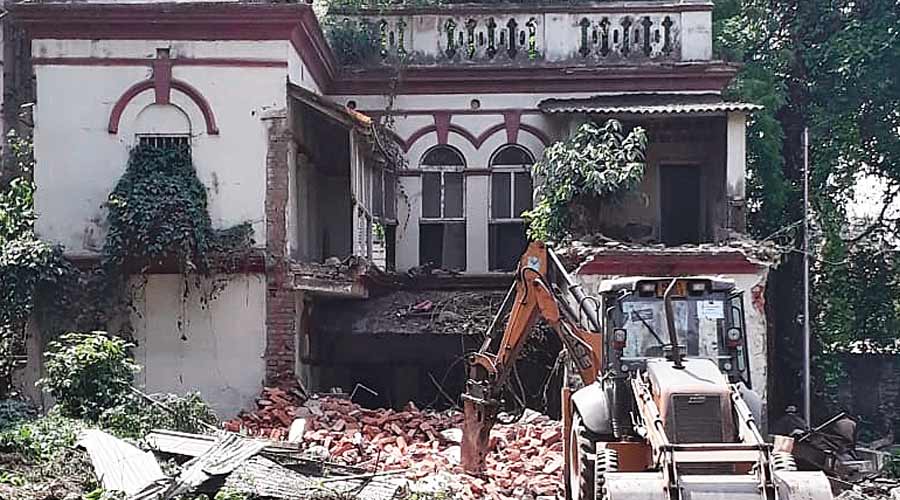 Picture of the alleged demolition shared by heritage enthusiasts
Heritage activists alleged on Friday that a colonial-era building in the compound of a Grade I heritage building, the Bengal Government Press in Alipore, was being demolished. Government payloaders were at work bringing down the structure.
Architect Partha Ranjan Das, a member of the West Bengal Heritage Commission, said: "What was being demolished was a side building in the compound of BG Press. It was in bad shape. The BG Press building will be renovated and we will do an adaptive reuse of it."
Architect Nilina Deb Lal, who has filed several petitions under the Right to Information Act on the Alipore redevelopment project, said: "It's a Grade 1 heritage structure. How can it be demolished without any documentation and without making the documentation public?"