Kolkata Municipal Corporation (KMC) is mulling including a provision of imprisonment in its statute for owners of properties that turn into mosquito-breeding grounds, mayor Firhad Hakim said on Wednesday.
Hakim said he had spoken with the state government on the proposed provision, which the civic authorities believe will add sting to the anti-dengue fight.
A senior official of the KMC said the KMC Act 1980 had to be amended to include the provision of imprisonment.
The act now allows the civic body to file court cases against owners who do not clean their properties and allow them to turn into mosquito-breeding sites. The act allows a penalty between Rs 1,000 and Rs 1 lakh. The amount is decided by court.
"I have requested the state government to include the provision of imprisonment. The provisions of fine and imprisonment both should be there in Section 496A (of the KMC Act)," Hakim said at the monthly meeting of the councillors of Kolkata in the civic headquarters.
Whether the inclusion of the clause on imprisonment will do any good remains a question, given the KMC's allegedly poor implementation of measures in its fight against dengue. The civic body has issued about 8,000 notices to owners of properties where mosquito-breeding sites were found, but cases have been filed only against 21 owners.
KMC officials had claimed that the remaining owners had got their properties cleaned after getting the notice. A KMC official had told The Telegraph, when asked about so few cases for so many notices, that the civic body's objective was not to impose penalties on people.
The same civic body has repeatedly blamed people for allowing their properties to turn into mosquito-breeding grounds and dengue to spread fast. "If there is a fear of imprisonment, people will keep the premises clean and take corrective measures once the lapses are pointed out to them," said a KMC official.
Even if the clause on imprisonment was included in the KMC act, a Kolkatan wondered whether the authorities would run a proper campaign to let residents know about the penal measure.
"If the KMC wants to instill fear in the minds of the people and spur them into action, the civic body has to let people know that they can be imprisoned if they let their properties turn into mosquito-breeding sites. How many people know that they can be fined up to Rs 1 lakh for not adhering to dengue and malaria prevention guidelines?" asked the Kolkatan.
In Kolkata, 6,092 dengue infections have been reported between January and November 6, a statement issued by the KMC on Saturday had said.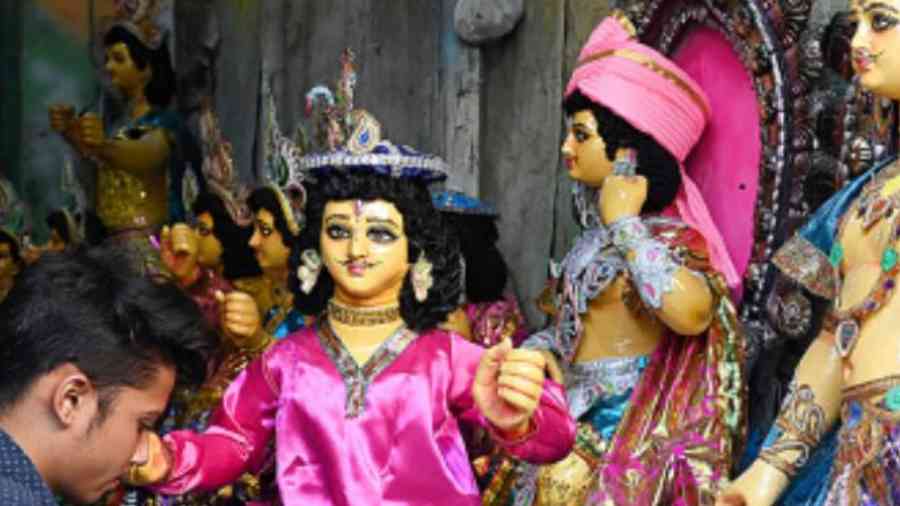 Kartik idols being readied in Kumartuli on Wednesday.
Picture by Pradip Sanyal