Shrestha Paul never thought that any of her personal collectibles would one day make it to FIFA Museum in Zurich, Switzerland. But the football fan from Kolkata got the surprise of her life when her autograph diary found a spot among the collectibles to be displayed at the museum as part of an exhibition.
The exhibition showcasing collectibles from all over the world is a collaborative project called 211, which will be organised by FIFA Museum and FIFA Fan Movement before the football world cup in Qatar later this year.
When Shreshtha, a member of FIFA Fan Movement, came to know about the exhibition, she showed her autograph diary, which contains the signatures of Indian footballing stalwarts like Sunil Chhetri, Bhaichung Bhutia and Subrata Bhattacharyya, to the organisers through video call. 
"Finally, I got an email from FIFA stating that they would like to borrow the diary for the exhibition," she said.
"It's an absolutely amazing feeling to represent India at the exhibition. It's a great honour for me," she added.
Growing up in a football-crazy city
"I grew up in an environment that's loaded with emotions associated with football. I used to watch Mohun Bagan matches on telly to tell my dad the score when he would return from the office," said Shrestha, a student of Loreto College. 
"The 2010 South Africa World Cup was a turning point. I saw Lionel Messi play for the first time. My love for football blossomed from that moment," she added.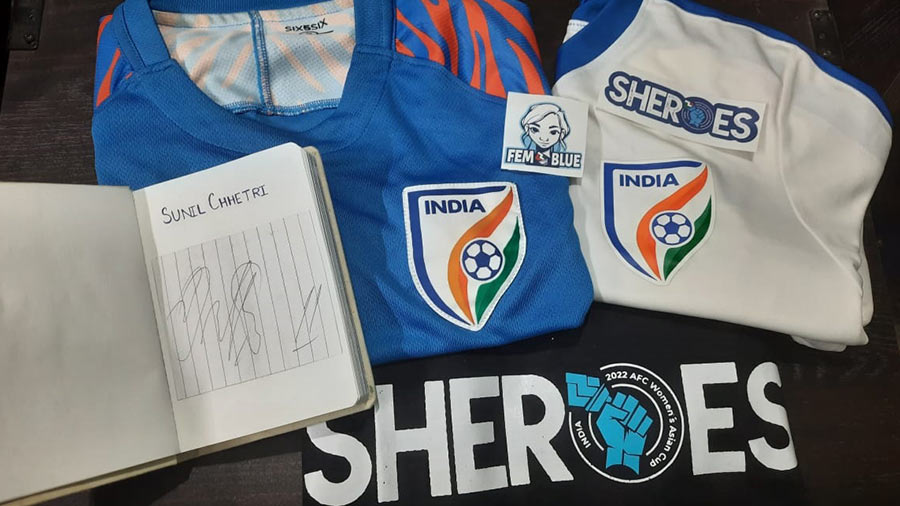 The autograph diary will be displayed in FIFA Museum
Image courtesy: Shrestha Paul
The 20-year-old used to play football during school. She has completed short courses on sports management and is also an active member of the Blue Pilgrims, which is the official fan club of the Indian Football Team.
Involvement in FIFA Fan Movement
Explaining the role of FIFA Fan Movement, the second-year English literature student said, "It's a global fan community where you get access to exclusive FIFA workshops, webinars and jobs."
"I had applied for a membership of FIFA Fan Movement at the end of 2019. There were a few rounds of applications, including the filling up of a form with the tiniest details. I got selected after clearing the interview round. I have been a member of the official fan movement for almost a year now," she added.
With Diego Forlan as its brand ambassador, the FIFA exhibition aims to represent 211 global FIFA member associations and curate a crowdsourced exhibition displaying how football is globally perceived.