Roger Federer's greatest rival was not the only one crying at his swansong at the packed O2 Arena in London on Friday.
Many in the 17,000 capacity crowd were moved to tears on seeing Rafa Nadal failing to hold them back. Among them was at least one Kolkatan.
Sunita Sigtia, the Indian face of Fans4Roger, the official fan club of the legend, has been cheering Federer from the stands at almost every tournament for the past 15 years and has met the champion several times.
She was in the stands throughout Friday, which culminated in Federer and Nadal teaming up for a doubles match and an emotional post-match ceremony, which took the world by storm.
"The moment when both of them (Federer and Nadal) were crying was magical. Almost every one in our corner of the gallery was crying. Even the camera crew for broadcasters were crying, the giant screens showed. The respect Roger gets from his greatest rival can only be matched by the love he gets from his fans all over the world. Both are unparalleled," said Sigtia, who lives on Lower Rawdon Street off Minto Park in south Kolkata.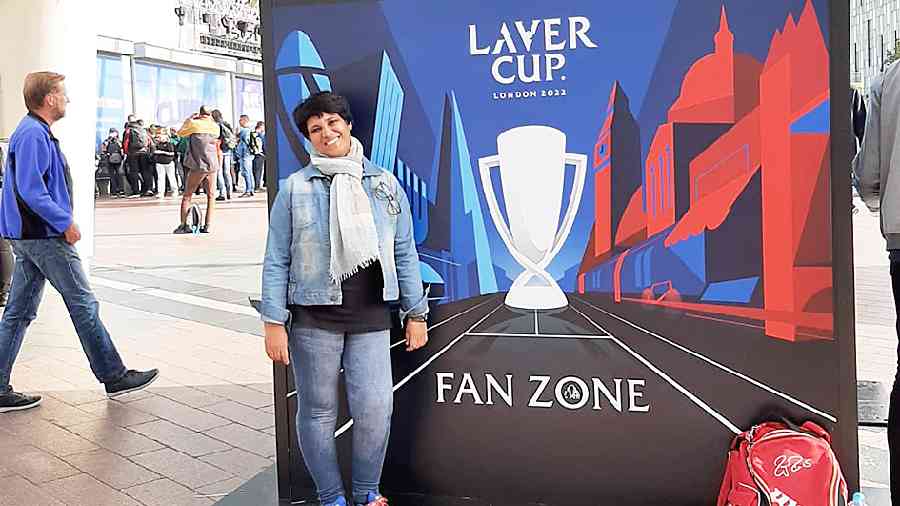 Sunita Sigtia at the O2 Arena in London on Friday
Sigtia reached London last Wednesday for the Laver Cup, the Swiss champion's last professional outing.
The organisers had sold tickets for a practice session on Thursday to raise funds for charity.
Sigtia was there in the gallery.
"Roger, Rafa, (Novak) Djokovic, (Andy) Murray and (Stefanos) Tsitsipas, on the same team (Team Europe), practised together," said Sigtia, who runs a fabrics business.
"The session was full of fun and banter. The familiar applause was there for Roger. But it was different this time. He (Federer) has been a part of our lives for so long. We plan our entire year's schedule based on his schedule. All of us were looking forward to his last match. But at the same time, we did not want it to come," said Sigtia.
By "our lives" she meant the lives of members of the official fan club of Federer.
Joining her in London were friends from all over the world.
On Saturday, Sigtia saw a "different Roger" at the O2 Arena.
"He was in the dugout, cheering his team on the court constantly. He gave water bottles to Djkokovic and even coached (Matteo) Berrettini. He does not live in the past and loves to move on. That is another of his many qualities," said Sigtia.
On Sunday, Sigtia and Scarelett Li, a friend from Canada and another member of the fan club, visited Federer's hotel in London. They were able to meet the legend in the lobby for a couple of minutes.
"Good luck for the future. We will always be with you," Sigtia managed to tell Federer as he posed for a picture.
"You are too kind," Federer replied.