Balaka Salt Lake City
Where: BD Park
The look: The pandal will be based on a temple and the idol will be sculpted by Pradip Rudrapal. Lighting will be organised by Babu Pal of Chandernagore
Fun funda: This being the golden jubilee year of the puja, grand celebrations have been planned. Kumar Sanu performed on the opening night on Wednesday. Today reality TV singer Poushali will sing and on Saturday, founder members of the club will be felicitated.
On Sunday, Balaka members will stage the play Mouchak. On Monday, the evening of Kali puja, Ananya will present Shyamasangeet. On Tuesday, singers Jayati Chakraborty and Amrita Dey will perform. On Wednesday, the focus will be on instrumental music. Kishore Sodha, who is referred to as the trumpet king of India and was part of RD Burman's team, will take stage followed by Rahul Mukherjee on the sitar. Singer Arnab would also perform. Immersion would be on October 27.
Maitri Sangha
Where: BF-CF fish pond
The look: The theme of the pandal is bamboo, that has been used extensively in decoration. The idol is 20ft tall. 
Fun funda: Inauguration today by minister Firhad Hakim, followed by a musical show by Anwesha. Tomorrow, singer Subhamita will take stage and on Sunday residents will present cultural programmes, followed by singer Santanu Roychowdhury.
AC Block
By: Salt Lake AC Block Yubak Sangha
Where: AB-AC Park
The look: The idol, draped in a Benarasi sari, is being sculpted by Sanatan Pal. The pandal will be a colourful citadel.
Fun funda: The inauguration is on Saturday by MLA Sujit Bose in the presence of actress Srabanti, after which some underprivileged children will be gifted fire crackers and goodies. On Sunday from 7.30pm, guest artistes Amit Ganguly, Trisha and Sumana will perform songs of recently departed singers like Lata Mangeshkar, SP Balasubramaniam, Sandhya Mukherjee etc. On Monday, there will be a sit-and-draw for kids from 10am followed by the puja from 6pm onwards. On Tuesday, musical band Dhamal will pay tribute to departed artistes like Bappi Lahiri and KK. Immersion will be on October 26.
BK Block
By: BK Block Youth Forum
Where: BK Park
The look: The pandal is shaped like a village hut. Figures of people are shown to be in chains, with the few who have broken free having walked up to the idol.
Fun funda: Inauguration is on Sunday, followed by modern songs by singer Kaushik. On Tuesday a slew of playback singers and reality TV stars including June Banerjee, Preety Basu and Tathagata will perform. The anchor will be RJ Sankar Deb. Immersion will be on Wednesday.
BL Block
By: BL Block Committee Youth Wing will present the puja under the banner of Spectrum
Where: BL Park
The look: the pandal will be decorated with earthen items like pots and the colour scheme will be the seven hues of the spectrum.
Fun funda: On Monday at 11am there will be a gaming contest (FIFA and NFS) followed by a treasure hunt around the block from 3pm. A quiz will take place from 5pm. On Tuesday, a sit-and-draw contest will happen in the evening, followed by guest band Retro Cats and a talent hunt (song, dance, recitation, musical instruments). The events are open even to residents outside the block. Spot registration is allowed.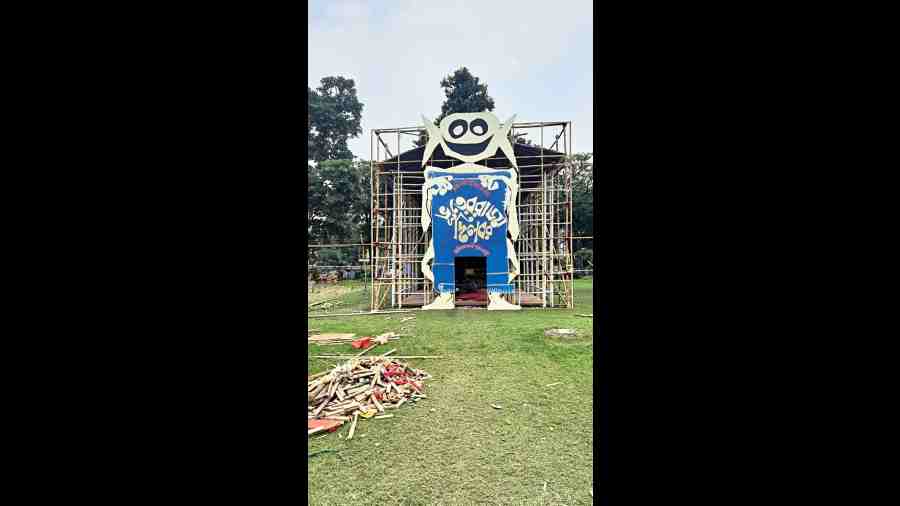 The GC Block pandal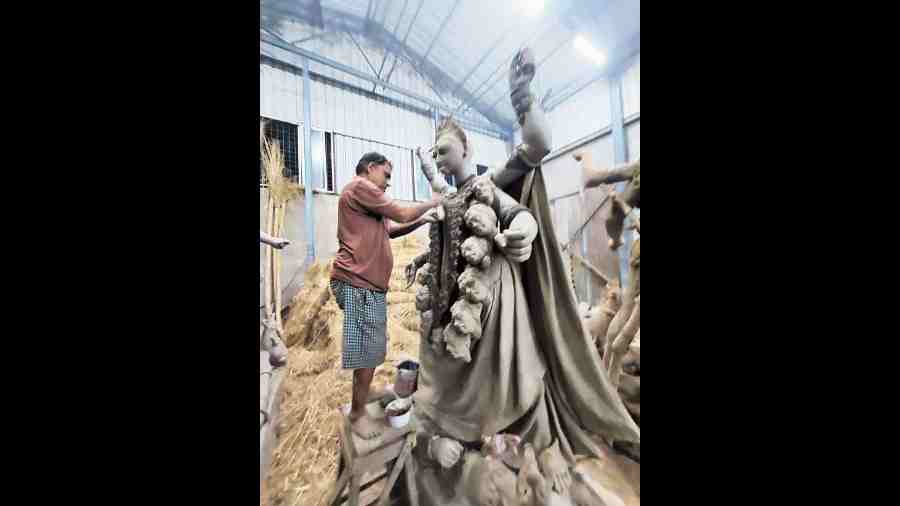 The idol being sculpted in the studio of Pradip Rudrapal.
Sudeshna Banerjee
GC Block
By: GC Block Kali puja committee and GC Block welfare association
Where: GC Park
The look: This is the 25th year of puja and theme-maker Timir Bhrama the theme of the pandal is a tribute to Satyajit Ray. The pandal's façade will be based on Bhooter raja dilo bor, the song from Ray's film Goopy Gyne Bagha Byne, which will be played. There will be paintings and collages of scenes from the film too.
Fun funda: Inauguration is on Saturday, after which former office- bearers of the block association and the ladies club will be felicitated. A theme song, sung by residents Saptaswa Sarkar and Atrita Sarkar, will be released, along with a tabloid — primarily with memoirs of early residents. The highlight of the evening will be a performance by pianist-vocalist duo Sourendro and Soumyojit.
On Tuesday, reality TV stars Koushik and Manisha will perform and residents will stage an elaborate show called Kal aaj aur kal. In this, they will dance and perform skits to Bollywood songs down the ages. It is being directed by Sushmita Das and Debarati Kundu.
All schedules are subject to last-minute changes