Several trees in Jodhpur Park, where a 50-year-old gulmohar crashed on a teenager on March 10, were trimmed on Monday and Tuesday.
Kolkata Municipal Corporation officials said the drive was being conducted to prevent recurrence of similar accidents in the leafy neighbourhood.
Naturalists said such an exercise was needed across the city. Hundreds of trees stand perilously, heavy on one side with leaves because of lack of pruning and maintenance.
"We are trimming big trees manually or by hydraulic cutters. Several trees have been trimmed in the Jodhpur Park area in the last two days. Today, we are focusing on Lake Gardens and other areas," said the councillor of Ward 93, Mousami Das.
A "dead tree" that tilted in a dangerous way in front of Tripura Bhavan in Lake Gardens and was a cause of concern for residents and passers-by, was chopped on Tuesday, Das said.
Last week, a gulmohar tree got uprooted and toppled over a Class XI student who was returning home on a scooter with medicines for his younger brother. The teenager fractured his leg and suffered other injuries.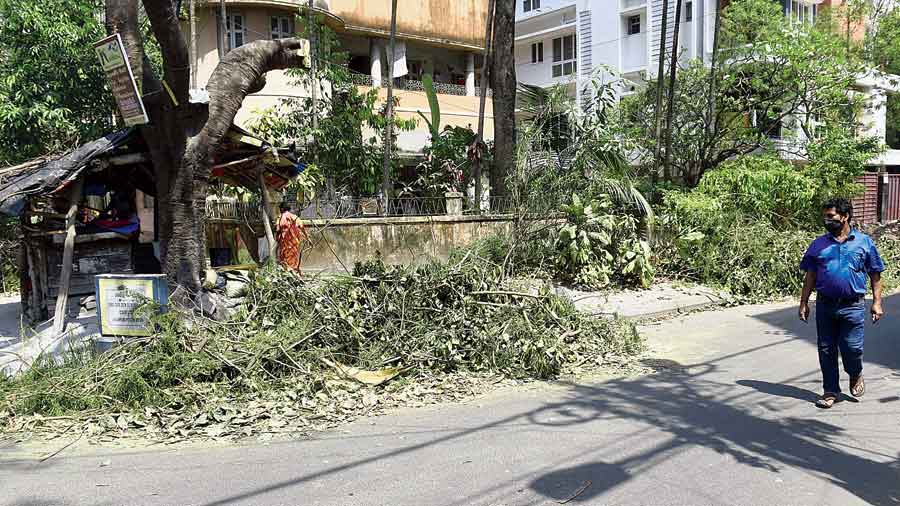 Branches of trimmed trees on a road in Jodhpur Park
Naturalists said such accidents can be prevented by keeping the tree tops light by periodic trimming or by tending the trunks regularly if they are infested by termites.
Arjan Basu Roy, a naturalist, said periodic and symmetrical trimming of trees are very important for maintaining the balance of the trunk.
"We often see that one side of the trees are regularly trimmed to accommodate advertisement banners and electric poles, while the other side is ignored. Such lopsided growth of tree-tops leads to disbalance and accidents," Basu Roy said.
Hundreds of trees have fallen in the city in the last two years since Cyclone Amphan hit Kolkata in 2020. Urban planners and landscape architects feel the primary cause of such fall of trees — with or without rain and wind — is unscientific plantation and wrong choice of trees for avenue plantation.
An urban planner in Delhi, Suptendu Prakash Biswas, said systematic and scientific plantations were the key to modern avenue plantation. He emphasised the need to leave enough space for the roots to grow.
The choice of trees, Biswas pointed out, plays an important role in the success of avenue plantation.
"Lutyens Delhi, Gurugram and places in Chandigarh are ideal examples of systematic planning and avenue plantation. In Lutyens Delhi, avenues are demarcated with the use of one type of tree in each of them. In Gurugram, they have nurtured the native and indigenous species that grow naturally and require least maintenance," Biswas said.
A handbook on "landscape urbanism guidelines" for public place and tree plantation is what the city should have, he said.
Suchandra Bardhan, professor in the architecture department at Jadavpur University, feels factors like underground pipelines and overhead cables and wires are sometimes overlooked while plantation.
"It would be wrong to plant tall trees in a place that has overhead cables. Once the canopy reaches the height of the cables, either it will have to be chopped or its branches will get entangled with the wires. It is also very important to give the roots space to grow. Too much of concretisation only chokes the roots…. Then there are instances of roots being chopped off during cable or pipeline repair works. These trees would not need any rain or storm to fall," said Bardhan, who specialises in landscape architecture.