The house that painter Jamini Roy built is changing hands: from members of his family to a private gallery.
The heritage conservation committee of the Kolkata Municipal Corporation (KMC) had granted permission to Delhi Art Gallery (DAG) for the purchase of Roy's house at 18/39 Jamini Roy Sarani in south Kolkata, on condition that the "building will be preserved and maintained properly".
Sources both in the Jamini Roy family and DAG confirmed the sale. Both sides declined to comment.
It is a three-storey house, tucked away in a quiet lane in Ballygunge Place with art deco features, green slatted windows with a staircase running from the entrance to the top floor.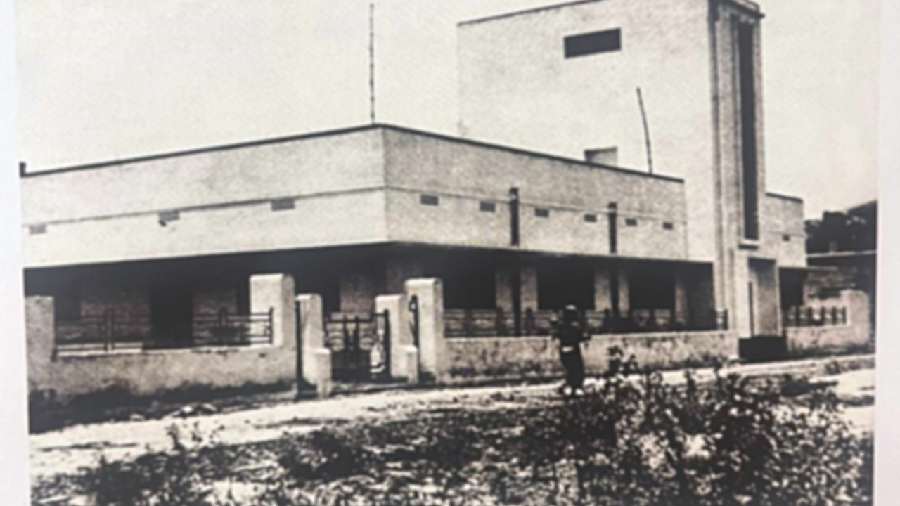 An old picture of the house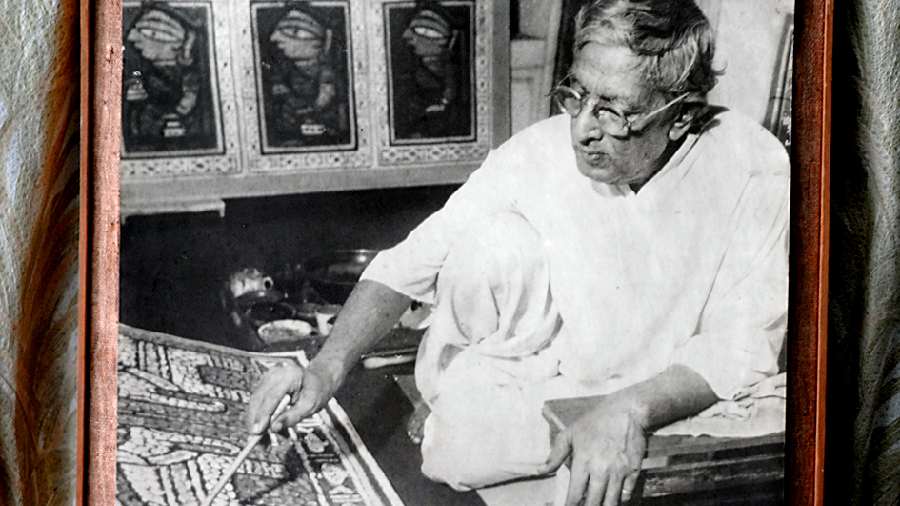 Jamini Roy at work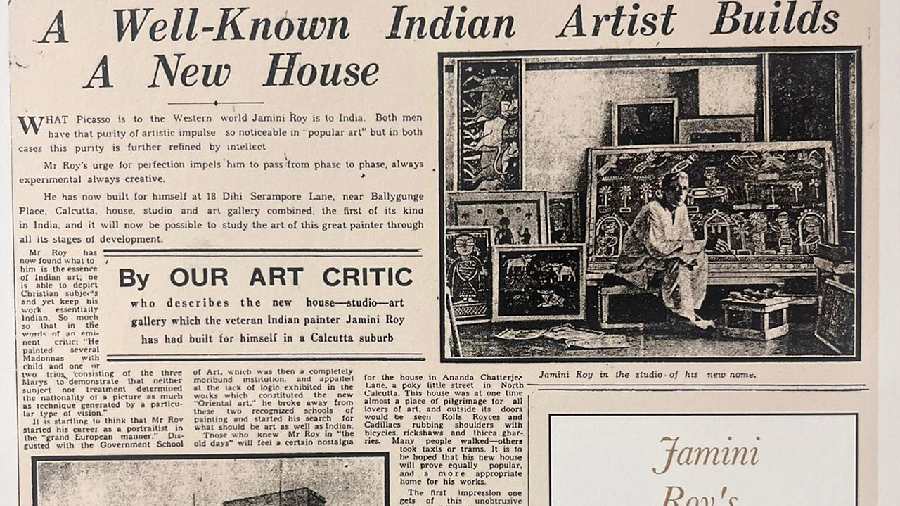 A report in The Sunday Statesman in 1950 on the artist's new house
The house, which features on a long list of heritage structures drawn up in 1998, had not been assigned any grade subsequently. It remained a "grade-pending" building among about 1,300 others.
Sources in the heritage conservation committee of the KMC said that the KMC has recently decided that all "grade-pending" buildings will be assigned a grade. The decision was approved by the mayoral council of the KMC last week. Assigning a grade will make it clear how much protection the building will enjoy and what are the relaxations available.
There are four grades — I, IIA, IIB and III — and grade I structures enjoy the highest protection.
The resolution that allowed the purchase of the property by DAG was passed by the heritage conservation committee in 2019. "It mentioned that the building must be preserved and maintained properly," said a member of the committee.
Sources in the know said the deal between the family and the art gallery is not new. It was finalised a few years ago. "But the execution has been completed only recently," one of them said.
A large number of Jamini Roy paintings form a part of the collection of Rajya Charu Kala Parshad.
In 1984, 272 paintings were acquired from Roy's private collection at his Ballygunge Place (Jamini Roy Sarani) house. Such a large collection of his paintings, in all probability, cannot be found anywhere else except, maybe, the National Gallery of Modern Art, writes Jogen Chowdhury in March 2014 in a prologue to a book on Roy by Sanjoy Kumar Mallick.
Jamini Roy's paintings are also a part of the Victoria and Albert (V&A) Museum, London, and Victoria Memorial Hall, Kolkata.
Art historian Tapati Guha Thakurata said: "Roy moved to this house at Dihi Serampore Lane (as it was known in 1950) when he was 60. It was here that he begins his family-style production and also involved his son. But his older rented house in Ananda Chatterjee Lane in Bagbazar was an iconic studio. The house might have articles used by him."
The artist was born in 1887 at Beliatore in Bankura to a "petty landowning family".
His father, Ramtaran Roy, was supportive of his career, says Mallik in his book. He joined the Government School of Art and Craft in 1903 at the age of 16.
In his studio in Ballygunge, he produced a range of stock motifs which his apprentices copied and all of which were signed with his name. This increased the production and dissemination of his work. "Jamini Roy's paintings were available for as little as Rs 20 to Rs 50 and they were being gifted by everybody," said Tapati.
A Padma Bhushan awardee in 1955, he gained international fame in the 40s when his exhibitions were held in London in 1946 and in New York (1953).
He died on April 24, 1972.
The Archaeological Survey of India along with the ministry of culture declared that his works along with eight other artists would be considered a "national treasure".