Privatisation then, potholes now. Nation's security then, mosquitoes now.
The civic polls have put the limelight on 'local issues'. 
Inclusiveness, nationalism, border security and sale of public assets dominated the poll discourse ahead of the Assembly elections this summer. 
At the rallies in the run-up to Sunday's Kolkata Municipal Corporation polls, issues like waterlogging, the deadly and ugly cable mesh and uncovered drains set the agenda. 
"MPs and MLAs seem too distant. I can rarely meet them in person. But my councillor is someone I can expect to have a regular interaction with. The civic polls are extremely important because they involve everyday issues surrounding us," Sukanya Chakraborty, a 29-year-old data analyst, told this newspaper outside a polling booth at South Point school in Ballygunge in south Kolkata on Sunday. 
The Telegraph reads the city's civic poll pulse: 
Right to pavement
Gitesh Tikmani with daughter Isha.
Pavements clogged with hawkers are an eyesore in New Alipore in southwest Kolkata, said Gitesh Tikmani, a resident who voted on Sunday. The 47-year-old businessman had gone to a polling booth at New Alipore College around 11am, accompanied by his 21-year-old daughter, Isha. They are voters in Ward 81.
"This ward has seen a lot of work. But encroachments on footpaths is an issue that needs redress. Not only does it look awful, the pavements are inaccessible for pedestrians," Tikmani said outside the booth.
Pavements on both sides of the roads connecting Taratala and New Alipore are dotted with shops selling everything from fast food and fruits to mobile accessories.
The gripe about vanishing pavements was loud across the city, from Shyambazar to Gariahat, Esplanade to Anandapur.
Road, with ditches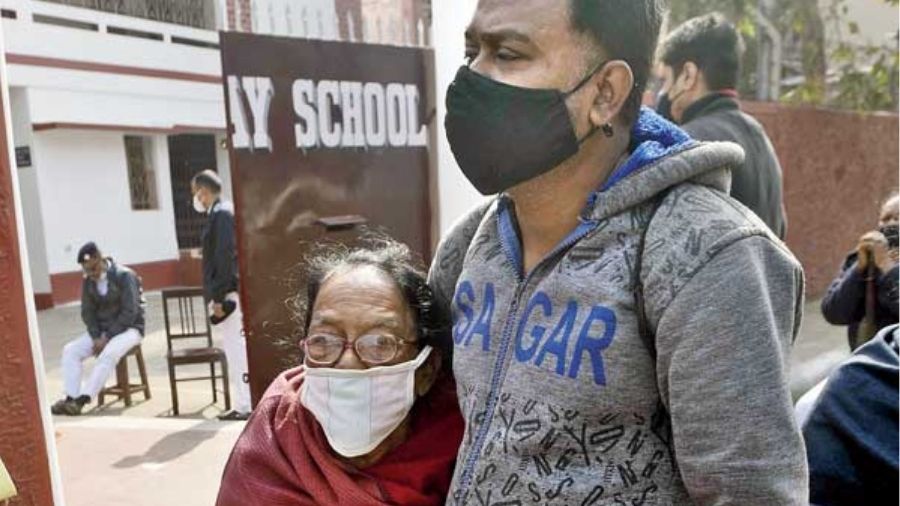 Anil Mukherjee with his septuagenarian aunt.
Stretches of James Long Sarani, the road running parallel to Diamond Harbour Road from Taratala toThakurpukur, are dug almost throughout the year, said a voter.
"No matter what, one part or other of the road remains dug. Earlier, DH Road was infamous for the same reason and James Long Sarani was smooth," said Anil Mukherjee, who had come to a booth at Orient Day School in Behala, on James Long Sarani.
The area falls in Ward 120.
"The road is dug to improve drainage, to install underground cables and a host of other reasons. But work is often stalled midway, with no one bothering to repair the road for days,"said Mukherjee, who came to the booth with his septuagenarian aunt.
Water woes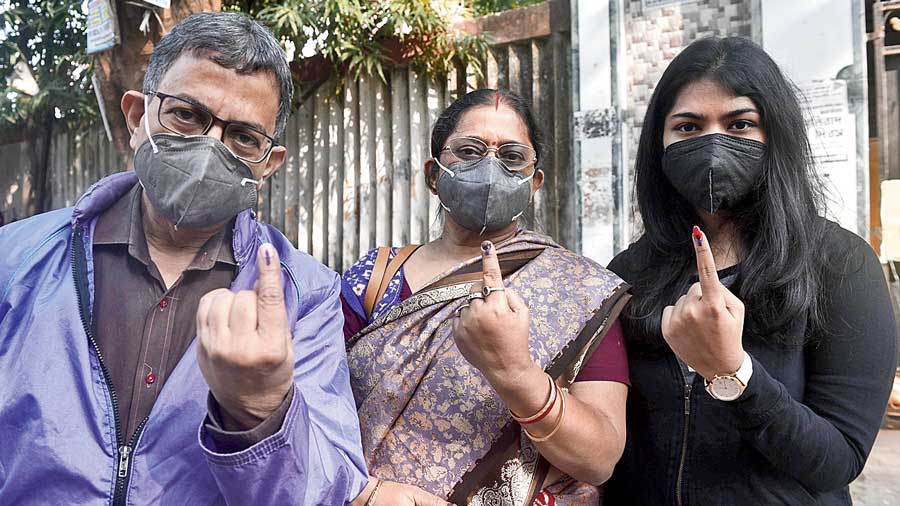 Shyamal Datta with wife Debjani and daughter Shatarupa.
Every time it rains heavily, the road in front of Shyamal Datta's Jodhpur Park house in south Kolkata goes under water. "Heavy rain translates into ankle-deep water and a downpour, which happened on multiple occasions this year, means knee-deep water," said Datta, a retired engineer who had come to a polling booth at Jodhpur Park Boys' School with wife Debjani and daughter Shatarupa.
"The waterlogging problem is only getting worse. We, the residents, engage men to clean the gully pits multiple times a year. But we are often told that unless the central pit is not cleared, things will not improve," said Datta, a voter in Ward 95.
Ugly mesh
Mousumi Ghosh, a residentof Ward 126 near Behala Chowrasta in southwest Kolkata, feels "equally angry and helpless" looking at the mesh of overhead cables all around her home.
"They look so ugly. I often feel like fighting with people installing the wires," said the 49-year-old.
"There should be some regulation of billboards as well. They block a major part of the Kolkata skyline. But even the boards are not as ugly as the mesh of cables," she said outside Parikshit Primary School off Biren Roy Road (West), where she cast her vote on Sunday.
Green grouse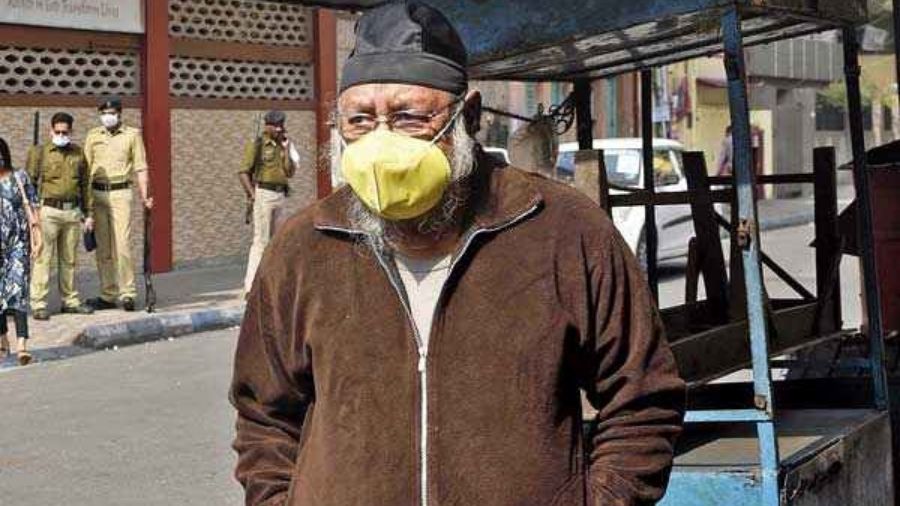 Narender Singh
At 80, Narender Singh is "least interested" in politics but still makes it a point to vote to "assert" his rights as a citizen. Singh lives on Deshapriya Park Road in south Kolkata, right opposite Carmel Primary School, where he cast his vote on Sunday.
He is a voter of Ward 84. The area has seen a lot of development, said Singh.
"But I feel the green cover is depleting. Trees are being felled regularly in the name of development. That should stop," he said.
Breathing space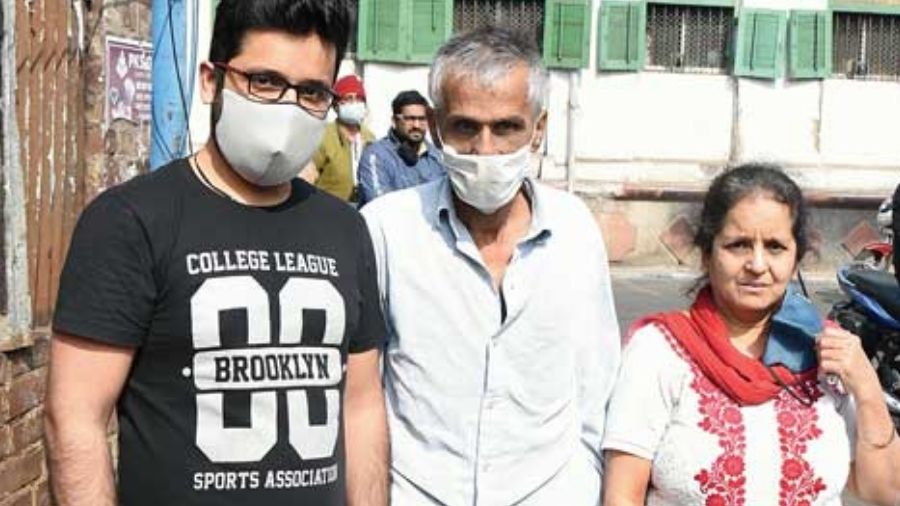 Living in a place as busy as Moulali gives Gaurav Golani a sense of the deteriorating air quality of Kolkata.
"I want the next civic board to treat air pollution with utmost importance,"said Golani, who voted at Metropolitan Institution in Creek Row, in Ward 63, in central Kolkata.
"The number of cars has multiplied manifold. Every now and then, a car or a bus billowing black smoke can be seen at the Moulali intersection. But they are not prosecuted," said Golani, a businessman.