Yoga training starts in New Town CB Block
A yoga training camp was launched at the office of New Town (1CA to 1CD Blocks) Welfare Association on the occasion of the International Day of Yoga Day. The camp will henceforth be held every Sunday from 7 to 8am at the venue near Tank 5.
"We had been planning this for about two months now. Since June 21 was around the corner we decided to wait for the occasion for the launch," said Avijit Sengupta, the association's assistant treasurer.
The camp is open to residents of not just CA, CB, CC and CD Blocks, which form the association, but also people from across New Town. There are no charges. The training is imparted by Anugraha Kumar Singh, an EE Block resident who runs Bidhannagar Yoga Samiti.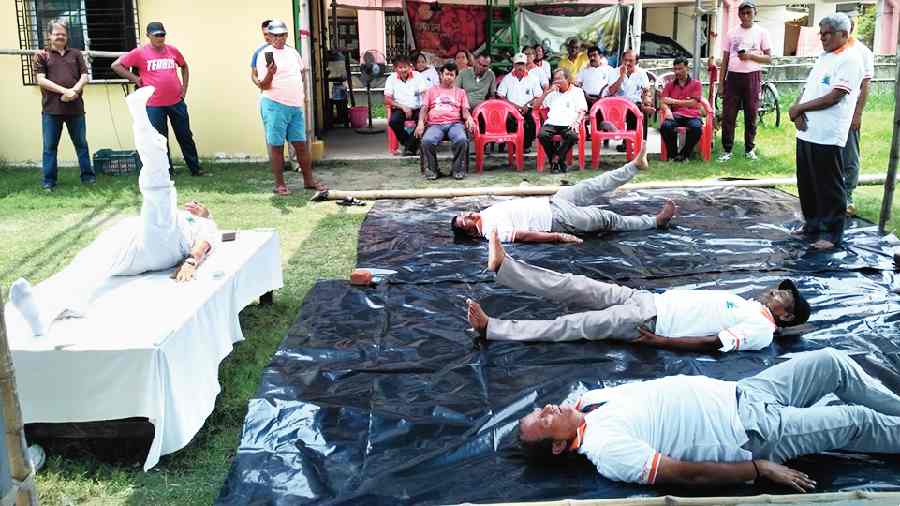 Men do yoga outdoors in CB Block
On the first day, about 30 people followed Singh's instructions in doing asanas for about an hour.
The association has a member who is himself a yoga practioner. "He is stuck in his native place in Bihar due to the train disruptions. Once he returns in July, we hope to make the camp a daily one," Sengupta said.
"We also have opened a clinic about two months ago where six doctors will be available to residents and non-residents alike. Of them, the two internal medicine consultants will be available six days a week.
There is also a paediatrician, a homeopath and a dentist on their roster. The dentist is available in her chamber in CA Block and will take concessional fees on production of a letter from the assocition," said association joint secretary Anjan Kumar Pal. For residents, the fees are Rs 200 and for caretakers and domestic help Rs 100. The homeopath charges Rs 100 from residents and Rs 20 from economically backward patients.
But certain group activities like cards, carrom and badminton, it has been decided, will be restricted to members alone. "Tenants cannot become our members. We already have close to 400 members from the four blocks. The figure will cross 1,000 if we include tenants," said Sengupta.
On Sunday night, all the banners hung on the walls announcing the association's activities have been vandalised. "This happened after we put up a Members Only banner. We are trying to ascertain who is behind this act," said Sengupta.
Sudeshna Banerjee
KV 1 event has guardians joining in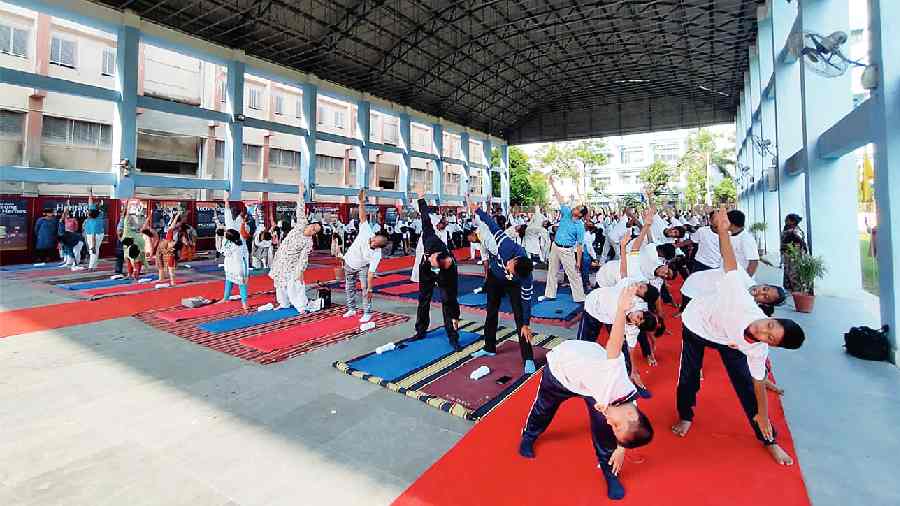 Students, teachers and guardians together perform asanas
Students, teachers and even parents of Kendriya Vidyalaya 1 celebrated International Day of Yoga by performing asanas on campus.
The programme began with a live telecast of the Prime Minister highlighting the importance of yoga for maintaining a healthy mind and body. A message sent by the comissioner, Kendriya Vidyalaya, Nidhi Pandey, was also read out by a teacher Jyoti Singh.
The assistant commissioners of Kendriya Vidyalaya Calcutta region Sanjeev Sinha and P.K. Chandran and school principal Sudhanya Karan attended the event.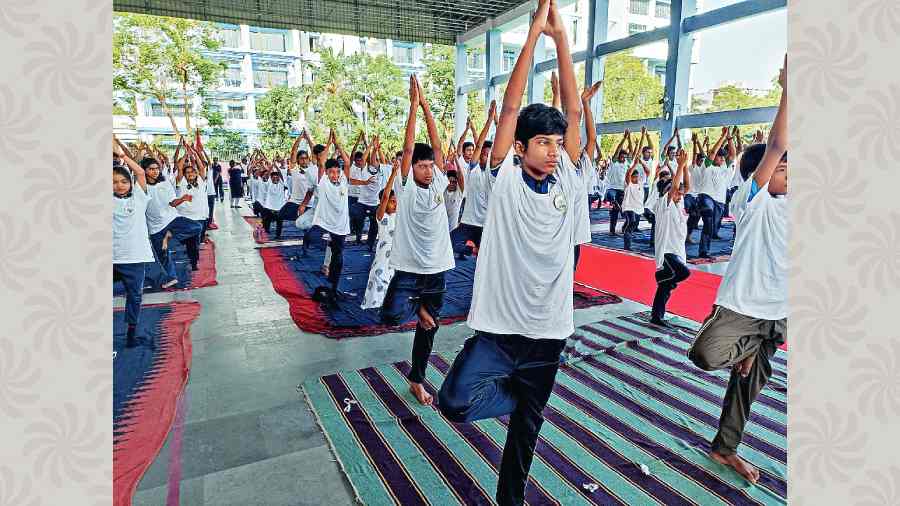 Students perform asanas at Kendriya Vidyalaya 1
Students chanted slokas and then with great enthusiasm joined parents, teachers and everyone else present in performing asanas under the guidance of Sajal Manna from Ramakrishna Mission Vivekananda Educational and Research Institute, Belur.
A cultural programme was presented by Natraj Dance Academy, regional bureau of outreach and communication, ministry of information and broadcasting.
The audience got to watch a demonstration of the martial art form from Kerala called kalaripayattu as well.
Contest key in Hariyana Vidya Mandir celebrations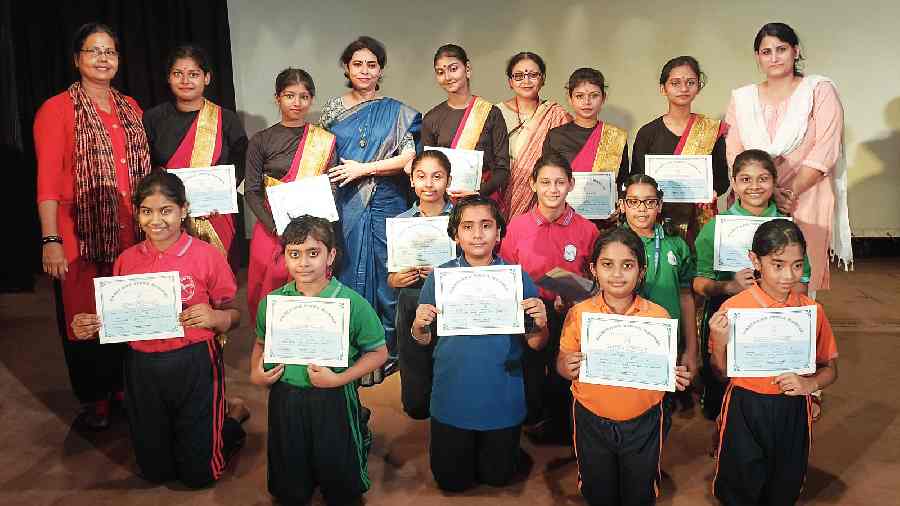 Students display their certificates at the end of the day's events
Hariyana Vidya Mandir celebrated International Day of Yoga with an inter house yoga competition for students of both the morning and day shifts.The event began with a Power Point presentation on the day followed by yoga display by the students of classes IX to XII. But the most anticipated event was the competition, where in the class III to V category, the winner was a tie between blue house and orange house in morning shift. Red house won in the day shift. In the class VI-VIII category, the winner was red house in both the shifts. Among the individual winners in the junior category, Kritika Tripathy of blue house and Pritha Kundu of orange house stood joint first, with Mouli Das and Lekisha Sharma coming third. In middle school, the first place went to Aishani Bhowmik of red house. Srijita Chakraborty of blue house and Jyotishna Das of green house came second. Third place went to Akansha Byen of orange house.
Bend it like Tibrewala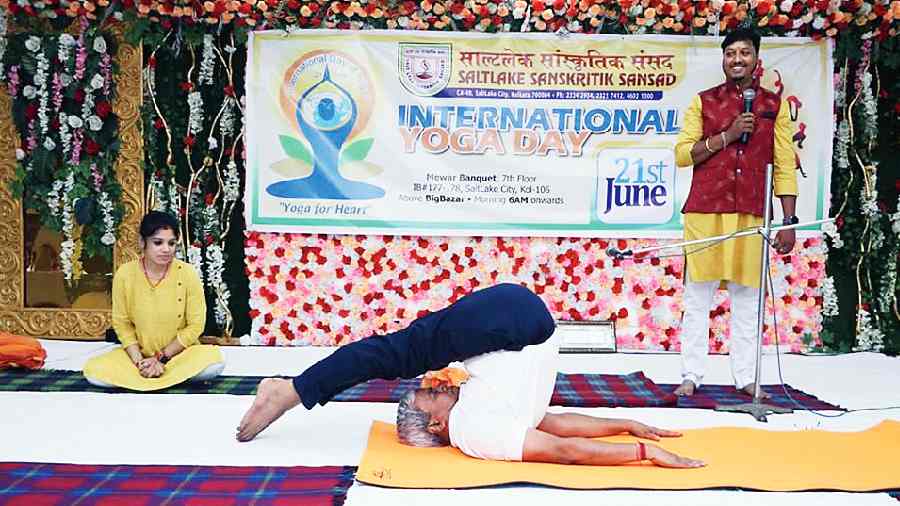 Krishna Murari Tibrewal does an asana
The asanas at Mewar Banquet were led by a 74-year-young yoga enthusiast this year.
CA Block-based Saltlake Sanskritik Sansad organised a session to observe International Day of Yoga at the IB Block venue and the audience was inspired to see their youthful septuagenarian teacher, Krishna Murari Tibrewala.
"From childhood, I have been involved in sports and outdoor activities. And once yoga became a daily routine for me, it's the key to my fitness," said Tibrewala, an engineer by profession and a resident of CJ Block. He demonstrated padmasana (lotus pose), janu sirsasana (head to knee pose), halasana (plough pose) and more.
Guru Sudarshan Gyanmurthy from Bihar School of Yoga also briefed the benefits of asanas. For instance, he explained that tadasana helps increase height and relieve back pain, tiriyak tadasana burns hip fat and makes the spinal cord flexible and that kati chakrasana helps burn belly fat. And these three asanas, practised regularly, in tandem and after drinking warm water cures constipation.
Gyanmurthy also spoke on the benefits of pranayam that improves lung capacity, improves immunity and increases oxygen levels in the body.
"I felt energetic after today's session and am thinking of joining this group on regular basis hereafter," said Mahesh Killa, who had come from the Metropolitan area of the EM Bypass.
Chairman of the group's cultural wing, Sanjay Poddar, informed that the body organises yoga practice at their centre daily from 6 to 7am. "Other than regular members, many new faces joined our session today from places like Metropolitan, Bangur and Lake Town. We are glad we would inspire them," he said.
Pradip Todi, president of the group, said hosting the yoga day event at large halls with pomp and grandeur was further generating awareness. Savitri Gupta, head of their ladies wing, recalled that they started yoga classes with three or four members 12 years ago. "Today we have 1,100 learners," she said.
The programme concluded with a laughing session conducted by Anil Agarwal. "Laughing has multiple benefits," said Agarwal. "It enhances lung function capacity helps relieve tension and stress."
Bharati Kanjilal