Students of Inter National Institute of Fashion Design (INIFD SaltLake) took visitors on a world tour through their creations recently. At Explodia, their annual fashion and lifestyle exhibition, they exhibited clothes and lifestyle products of 10 different countries through pop-ups in classrooms as well as in a fashion show.
"Our students are exhibiting lifestyle products, garments as well as avant garde creations of fashion through this event. They are still in the learning process and whatever feedback they get from visitors will be valuable," said John Sengupta, head of the department, fashion.
The room showcasing, the Netherlands for instance, had Van Gogh's Starry Night replica, chocolates, handkerchiefs and aprons — most of them with a tint of orange and red — along with the motif of tulips, their national flower.
"For our Turkish theme, we've used mosaic designs, the concept of evil eye and the designs from the famous Blue Mosque of Turkey," said Shraddha Pandit. Their clothes used headgears for the Turkish women along with veils. They had a hookah corner, lamps, aromatic candles and paintings too.
For Nigeria, Bosudhara Mukhopadhyay and Juhi Doshi explained how they had used the country's popular tie-and-dye technique to paint most of their clothes. They had also made beautiful pillow cases, jewellery and lamps.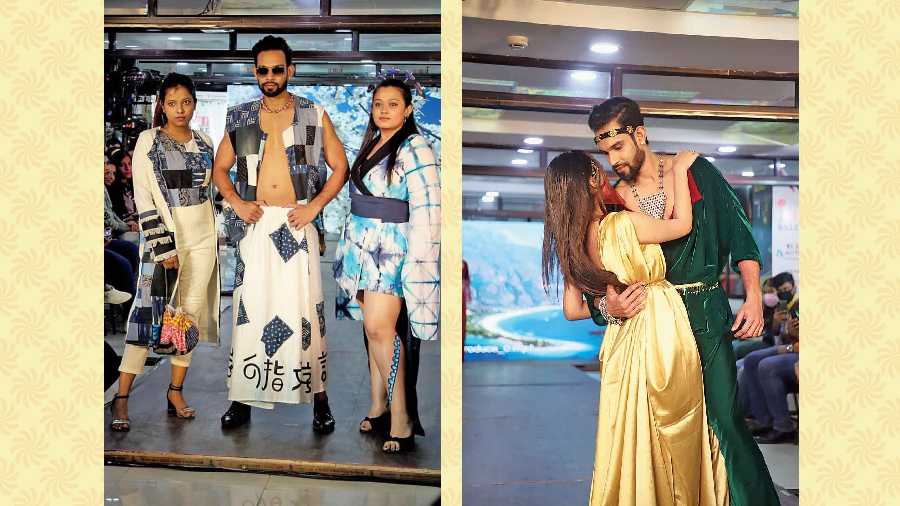 Models strike a pose in Turkey-inspired outfits
The West Indian room was divided into a section depicting the newer aspects of the nation, including tourism and leisure and another exploring its earlier pirate-dominated era. They had bath salts, exfoliator bars, bags, plants and mirror sets, given how West Indians believe that all rooms should have mirrors in them. Supratim Chakraborty even posed as a psychic, reading out tarot cards.
Next came Italy, where Shridhi Bajpai explained how they wove the flora and fauna of the nation with vintage Italian culture. "Our avant garde dress has handmade flowers on white crinoline and feathered corset," she said, also showing their bags, candles and wall hangings designed to look like pizzas.
The Brazilian room welcomed guests with cold coffee, to highlight how Brazil is the largest exporter of coffee. They dedicated a wall to the nation's favourite pastime with posters of footballers like Pele, Ronaldo and Ronaldinho, and made a World Cup trophy replica. A foosball table completed the look.
"Brazilian festivals inspired us, as did their Christ the Redeemer statue, samba dance and wildlife," said Aneesha Agarwal.
Beautiful paintings of the Santorini Island adorned the Greek room. "We were inspired by the Greek gods while making our embroideries. Our avant garde dress was inspired by the Greek monster, Medusa, who had snakes on her head in place of hair. We've even used laurel leaves as they are popular in Greek culture," said Soumya Priyadarshani. They exhibited beautiful tiaras, glass paintings and fabric paintings.
Japanese culture was showcased through origami, manga and anime and they used the tie-dying technique of shibori to make their clothes, bottle paintings and lanterns. Some showpieces used the cherry blossom motif and their clothes used patchworks from Japan and also the typical paintings of koi fish. Student Debalina Dutta sat in a corner with the set-up for a Japanese tea ceremony too. "I learnt about it on YouTube," she smiled.
For Indonesia, students used bamboo craft and woodcraft. "We have used typical colour palettes on our scrunchies and detachable collars," said Nehal Agarwal. "And the clothes are based on their national costume, the kebaya. As they wear tight-fit garments, we have used
the mermaid cut for the women's dresses." Their candles were inspired by Balinese designs and bookmarks were made of crushed batik designs.
The final destination was Sri Lanka, where flora, fauna and especially elephants and the Esala Perahera festival had inspired their creations. "Our avant garde outfit was inspired by the coastal locales of Sri Lanka and symbolised a fight against water pollution. It had patterns made of bottle caps, water lilies, pebbles and safety pins. To emphasise Sri Lanka as the pearl of the Indian Ocean, we have further embroidered the garment with pearl-like stones," Ritika Gupta explained.
"I loved how much variety the students managed to offer in just 15 days of work. They seem motivated. For me, it was a tie between Turkey and West Indies at the top as both were excellent at creating their exhibits as well as the ambience inside their rooms," said fashion designer Abhishek Dutta, one of the judges of the event. Awards were handed out for categories like best merchandise and best room decor and so no one was disappointed.
Actress Darshana Banik was also a guest at the event and walked the ramp to encourage students.
Write to us at saltlake@abp.in