A third-year medical student who walked for four hours to the outskirts of Kharkiv in eastern Ukraine and heard a blast on the way, saw dismembered bodies and fallout of earlier blasts, said "evacuation" should happen "from where we are". 
The 23-year-old man from central India was on Thursday evening with "1,000 other Indian students" in a hotel outside Kharkiv, without food and constantly rattled by the "sound of blasts".
The Telegraph spoke to the student of Kharkiv National Medical University, in snatches.
The message
We received a message that we should leave Kharkiv. The message came to us through social media pages and our local coordinator in Kharkiv.
But how? There were no cabs or buses and we were not allowed to board trains.
We walked about 6km from Botanichnyi Sad (Metro station, near our apartment in Kharkiv) to reach Kharkiv railway station on Wednesday morning. Some like me from our apartment block and many from the hostel.
At the railway station priority was being given to girls, who were with us. So the girls boarded the train that was going to Lviv.
When the next train came, police said Ukrainian citizens would be given priority. We were not allowed on that train. The Ukrainian police fired in the air and shouted "Indians, back off".
A blast
We were hungry. We left our apartments at 7 in the morning (Ukraine time) and it was afternoon now.
A friend said we should go eat something. We did not find anything to eat. We heard a blast at the railway station. We were scared. People got injured.
We went inside to see if we could board a train. But we could not. There were many Ukrainians. We left.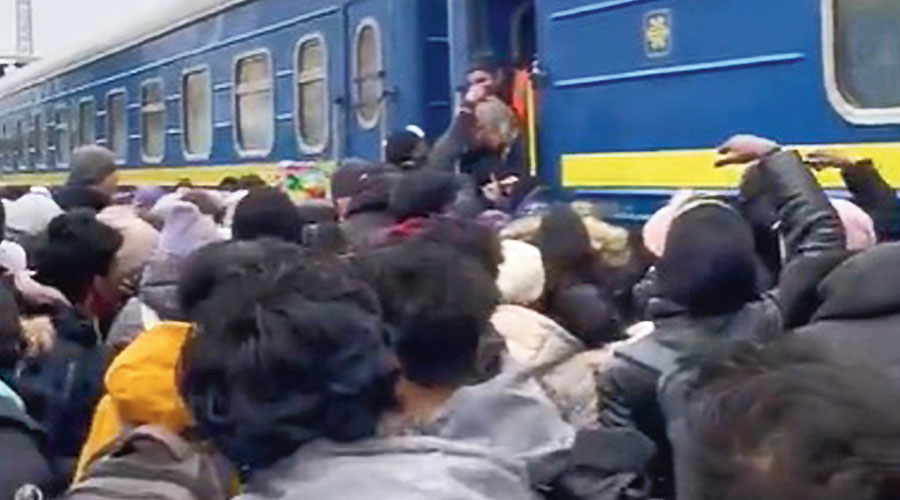 Many try to get into a train out of Kharkiv on Wednesday. Several Indian students who tried to board the train failed
Walk, no food
We decided to walk, around 1,000 of us, and leave the city (Kharkiv).
We started around 3 in the afternoon (Ukraine time) and reached a hotel on the outskirts of the city around 7pm, covering a distance of 25km.
But on the way there was another blast, very close.
As we walked we also saw bodies, uprooted trees and residential buildings destroyed by bombing.
Our local coordinator (in Kharkiv) said the Indian embassy had made arrangements for us to stay in a hotel on the outskirts of Kharkiv.
But the hotel does not supply food. And we cannot go outside to buy food because we can hear explosions.
Evacuation, please
Evacuation should happen from where we are, not from a safe country.
We started from our apartments in Kharkiv on Wednesday morning and we are without food till today (Thursday, 2pm, Ukraine time).
Students from Abu Dhabi and the United States left much earlier because their governments told them to leave before the situation turned so bad.
Calls to embassy
The Indian embassy is not taking our calls. I called up the embassy this morning, too, but there was no response.
We urge the government to make some arrangements, so that we can reach home safely.
Please understand our condition. We are unable to make arrangements of transport on our own.
Poland, Romania, Hungary are all 1,200 to 1,600km away. There should be a train or bus to take us to the borders.