The Indian Museum authorities have "suggested" to the Central Industrial Security Force (CISF) that jawans posted in the areas accessed by visitors are without firearms. 
The suggestion follows what officials said was a "feeling of insecurity" among museum staff after Saturday's firing by a CISF head constable, resulting in the death of a colleague and leaving another injured.
"We have verbally conveyed our apprehensions to senior CISF officers. Our staff are scared," said Arijit Dutta Choudhury, director of the museum. But he also clarified that the paramilitary force will have the final say on the matter.
"As far as security is concerned, they (CISF) have to take a call in the best interest of the museum. We have conveyed the apprehensions of our colleagues to them. At the end of the day, it is their call. The safety of visitors, the antiquities and the employees is the responsibility of the CISF. They will decide what is best," he said.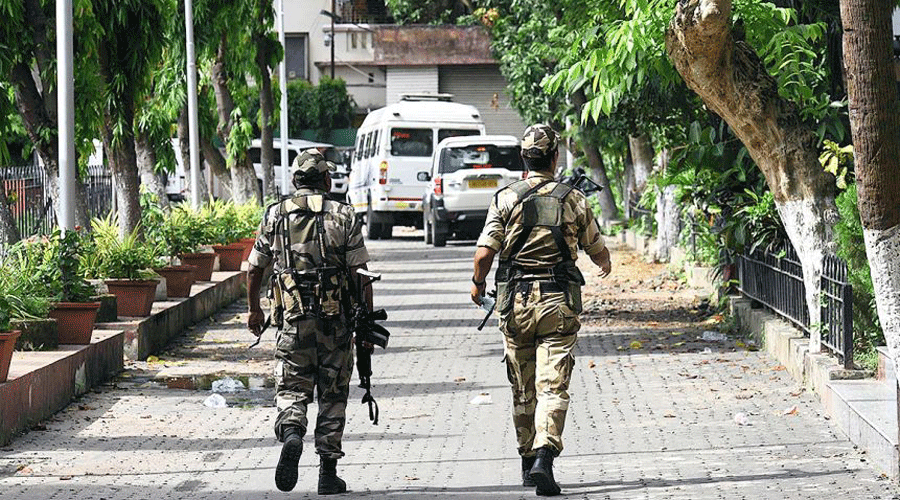 The Indian Museum campus on Sunday.
Sanat Kr Sinha
A senior CISF officer told The Telegraph: "We are yet to receive a formal communication from the museum administration."
A section of the museum staff met a senior officer on Sunday and expressed their "reservations".
Museum sources said more than one employee said any one of them could have been the victim.
A museum official cited "sufficient CCTV cameras" inside the museum. "There is a CISF team monitoring the CCTV footage throughout the day. In case of an emergency, the armed guards in the reserve can respond accordingly," he said.
The CISF has been in charge of the security of the Indian Museum since December 2019. Before that, a private security agency, aided by Kolkata Police, was in charge of the museum's security.
Choudhury told The Telegraph on Sunday that he did not expect an overnight change in the arms policy. "There has to be a series of discussions before any change happens," he said.
On Sunday, the museum was open to visitors and the mood was that of a typical holiday. When this newspaper visited, it was hard to tell that a person had died in a firing on the premises a day ago.
Saturday's shooting was, however, the topic of discussion at more than one huddle, of visitors and museum staff.