As kites of all shapes, sizes and colours dot the sky and cries of bho katta fill the air on Makar Sankranti, the risk of injuries among birds soars as well.
The Alipore zoo shared an appeal on Facebook for safe kite-flying on Makar Sankranti.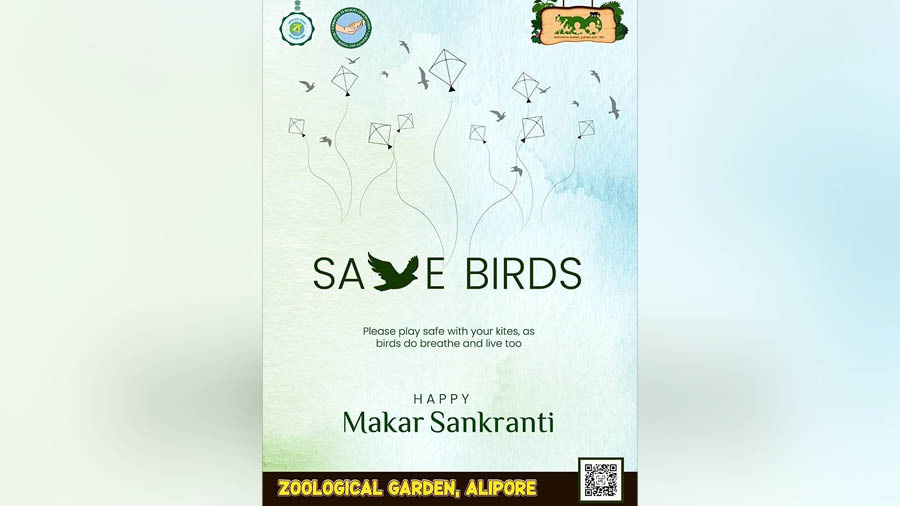 Zoological Garden,  Alipore
Accidents caused by Chinese kite strings have gone down since the National Green Tribunal banned it in 2017, but incidents of bird injury and death from manja still occur. The kite-flying season around Independence Day, Vishwakarma Puja, Makar Sankranti and Republic Day remains perilous for the bird community.
Bonyo India, an NGO that rescues birds and hands them over to the West Bengal forest department, has been receiving calls over the past two days, reporting incidents of bird injuries from kite strings from across the city.
"We receive SOS calls all round the year but calls reporting manja injuries are on the rise during occasions like Makar Sankranti that involves a tradition of kite-flying. Yesterday we got a call on our helpline from the Tollygunge area, where an eagle was badly injured by kite string. Our volunteers rescued it and handed it over to the forest department," said Subho Majhi, a volunteer from Bonyo India.
Bonyo India has been rescuing birds from in and around Kolkata for over a year now. "The cases of kite strings are really gruesome sometimes. In many instances, we have rescued birds whose beaks or wings were severed by the manja," Majhi said.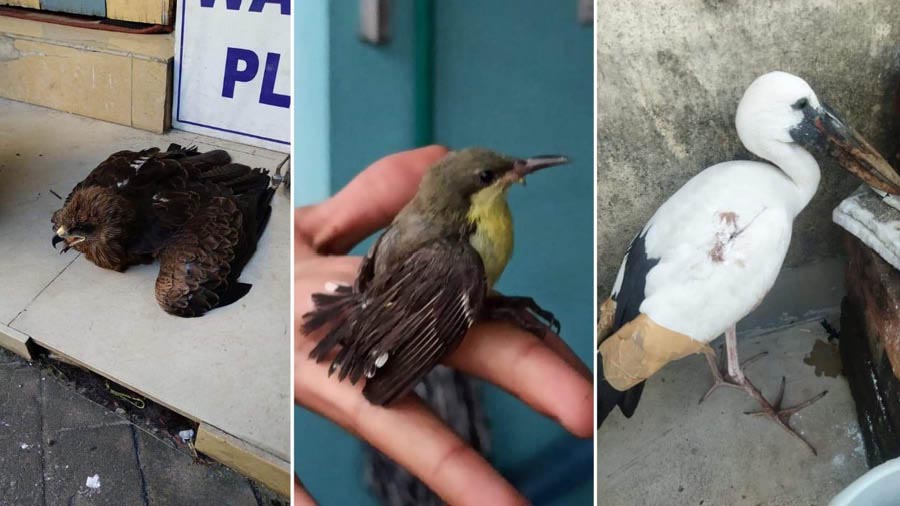 Birds rescued by Bonyo India
Shubhankar Patra, birder from Kolkata, has been watching birds for more than 60 years now. He recalls many incidents from the past when birds were injured or killed by the kite string. "Not only Chinese manja, the common strings are also dangerous to the birds. But birds can still free themselves from the ordinary strings by cutting it with their beaks but Chinese manja is unbreakable. It ends up gravely injuring the bird," he said.
Chinese kite strings continue to be sold illegally in the market despite being banned for over five years.
Things to keep in mind if you rescue a bird
Bonyo India volunteers have observed that common people do not know what to do after they have rescued a bird and called for help. It often turns out that the bird is kept in the open where it is prone to attack by crows or ants.
"If you have found a bird entangled in kite string, try to gently untangle it. But if you think it might injure the bird further, then place it somewhere inside in a safe corner. Do let the rescue team know the seriousness of the injury. It is important to have patience as help reaches you. The best immediate action is to take the bird to a nearby veterinary doctor," Majhi said.