Parking rackets are thriving with impunity in all three sectors of Salt Lake.
The newly-constituted board of the Bidhannagar Municipal Corporation is yet to float any tender for agencies to operate parking lots yet many motorists as well as two-wheeler riders allege that groups of men have been collecting parking fees at different places of the township.
The Telegraph Salt Lake went around the township and spotted men taking money from both cars and bikes.
In Sector I, the stretch in front of the ILS Hospitals till the City Centre Island had cars parked on both flanks of the road that leads to Bidhannagar College. At regular intervals along the stretch there were men keeping an eye out and taking money whenever a car or bike pulled out.
Shyamal Mukherjee, a resident of Lake Town who had come for a doctor's consultation with his wife at ILS Hospitals here, said he had to cough up Rs 50 as parking fees to a man who claimed to be the parking attendant.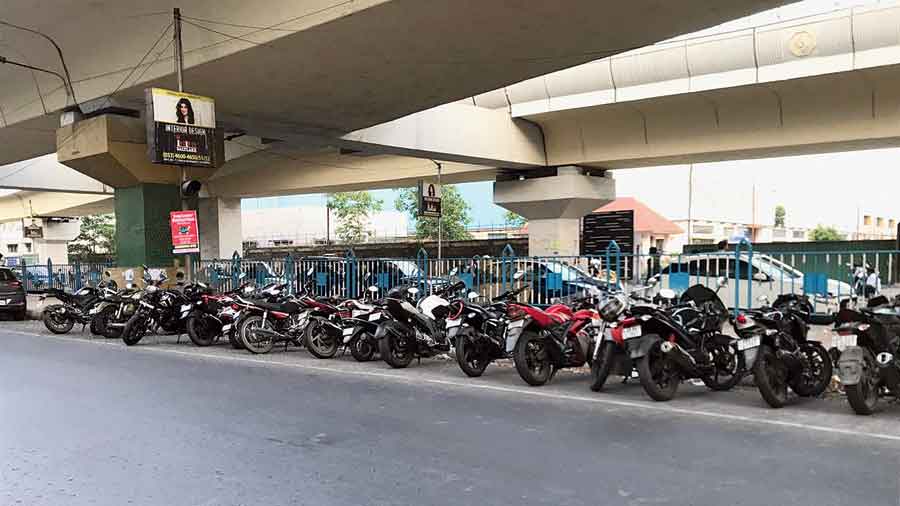 Bikes and cars line the stretch between ILS Hospitals and City Centre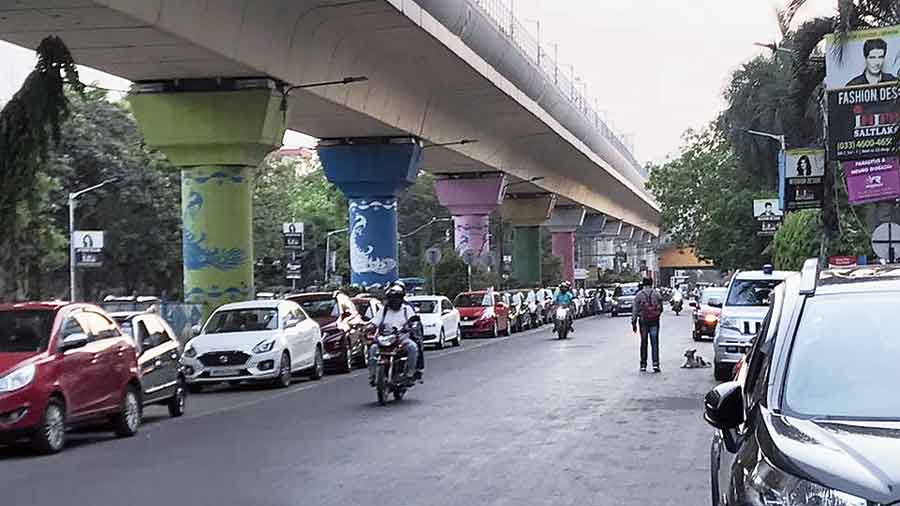 Bikes and cars line the stretch between ILS Hospitals and City Centre
"I had barely parked my car for and hour and half but he demanded Rs 50. He didn't  give me any receipt either," said Mukherjee.
HA Block resident Basudeb Bhattacharya made a similar allegation and told The Telegraph that he was asked to pay Rs 120 as parking fees when he had gone to watch a film last week at a multiplex in Salt Lake's Sector III.
"I tried to reason with the men that Rs 120 was exorbitant but they paid no heed. They even threatened to break the windshield of my car! It was quite late at night and so I paid up and left," Bhattacharya said.
This newspaper visited the parking lot next to EZCC complex and spotted a couple of men in their 20s collecting "parking fees" from both cars and bikes.
"We don't have any parking slips. But if you want to park your car you have to pay up," said the attendant who refused to divulge his name.
An official of the Bidhannagar Municipal Corporation said they were yet to call for a tender to appoint an agency to run parking lots in Salt Lake. "We haven't called in any tender and will look Into these allegations," the official said.
The parking rates fixed by the civic body are Rs 10 an hour for four-wheelers and Rs 5 an hour for two-wheelers but the official said that since the lots have not been allocated in the first place those, collecting this money is illegal.
A senior officer of the Bidhannagar Commissionerate's traffic wing said that they will begin a probe to identify illegal parking lots.