An illegal structure, spread over 10 acres just behind The Heritage School, on the East Kolkata Wetlands has been demolished today by a combined team of East Kolkata Wetlands Management Authority (EKWMA), Kolkata Municipal Corporation (KMC) and Kolkata Police.
The demolition work in KMC's ward no. 108 started after getting the green light from chief minister Mamata Banerjee, according to sources. Apart from one JCB machine, nearly 10 workers from the KMC demolition squad, around 15 police personnel and senior officials of EKWMA were present throughout.
Local residents alleged that large portions of the wetlands had been filled up inside the boundary wall of the illegal construction, which had been built over a waterbody called Noortala bhery. A huge part of the construction — about 6.5 acres — is more than six months old and houses a plastic-recycling unit. Efforts to grab the adjoining land of 3.5 acres recently led to a number of complaints being filed by local residents, attracting the attention of the authorities.
"It has come to the notice of East Kolkata Wetlands Authority (EKWMA) that an unauthorised construction of a boundary wall is being done on a part of RS Dag no. 1147, Mouza – Dhapa … under PS Anandapur, KMC Ward No. 108. Another boundary wall and a plastic recycling unit appear to have come up on the same dag no. The aforementioned work has been done illegally by violating provisions of … East Kolkata Wetlands (Conservation and Management) Act, 2006," said EKWMA chief technical officer K. Balamurugan in his order issued on July 6, 2022.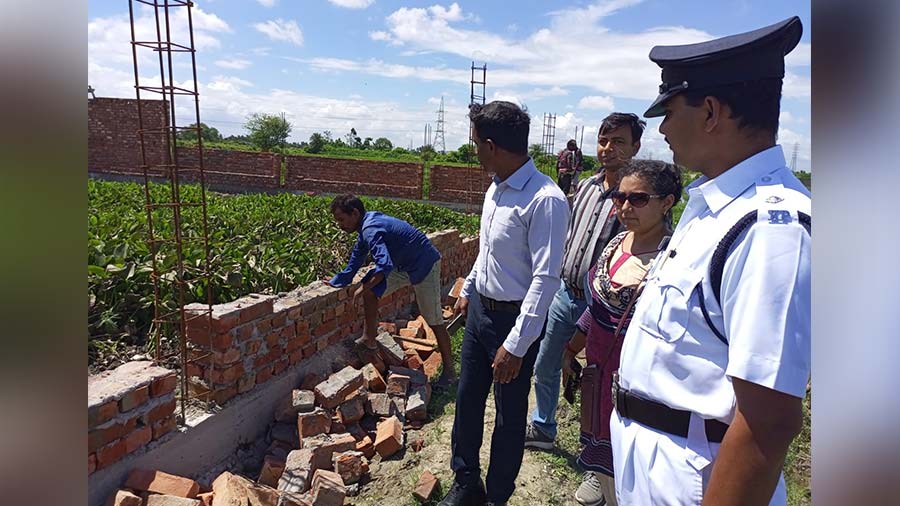 EKWMA chief technical officer K. Balamurugan supervises the demolition of the illegal construction.
The Plurals
The order also asked the owners of the illegal structure "to stop the construction immediately and restore the wetlands to its original character".
Police officers said they had no clue about the people responsible for the land grab before today. Local residents, however, alleged a nexus between local politicians and police. The police officer overseeing Thursday's demolition accepted that part of the construction seems many months old.
"We have asked the KMC to demolish both old and new constructions, but they only razed the brick wall to the ground in the recent construction area. We don't know when the rest of the construction will be removed. Unless the entire area gets cleaned up and water is allowed to flow, the area's wetland character will not be restored," said an official of EKWMA.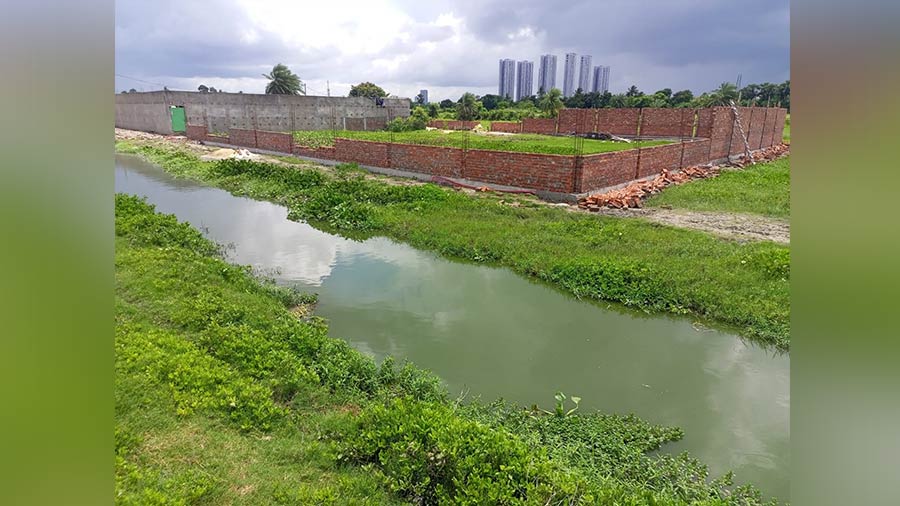 Local residents allege that rampant land grab continues on East Kolkata Wetlands
The Plurals
Local councillor Sushanta Ghosh admitted that "there must be about 400 such violations in the ward no. 108 alone". "I received no complaint about this violation and had no idea, but many reports of such violations have come up in the last 12 years".
Local MLA Javed Khan said he had received complaints about this particular construction and forwarded them to a senior police officer twice.
Other boundary walls as well as a two-storey building had been built close to the area where Thursday's demolition took place. "We are aware of these violations and have filed an FIR in the local police station a long time back. The KMC is also supposed to take action, but nothing happened so far," said an official of EKWMA.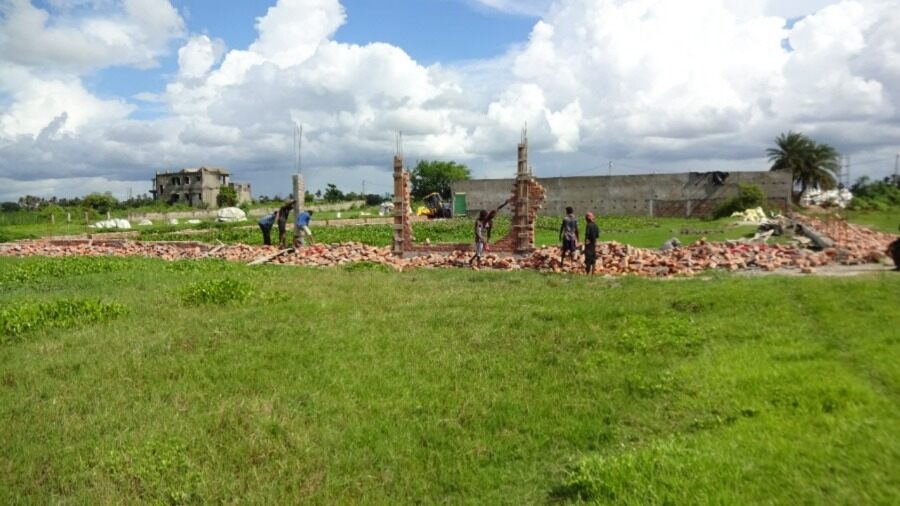 The site after completion of the demolition work.
The Plurals
"We are happy that action was taken against one violation, but what about the rest where no effective action has been taken so far? We will soon write to the authorities demanding appropriate actions against all the violations," said Naba Dutta of the environment platform Sabuj Mancha.
East Kolkata Wetlands is a Ramsar-recognised area spread over 125 sq km and no construction is permitted inside the area. The area is considered critical since it acts both as the lungs and kidneys of Kolkata.
Only a few days ago, Kolkata mayor Firhad Hakim said action would be taken against police and KMC people if they were found to be in cahoots with those involved in erecting illegal structures by filling up waterbodies.