Hundreds of students were back on campus for their first board exam and so were the throngs of anxious parents outside school gates as the ICSE (Class X) semester 1 exam began Monday.
Scenes familiar to Kolkata, of parents escorting their children to an exam and waiting outside till they settle into exam halls made a comeback.
Parents, meeting each other after a long gap, struck up conversations among themselves. Some had met last when their children were in Class VIII. 
Children did not have the scope to talk to each other because they had to maintain safety protocol from their entry to campus till they left.
But there was no such strict scanner on parents and some shared their anxieties of the pandemic, of their children not being vaccinated and of how their children would perform in an offline exam after the long break.
"I was nervous today whether we would be able to reach on time and was feeling shaky bringing her to school after such a long gap," a mother was overheard saying outside a school in south Kolkata.
Several principals said the number of parents outside school gates was definitely more than what they had seen during ISC (Class XII) papers.
"They did look nervous and anxious perhaps because they were escorting their children to school after such a long gap and that too for a board exam," said Terence Ireland, the principal of St James' School.
Padmajani Dutta said she waited for about half-an-hour after dropping off her daughter and later went back to pick her up.
"She used to travel in the school bus, which is not available now, and I won't leave her all by herself, especially during an exam. Over the last 20 months, she is no longer used to travelling alone and will take time to get used to it," said the mother.
Dutta, however, said during dispersal, parents were asked not to block the gate like before.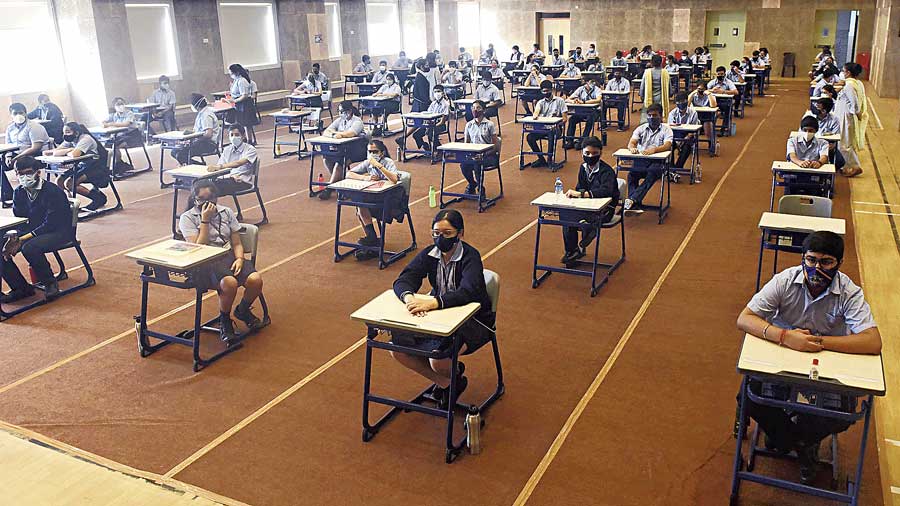 Students of Sri Sri Academy School in the hall for Monday's ICSE paper.
Sanat Kr Sinha
"The gatekeeper was constantly telling us that we had to keep the pathway clear and leave immediately after receiving our children," she said.
In some schools, parents had to leave and were not allowed to crowd at the gate. Many of them returned after an hour.
"Parents were waiting outside but we had given instructions to them not to crowd or block the gate," said Sister Sherly Sebastian, principal, Our Lady Queen of the Missions School Salt Lake.
Parents feel more reassured if they can drop their children to school for an exam and the long gap from school intensified that need, a principal said.
"They had last come in Class VIII and it is a big transition for the children. The parents do not want to leave them alone all of a sudden. Also, Class XII students are more independent and used to travel alone," said Terence John, the principal of Julien Day School Kalyani.
Unlike before, not many parents were keen on their children hitching a ride with classmates.
"Even those who had taken public transport said they were booking it for themselves instead of coming together," said John.
Glitch stalls evaluation
The ICSE council asked schools to close their ICSE centres for evaluation around 8pm on Monday, following a technical glitch.
Several schools could not complete the online submission of marks of Monday's ICSE English language paper. The Council for the Indian School Certificate Examinations told schools that the evaluation at the centres may resume on Tuesday morning.
The technical glitch surfaced around 4.30pm.