Heat, humidity and occasional rain.
That is what is in store for Kolkata over the next few days, the Met office said.
A low-pressure area formed over northern Odisha and adjoining areas on Monday. But the impact of the system will be felt in Odisha and Chhattisgarh, said a Met official.
"The monsoon trough now extends from Rajasthan to the eastcentral Bay of Bengal via the low-pressure area over Odisha. As a result, the monsoon currents are much stronger in Odisha than they are in south Bengal," said G.K. Das, director of IMD, Kolkata.
Unless the trough moves slightly up, the monsoon currents are unlikely to get stronger in Kolkata, he said.
Over the next week, Kolkata is unlikely to get heavy rain. "There is a possibility of the trough moving up after July 9. If that happens, Kolkata can get moderate rainfall," said the official.
On Monday, the maximum temperature was around 35 degrees, two notches above normal. The maximum and minimum relative humidity were 92 and 59 per cent, respectively.
Around 2.30pm, the temperature was 34 degrees but the RealFeel was 10 degrees higher.
Found dead
Dipankar Saha, 82, who lived alone in an apartment at Niva Park in Bansdroni on the city's southern fringes, was found unconscious on his bed on Monday morning and later declared dead.
Police said a neighbour, who went to his house to give him breakfast like other days, raised the alarm after Saha did not respond to the doorbell.
The cops broke open the door and found Saha lying unconscious on his bed. He was taken to MR Bangur Hospital, where he was declared dead.
Mishap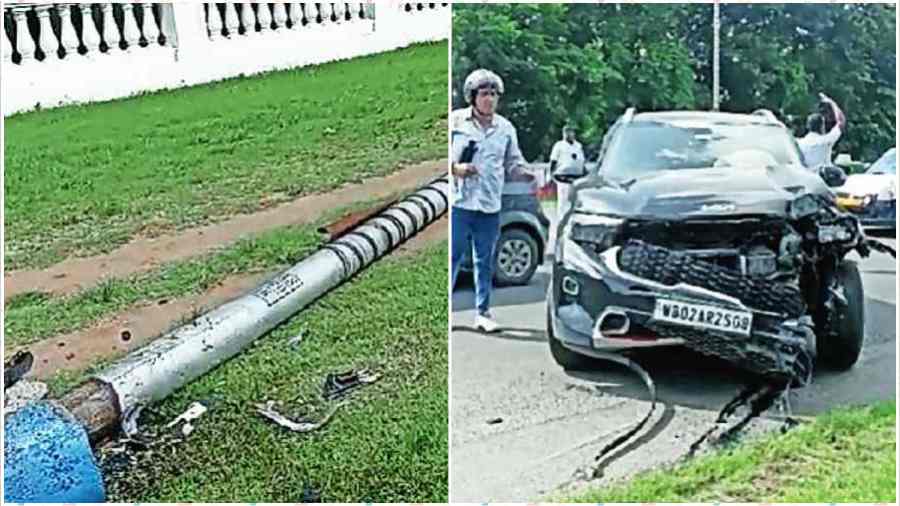 An uprooted lamp post along Red Road. The pole was dislodged after an SUV (right) rammed into it at high speed on Monday morning, police said. No one was injured. The man who was at the wheel of the car has been arrested for rash and negligent driving and mischief