An educational centre that started 12 years ago to support children of daily wage earners and landless farmers in remote Bagnan, in Howrah, to ensure they did not drop out of the formal education system now has 16 students in colleges in the city and its outskirts.
Most of the children were first-generation learners.
The founder of the centre, a math teacher in the city, wanted to push the children of his village to aspire for a life beyond that of a daily labourer or domestic worker.
It was a challenge to get them to study because financial hardships and low awareness would drive the children back to a life of odd jobs for a paltry sums.
"Now, my students have completed school and are going to college. I have been partly successful in shaping their careers," said Tanmoy Patra, founder, Howrah Vivekananda Siksha Kendra.
Patra turned his paternal home in Rainagar village, about 70km from Howrah railway station, into a study centre.
For him, seeing his students pursue undergraduate students is a celebration of 12 years of hard work and perseverance.
It was not easy because often, forced by circumstances, children would have to give up.
Souvik Pal, one of the students, joined a medicine shop for a monthly salary of Rs 2,000 after his Madhyamik (Class X) exams.
Neither Souvik nor his family was ready for him to leave the job.
It was only when Patra agreed to give him the money from his own pocket that Souvik continued with his studies.
He is now a third-year mathematics student.
Nisha Manna, another student, got through English honours at City College this year.
The teenager had to face opposition from her family for wanting to study. She would be late for classes at the centre because she could attend them only after household chores.
The last two years in the pandemic was a period of adversities for families and many students gave up studies. Samiran Khanra's father is a landless farmer who had no work.
Samiran was sure he would not be able to go to college. Patra supported him financially so he could take admission in City College.
"I thought higher secondary was all I could do. There was no food at home, how would I have expected to go to college?" said Samiran, whose father has studied till Class VIII and mother till Class VI.
Now, he is pursuing chemistry honours.
"It is with a lot of educational support that I have nurtured them. With the help of sponsors and well-wishers, I try to see that they complete their education," said Patra.
Education will eventually give them a job and push them out of poverty, said Patra.
This year, two of his students got admission in undergraduate courses in Calcutta — one of them at St Xavier's College's Raghabpur campus for a master's in Bengali.
"I want my students to get out of the village and move to the city. It will change their outlook and approach and also prepare them better for life ahead," he said.
The journey started with 28 children in 2010. Now, the centre has 120 students. Patra invites the students in college to the centre to take classes and share their stories with the current children.
"Nothing can be better than real stories of people like them. If they see how life has changed for these students, they will not want to give up," said Patra.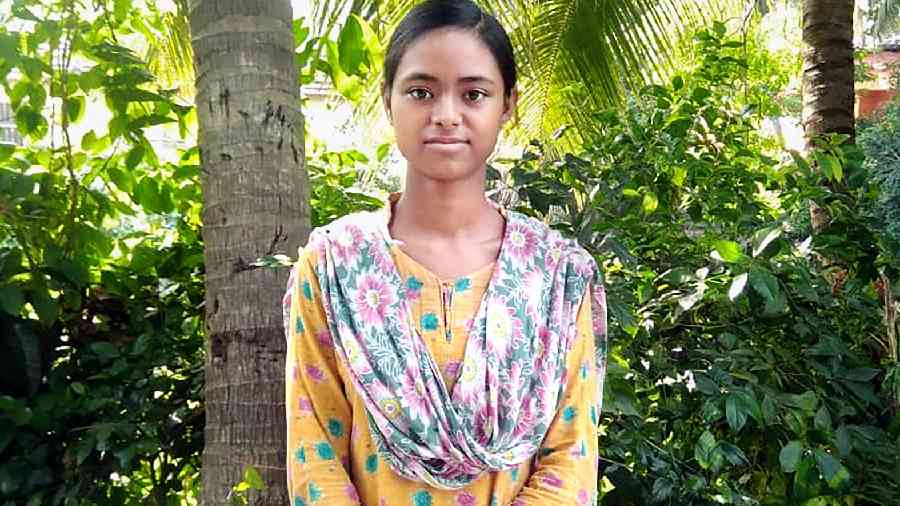 Nisha Manna, from the education centre, has enrolled in English honours at City College this year
Telegraph picture