Trees toppling during a storm is routine in Kolkata. At least 50 trees toppled or suffered extensive damage during last Saturday's Nor'wester. The sudden toppling of trees has killed and injured people on the road and damaged properties. A tour of the city on Friday revealed how poorly Kolkata treats its trees.
Where: Near Mullickbazar, on AJC Bose Road
What tree: Radhachura
The problem: This is a textbook case of how not to trim a tree. Branches have been chopped off from the side facing the road, while the portion above the footpath was left untouched. Worse, the joints from where the branches were hacked have been left untreated.
The recourse: "Anti-fungal treatment on the wounds is necessary. The tree may catch infection from these joints. An infection may weaken the tree and lead to rapid degeneration," said Arjan Basu Roy, founder of NGO Nature Mates, which has been advocating better treatment for trees along Kolkata's roads.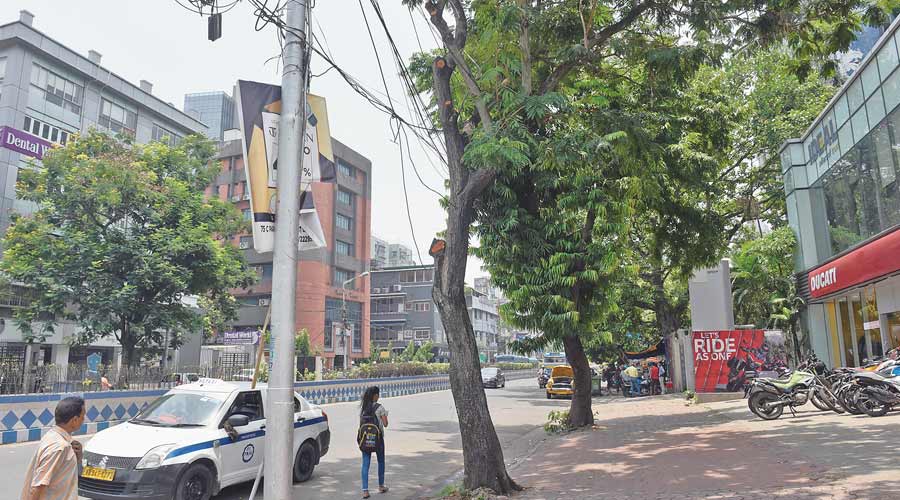 AJC Bose Road
Where: Opposite Victoria House in Esplanade
What tree: Devil tree or Chhatim
The problem: The tree has been standing at a 45-degree angle to the road for years. The way the tree has been trimmed, it could flatten any day. A sudden gust of wind during a storm could lead to its toppling.
The recourse: Basu Roy spoke of two options. Uprooting the tree and planting another in its place is one. "The other option is to trim the foliage in a way that the winds pass through. This will ease the pressure on the tree and reduce the chances of it falling during a storm," he said.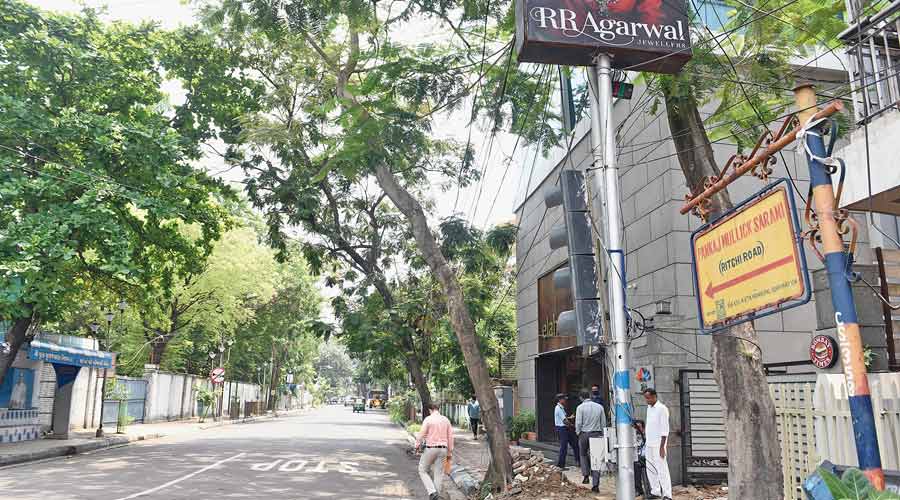 Ritchie Road
Where: Ritchie Road, near St Lawrence High School
What tree: Gulmohar
The problem: The tree, with heaps of rubbish leaning against its trunk, is already tilted towards the road. The bulk of the pressure on the tree is towards the road and the concrete rubble further adds to it.
The recourse: Remove the rubble and trim the head load in a way that greater load is towards the footpath, in the direction opposite to the tilt, said experts. "Remove the cemented concrete around the tree so that roots can spread horizontally," said Punarbasu Chaudhuri, an assistant professor of environmental science at Calcutta University.
Esplanade
Where: Hazra Road
What tree: Chhatim
The problem: The tree is tilted in a manner that it is likely to topple. Improper trimming over the years has led to the tilt, experts said.
The recourse: "The tree should be trimmed in a scientific manner, then the footpath around it should be cleared of tiles and concrete," Chaudhuri said. "A trench can be dug and the tree made to stand straight again," he said. The tree will require support for a few months before it can again stand on its own.
Naturalists have always advocated for keeping the area surrounding the tree uncemented so that the roots can breathe and are not damaged.