An uncomfortable deja vu has engulfed the city. Once again we are afraid of the phone ringing, lest it bring news of another relative having caught Covid. With no one fit to service the kitchen, infected families are again dialing home delivery outfits; diagnostic centres are again struggling to keep up with the surge in demand for RT PCR tests…
But this time not everything is the same. The virus has evolved but so have we. From using home testing kits to more efficient home management techniques during the illness, we too have learnt lessons from the second wave and are implementing them in the third.
Check it yourself
The Covid self-test kits have been around from mid-last year but it's only now that they've become a household name. "We only started keeping the kit from this year, once people started asking for it. Diagnostic labs are overworked and RT PCR reports are taking two days to arrive. So symptomatic patients are making a beeline for this rapid antigen self test that shows the result in 15 minutes," says Shanoli Majumder, who runs Shefali Medical Hall near the swimming pool.
Demand for the product has shot through the roof. "In the first week of January we sold 50, 60 sometimes up to 90 kits a day. There would be queues outside our store for kits, paracetamols and antibiotics being prescribed for Covid," recalls Kanchan Kumar Nayak of the Medicure store in Baisakhi, although admitting that demand had dropped somewhat of late.
Most shops are stocking kits by one or two companies, both priced at Rs 250. The K.R. Lynch store in BF Block was selling about 40 a day when the rush began a few days ago. "We obviously had to place fresh orders but supply was short. Same with paracetamols and prescription pills being given for Covid. We never went out of stock completely but had to search beyond our regular suppliers to replenish," says Arvind Kumar Singh, from behind the counter.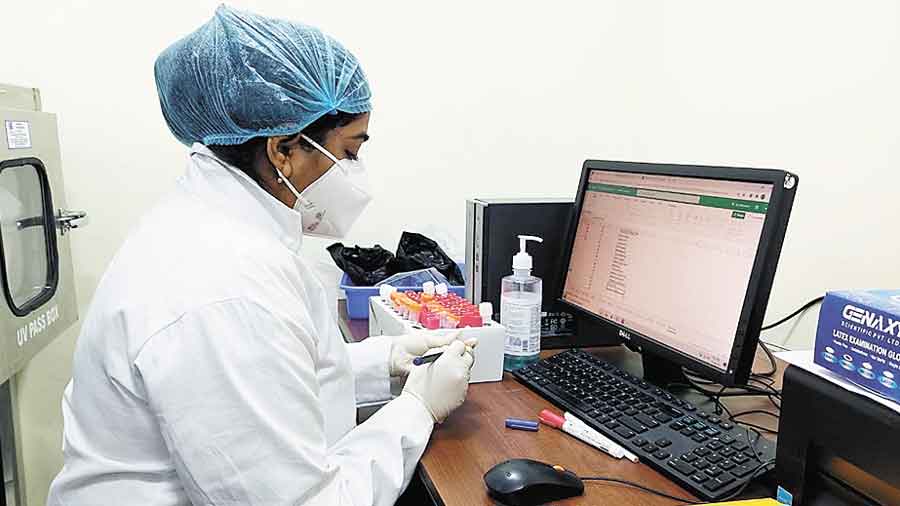 A technician at New Town's I3T diagnostic centre updates results of Covid tests on to the Cowin portal.
The self-test debate
Doctors are divided over the use of these kits. Some don't take them seriously, claiming that a false negative finding could make patients complacent enough to roam the city, infecting everyone they meet. But others feel that if performed correctly, the results are reliable.
"Labs are overflowing and reports are taking a couple of days to materialise. So it's only logical to get a self test done, receive the report in 15 minutes and start treatment immediately," says Arpit Kapoor, a physician attached to Apollo Hospitals.
"But these reports cannot be studied in isolation. If it comes negative but the patient shows symptoms, the patient must go in for an RT PCR test to be sure."
Another concern is that those testing positive through the kit may not be intimating the authorities about it. The kits ask users to upload their result on an app, so the government can keep tabs of positive cases, but there is no way to ensure they are doing so.
For instance, in the NKDA (New Town Kolkata Development Authority) area, active cases on Monday according to sources numbered 1,772. But New Town Pharmacy in Axis Mall has been selling 25 kits a day since the surge began. So the actual number of positive cases is anyone's guess.
Meals at doorstep
"We are getting umpteen calls asking if we are still preparing 'Covid food'," says Isha Dasgupta, a resident of Sraboni Abasan who had started a home delivery service during the second wave. "We had indeed started it to serve patients but as cases tapered off we diversified into fancy food. But all of a sudden people who had taken Covid food last year are connecting us with relatives who have fallen ill now." They run their service on behalf of the Mrinalini Dasgupta Memorial Fund that they have started.
Saini Bhattacharya, one of the partners of DL Block's Roseek, has her university exams from next week but cannot find time to study as work load has risen exponentially. "We are sending out food to 100 homes and refusing 50 every day," she says. "Some people living in gated communities are continuing with the service even after getting cured as the complexes are not letting cooks and domestic helps in yet."
Ghar Ki Rasoi, a Karunamoyee-based home delivery, is sending out 120 to 140 meals a day but Radhika Jain says this time orders are not consistent. "In the second wave people were ordering three meals a day for 14 days at a stretch but this time the illness isn't as severe so patients are feeling fit enough to prepare one or two meals by themselves."
Dasgupta agrees. "Last year, in the 21-dayperiod that patients were ordering, we had come to memorise their preferences — who wanted gada slice of fish, who peti, who was vegetarian on which day of the week — but this time patients are recovering in five or six days. This time entire families are getting Covid and ordering for so many people for so many days can pinch the pocket. So they are only ordering for the initial days," she says.
It's also clear that this time most people have neither lost their sense of taste nor smell. "Those bored with bland food are craving kosha mangsho but are asking us to make it without spices as their throats are burning," Dasgupta explains.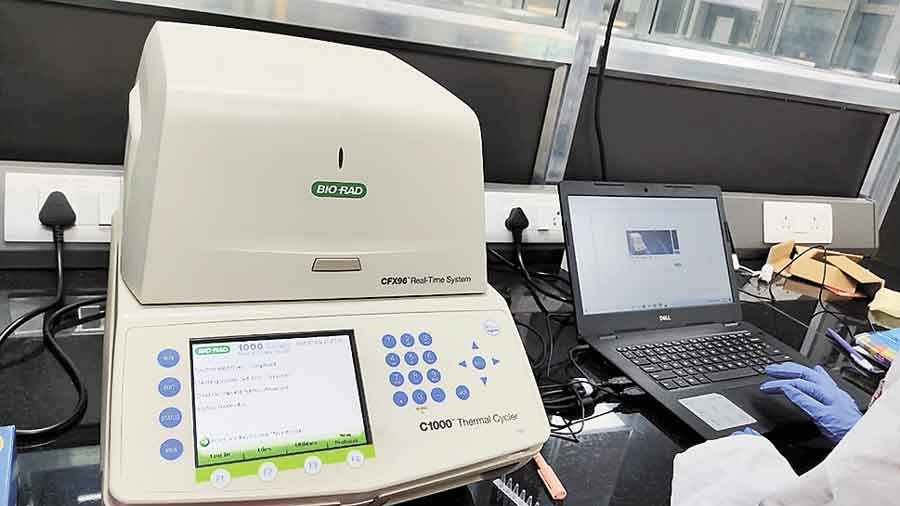 The Biorad CFX 96 machine that uses real time PCR methods to test swab samples for Covid, at the same lab.
Prescription over phone
FE Block runs a clinic at their community centre but ever since the surge, patients have dwindled. "Even we are asking those with fever, cough and cold not to come. Instead, we have started a telemedicine service where they can ring up or video call with our doctors from the safety of their homes," says Pallav Bhattacharya, himself a physician and secretary of the block association.
The telemedicine set-up, he says, was a response to this third wave.  "It was the need of the hour — both to help patients and to reduce burden on hospitals. We have already got many calls," Bhattacharya says. 
Physician Rajesh Kumar Chel has been seeing (or in case of telecounselling, hearing out) 30 Covid cases a day of late. "After prescribing medicines, I'm asking patients to get back to me every three days but no one is calling after the fourth day, meaning they are getting cured," says the HB Block-based doctor.
"This latest variant is very infective but less effective. While those with comorbidities are still at risk, none of my patients have needed hospitalisation," says Chel. And it's survival of the fittest, he says. "Most people today have survived two waves and received two jabs of vaccine. For them, it's no worse than flu. Besides, this time adolescents, teenagers and the middle-aged are suffering the most."
Dr Kapoor has lost count of the number of Covid patients he has been seeing and getting calls from. "Even patients coming to the hospital for other routine tests are turning up positive when tested for Covid. So the panic is no exaggeration," says the Karunamoyee resident.
Unlike in the second wave, the youth are not ending up in hospital,
he says. "But the elderly and those with comorbidities need to be protected even from the flu. It's good that the booster shots have begun." In this wave, Dr Kapoor has got only one patient who had lost his sense of smell. Most others complained of sore throat, cough, body ache and lethargy.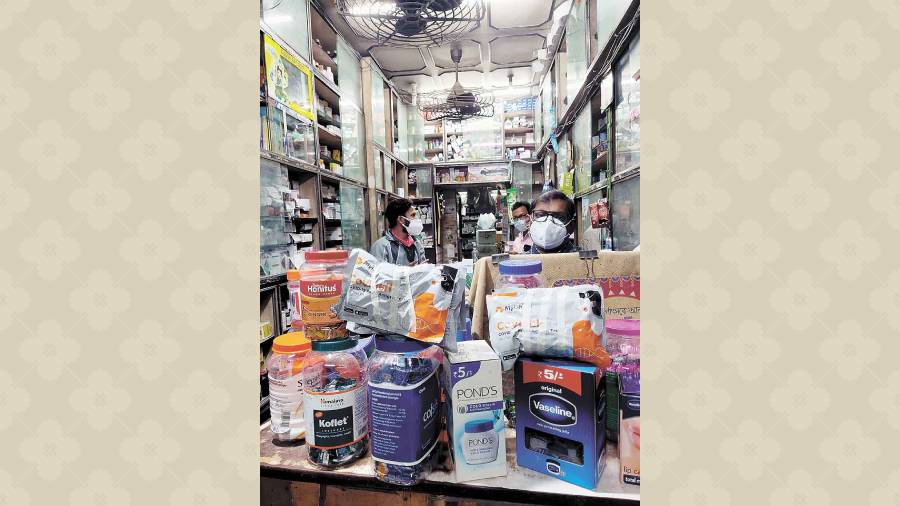 A medicine shop near Baisakhi Abasan with Covid self-test kits displayed on the counter.
Debasmita Bhattacharjee
No shortage of oxygen
A small mercy this wave is that most cases aren't that severe. "In November-December, demand for oxygen was very low. It has risen since then, but it's not proportionate to the meteoric rise in the number of Covid cases," says Samar Kar Chaudhury of Prasanthi Enterprises, that refills oxygen cylinders from DL Block.
Then again, he says many people had purchased cylinders after the acute shortage in the second wave. "This time patients aren't requiring oxygen so their cylinders are still full," Chaudhury opines.
For Pharmaco, sale and rent of oxygen cylinders has doubled to about 10 a day. Before the pandemic they had two branches but to cope with demand they opened new ones in Dum Dum Park and Durgapur. 
"Demand is not nearly as high as it was in April (50 to 60 cylinders daily) but then people were hoarding indiscriminately back then," says proprietor Soumyadeep Mondal. "This time not only are fewer patients requiring oxygen but also, they aren't needing it round the clock."
The supply chain of oxygen has also improved, omitting the need for brawls in the queue at the suppliers' or even black market prices. "This year, many companies have hired oxygen concentrators from us to provide employees in case they need it."
Isolation homes ready
Last year, many an isolation home had come up for patients unable to segregate themselves living at home. "But this year we haven't got any enquiries for this facility yet," says Shanti Ranjan Paul, secretary of CK-CL Block's association. Last year the block had set up an isolation home in their community hall and even hosted a couple of patients.
The block also has four oxygen concentrator machines, that were used extensively by residents of adjoining blocks last year, but again no one has asked for them this time.
Refuge for fur babies
Solutions have come up for pets of patients too. "We already have five or six dogs from Covid-positive homes living in our creche now. These patients are too sick to cook or clean up after their pets," says Sayanta Bhattacharya of Murphy Pet Mall in GD Block.
They are picking up the pets from the gates of their homes after wiping them with disinfectant wipes and keeping them in a separate room at their store. "This is because we also have pets from non-Covid homes with us," says Bhattacharya. "We hadn't thought of this service last year but people are really making use of it now."
Labs under strain
Diagnostic centres are working over time to meet the demand for so many tests. "Before Christmas, we were getting six or seven Covid samples a day, which rose to a maximum of 10 by the New Year. But now we are staring at 95 and 120 cases a day, with a positivity rate of 50 to 60 per cent," says S. Rajesh, director, communication, I3T Advanced Diagnostics Centre, opposite Unitech gate 2.
They have had to hire extra lab technicians for home collection and their staff has been divided into shifts so they can work till 11.30 at night instead of 5.30pm and deliver reports in 15 to 24 hours.
Since the institute is run by a trust — Pradip and Kumkum Ghosh Family Foundation — their rates are subsidised. "This is why we are getting calls from New Town, Rajarhat and even the comparatively far-off Salt Lake. Tests for entire families can add up to a hefty bill otherwise," says Rajesh. 
Suraksha Diagnostics, that has branches in the twin townships as well as outside them, has been getting 2,000 cases a day. "The figure was 2,500 to 3,000 during the second wave but had gone down to 200 to 250 a day so this rise is tremendous. And positivity rate is 30-32 per cent, much more than the 14-15 per cent at the peak of the second wave last year," says director Dr Somnath Chatterjee.
So infectious is the virus that eight to 10 of their staff members are testing positive daily. I3T has started providing pick up and drop facilities to their staff to reduce the risk of infection through public transportation.
What differences do you find in life during the second wave and the third wave? Write to The Telegraph Salt Lake, 6 Prafulla Sarkar Street, Calcutta 700001 or email to saltlake@abp.in