Sampoorna Tritiya, New Town
The planning had been going on for close to a month. On Poila Baisakh, around 60 of us, the women in red-bordered white saris and the male residents in white kurtas and pyjamas, gathered downstairs around 6.30am.
This would be the second year of our Nava Varsha celebration, organised by the Sampoorna Tritiya Apartment Owners' Association (STAOA), and this time we wanted broader participation. The day reminds us of the joint family get-togethers in our childhood so we wanted to instill a feeling of togetherness here in our complex as well.
Last year, we did have a prabhat pheri but the adda afterwards was unplanned, punctuated by a few impromptu performances. So we tried to enlist more participants, especially from among our male neighbours.
We took a full round of the lanes around the five towers within the complex while singing and dancing. Elderly residents watched from the balconies and windows, smiling and waving as we passed by.
After the prabhat pheri, we settled down in our lounge for Nava Varsha adda. Dilip Kumar Saha, president, STAOA, spoke of the first day of Baisakh being celebrated by different names and traditions in different parts of the country. Residents presented old and new Bengali songs, recitation and dance items.
We have neighbours hailing from several states like Odisha, Bihar, Uttarakhand, Gujarat, Tamil Nadu, Rajasthan, Jharkhand and Manipur. Some of them participated too, trying to wear dresses as closely resembling our dress code as they could manage. So the event became a kind of national programme.
Our Durga puja souvenir was then released. Prabir Mukhopadhyay, president of the Puja committee, appealed for increased use of Bengali in our day-to-day lives.
A small group of male singers, which included my 70-year-old father, sang Anondodhara bohichhe bhubone. Then they joined the women as they sang Amra sobai raja and Purano shei diner katha in chorus.
Among those who danced was Neetu Gokul, a doctor who has married into a Bengali family, and her six-year-old daughter Rhea to the song Dakchhe Poila Baisakh. "My daughter-in-law is from Bangalore. But she has assimilated very well to Bengali culture since she came here a year and half ago. She has even started understanding the language and can interact with her patients in it," smiled Rita Bhattacharya, vice-president of the cultural wing, who took part in both the prabhat pheri and the cultural programme for the second year running as a singer.
While our adda was accompanied by a breakfast of kochuri, alur torkari, amriti and sweets, a sumptuous contributory lunch of Bengali staple dishes followed later in the day.
Written with inputs from Ananya Ghosh, Sampoorna Tritiya
CK-CL BLOCK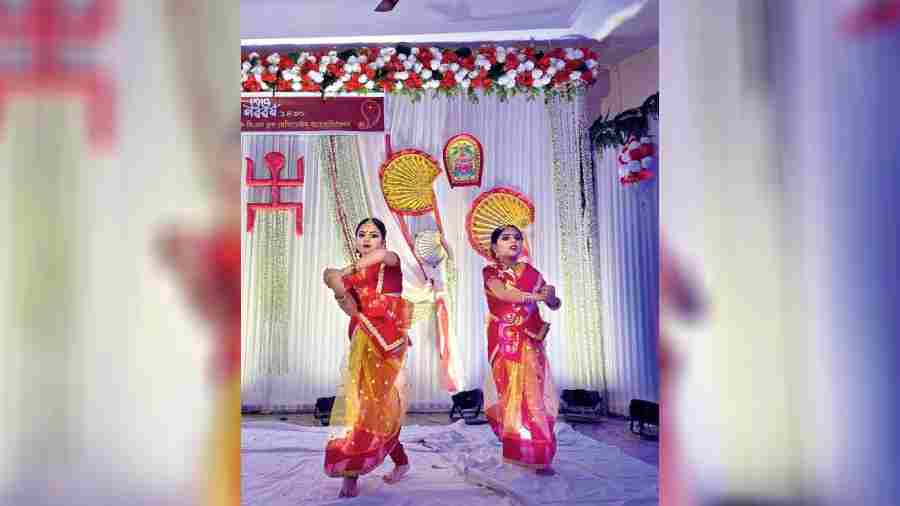 Cousins Aneesha Ghosh and and Samriddhi Chowdhury perform to Esho he Baisakh
Children of the twin blocks starred in the Bengali New Year celebration by Bidhannagar CK CL Block Residents Association, showcasing their talent through a variety of colourful performances.
The programme commenced with the musical Nabo Anande Jago, which featured chanting of a verse from the Rig Veda by Papiya Mukherjee, followed by narration and Tagore songs ushering in the new year.
On a stage decorated with hand fans, baron dala and other auspicious items, little girls danced wearing saris. Twins Moutrisha and Kaushiki Saha, aged a shade over five years, danced with a lot of gusto to the song Esho hey Baisakh, and were greeted with applause. "Everybody is talking about the heat wave but so engrossed are we that we cannot feel it much. We felt nothing even during the dress rehearsals over the last two days," said Mukherjee, who directed the musical piece.
Teenaged Kamalika Munshi played two Tagore pieces on the synthesizer while little Srishiksha Maity danced. Anaira Gautam, 6, entered the stage holding a flower pot and danced to Mamo chitte niti nritye, aided by Mousumi Dutta, who prompted the moves seated on the floor in front of the stage. "Anaira does not know Bengali though she is very enthusiastic as a performer," said Dutta.
Angshita Chakraborty, a Class I student, performed despite high fever to Phaguner mohonay. "My daughter was very keen to perform, so I didn't stop her," said her lawyer mother Asmita Chakraborty.
Cousins Aneesha Ghosh and Samridhhi Chowdhury, aged a year apart at eight and seven years, made the best impression with a duet performance to a song from the album Achena Baishakh. Even when the song stopped abruptly for a while due to a technical glitch, they carried on. "I felt proud that they did not panic then," said mother Shilpa.
Mousumi Dutta danced to a collage of three songs followed by recitation by Anuradha Pandit Dutta. Animikh Roy, Swayam Saha and Debanjan Banerjee created a lighter mood by reciting comic poems Rang Badoler Byaparshyaper, Biral niye Birambana and Jamoj Bhai respectively.
The organisers also paid tribute to Satyajit Ray through the song Aha ki ananda akashey batashe. "The programme would have remained incomplete if we did not remember the great personality. His birth centenary was last year but is being continued this year too," said Bappan Roy, cultural secretary of the block.
One of the performers for the scheduled audio play, Uportala Nichertala, Malini Bhattacharya met with a road accident hours before taking the stage and the play, based on a satirical story by Sanjib Chattopadhyay, was poised to be cancelled.
But Roy stepped up to join the cast of Sumana Banerjee, Koel Sen and Sonali Sen. "We would have had to cancel the show despite so much preparation had Bappan not agreed to perform without a single rehearsal in place of Malini," said Sonali Sen, who directed the audio play.
The programme concluded with solo and duet songs performed by Rajarshi Dutta and Sonali Sen.
Secretary Shanti Ranjan Paul thanked the organisers for putting up the programme with limited preparation.
Bharati Kanjilal
ACTION AREA IIB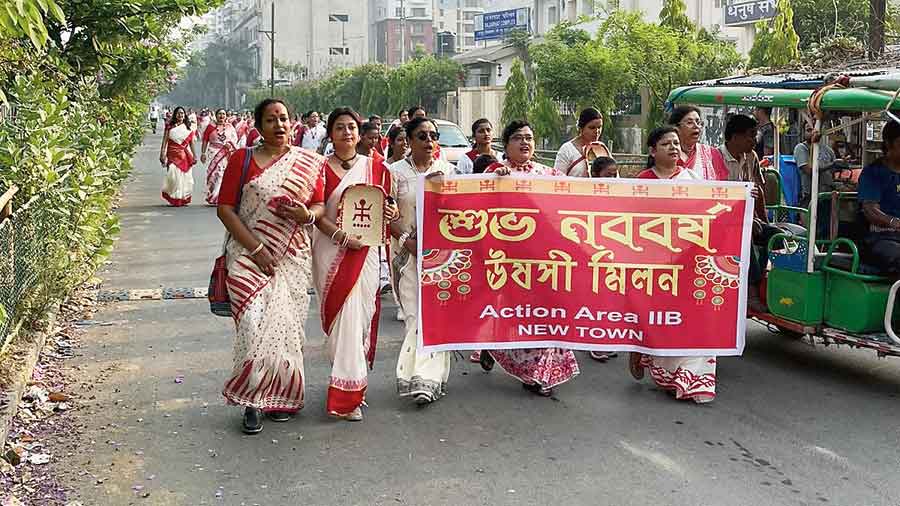 Every year, the housing complexes and cooperatives in and around Eco Urban Village in Action Area IIB usher in the Bengali New Year separately. But this year, for the first time, residents of the area got together to organize a joint celebration.
"We always hold Nava Varsha programmes inside our individual housing complexes. I mooted the idea of holding a prabhat pheri unitedly and spoke to my neighbour Kakoli Saha. She spoke to others in neighbouring complexes and in no time a WhatsApp group was formed which now has close to 100 members," said Anuradha Biswas, a resident of Mallika Malancha.
On Nava Varsha morning, around 6am, the residents gathered in front of Eco Urban Village, turned left and walked all the way to Highland Willows and then turned back along the same route. There were residents of all the complexes of the area -Anahita, Sunrise Symphony, Highland Willows, Mallika Malancha , Mahua Madhabi, and also several standalone buildings.
"For the songs we sung in chorus, online rehearsals were held on Google Meet," recalls Ritu Dey, a homemaker from Highland Willows. People passing by were seen stopping to watch as the residents sang, danced and recited poems to their hearts' content.
The procession ended around 7am after which a cultural programme was held. "We had drawn alpona on the road and had asked the electrician who had rented us the sound system for a carpet to sit on.
There was also an inter-complex dance item to the folk song Tu kine kada dili sada kapore, bringing two residents from Sunrise Symphony and Anahita together.
A performance that caught the eye was a dance item by children from underprivileged backgrounds and diverse religious communities. Sharmila Banerjee, who teaches English and mathematics to these children since the lockdown period, had choreographed the folk song Ailo re ailo for them. "Their fathers are caretakers in the under-construction houses all around while their mothers work as domestic help. I have formed a bond with these children and train them to dance on any occasion," she said.
Her husband Sujit Banerjee, a physicist who also teaches the children, pointed to the legacy of communal harmony that Calcutta has. "That should manifest itself in all spheres of life, even in the celebration of the Bengali new year," he smiled.
Along the flank of the road where the cultural programme took place, cars were parked with food items and clothing being displayed and sold from their trunks which some had even decorated.
"The whole point of the exercise was to create a platform where neighbours from different complexes could get to know each other," said Biswas.
Simanta Halder
CA Block, New Town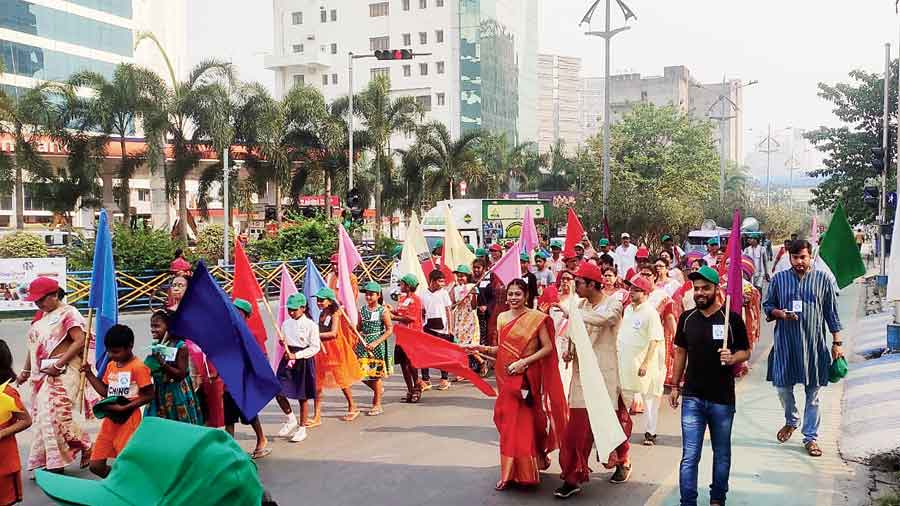 Residents of New Town CA Block brought out a procession on Poila Baisakh in the tradition of mongol sobhayatra that takes place in Bangladesh on the occasion.
More than 100 participants took part in the procession that was led by four dhakis. A vehicle brought up the rear with a sound system, which amplified strains of sehnai played on it. "We planned this with just a week to go for the occasion," said Arup Kumar Panigrahi, the block's puja committee secretary.
The presence and enthusiasm of children were noticeable. Participants held flags of different colours and small hand-painted kulos. A banner carried a message of communal harmony.
Bystanders stopped in their tracks to record the procession on their mobile phones.
A big role was played by a group of women-singers of the block. "We meet before programmes on major occasions. For this procession, we rehearsed for three days. We sang songs like Esho he Baisakh, Aloker ei jhornadharay, Nobo anonde jago, Sobare kori ahoban… This is the first time I took part in such a procession. It was great fun. I hope they continue this tradition," said Sutapa Das, a homemaker in her 50s.
Sudeshna Banerjee