Urban void is a conventional term nowadays and is often regarded as referring to dead spaces in the city. These dead spaces under bridges or flyovers are often used as parking zones and temporary shelters for the poor. New Town, which is the emerging satellite of Calcutta, had such a dark spot below the Axis Bridge flyover. It was a place for possible antisocial activities and, thus was unsafe for pedestrian movement.
During the lockdown period, Hidco managing director Debashis Sen, Abin Design Studio (ADS) and the Kolkata Architecture Forum team envisaged the hidden potential of these black spots and ideated how to activate them for the public domain. We took a holistic approach to recharge the urban void as an accessible active node by catering to the contextual pain points, which can act as a threshold for human engagement. We envisioned a culmination of celebration and a gathering plaza for the nearby neighbourhood. There would be food joints, rock music, yoga, meditation, chess, adda, children's activity, showcasing of young talents, juggling, magic — all can take place under this 'umbrella' of the overbridge which gives us a massive and unique protection from the harsh sun and rain.
Sen used to say in our meetings: "To bring the city to life, it is important to have accessories to kickstart the community feeling".Taking a cue from his words and benefiting from the vulnerability of the site and manoeuvring daily lives, we decided to describe the language of the space through its spatial narratives.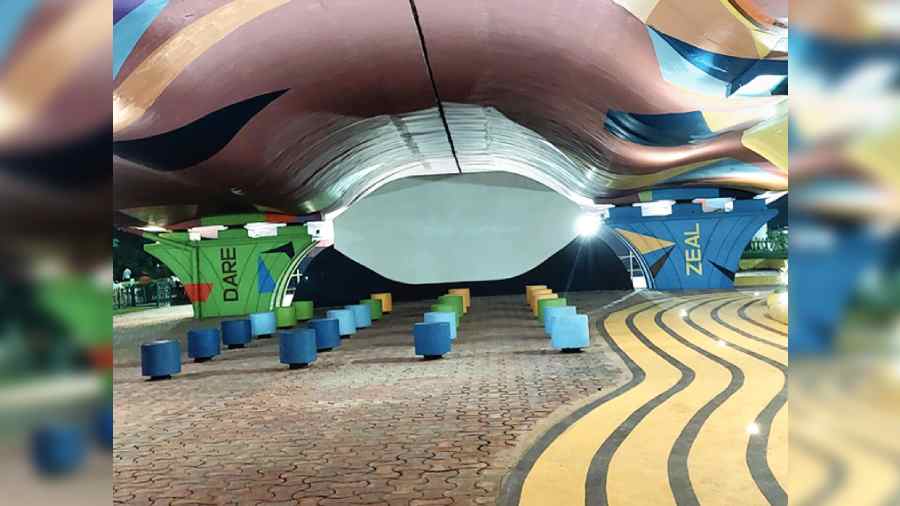 A sitting area with stools created under the flyover.
Sudeshna Banerjee
A part of the Community Zone with space for programmes like street theatre.
Sudeshna Banerjee
The blueprint
Our plan would address the stable patterns of behaviour, such as the flow of people, and also react to short-term contexts, such as a street concert or street theatre. The 156m long and 32m wide space is divided into three layers of activities: entertainment and retail, wellness and creativity, and information and productivity. The former includes kiosks and toilet services following the wellness space and temporary event and the latter constitutes information booth and garden seating along with a work cocoon and a digital screen. Without hampering the initial setting of the space, the revamping aimed for light-weight construction, such as modular kiosks made of MS and polycarbonate sheet, vibrating the space with the help of colourful graphics on walls and columns, signages at spaces, and curated seating spaces within the nooks and corners of pillars.
More interestingly, the previous flooring has been kept intact except in the spaces where the landscape has been introduced to enhance the edge condition.
Overall, the integration of graphics, landscape, seating and open spaces gave birth to a plaza that is enriched with its spatial quality and a vital node for human-environment interaction. It is an urban intervention that has gone beyond its plot-centric design and promoted socio-economic development in the immediate context.
Having a shade with no rigid walls or any permanent construction, it is a temporal space that can transform and adapt to various public events and celebrations. The space is imagined to be a non-gated entity that is extroverted and open to experience and welcomes all.
This project has the potential to bring people to demand their own interesting cultural meeting spaces. These spaces are also kind of an exemplary idea where a group of architects and urban designers can collaborate with public and civic bodies and create interesting public spaces and give back to them their right.
We hope last Friday's formal opening will signal the revival of the space and provide a new way of celebrating life in the neighbourhood. This unique public space, managed by the administration, must stay open so all the activities can run round the clock and not be 'barricaded'.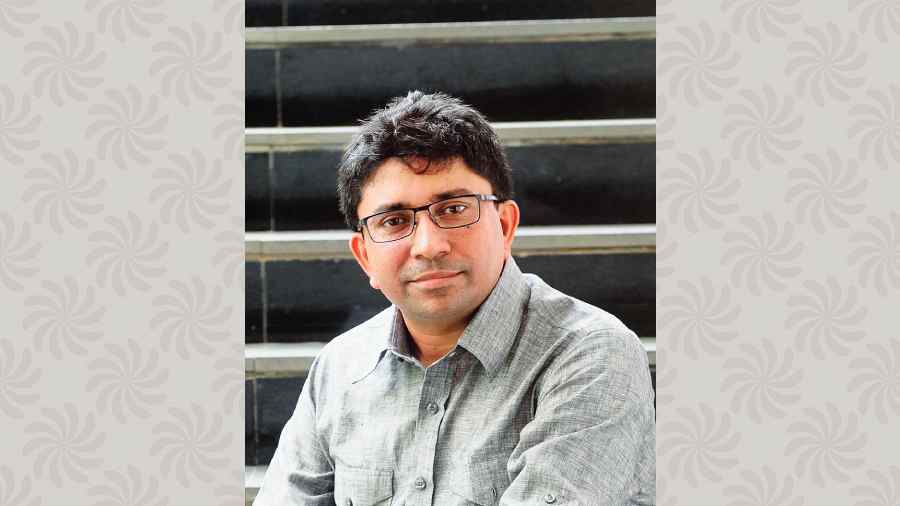 Architect Abin Chaudhuri, whose Abin Design Studio along with Kolkata Architecture Foundation, has designed New Town landmarks like Nazrul Tirtha and The Newtown School, was in charge of the Community Zone plan