Mahadevi Birla World Academy
Tiny tots here recently celebrated the winter flavours. Nursery kids got a taste of the yuletide flavour through subjects, activities and worksheets. There was also a general awareness session on Christmas and all other things that make winter stand out. The children sat in their woollies and spoke about the fruits and vegetables that they look forward to this season.
The kids also made crafts with waste material to emphasise that recycling is for all seasons. Reindeers were made out of empty tetra juice boxes and Christmas trees got decorated with ice cream sticks as a result.
The maths lessons became fun as the students were asked to count baubles, candy canes, wreaths and Santa Clauses in their worksheets. Teachers displayed jamboards in class where the young ones counted a variety of Christmas goodies. In English classes, the Christmas essence was integrated with the regular lessons. The icing on the cake was a virtual Christmas party where the children got to celebrate along with their friends. The kids decorated their rooms and sat in front of the Christmas tree. Many relished cakes and cookies while the teachers and students sang carols and danced to some evergreen Christmas numbers.
"The advent of Christmas helps us overcome our post-Puja depression. We tried to integrate the beauty of the season and Yuletide cheers into all scholastic activities, so that the students can get a sensorial experience of the same," said vice-principal Nupur Ghosh.
Sri Sri Academy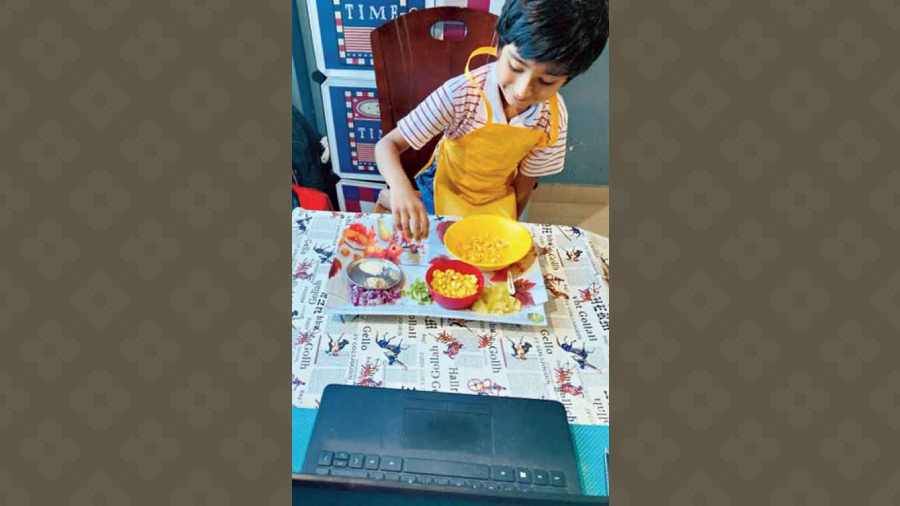 Teachers of the junior school staged myriad cultural performances to celebrate Children's Day. It was a day of relaxation and learning through fun activities for children who logged in from their homes early in the morning.
Children of Nursery, Kindergarten and Class I were in for a pleasant surprise when their teachers told interesting stories through skits such as The Earth is Breaking Up, The Monkey Who Lost His Mother and The Hungry Crocodile. All of them were animal-based that left the children fascinated. They also learnt how not to follow others blindly, be empathetic and responsible through the skits. Teachers of classes II and III performed an extract of The Wizard of Oz much to the children's enthusiasm. The little ones loved this version of Dorothy and the dreams she wove. Plays such as Follow the Yellow Brick Road and The Brementown Rappers followed that had the children clapping and cheering.
Students of Classes IV and V were taken on a trip to the kingdom of Mahilaropya to find out why Vishnu Sharma started writing the Panchatantra stories. The performance was a fun one.
The teachers enjoyed the experience as much as it brought out the fun side in them. The children also played online games, danced and enjoyed snacks. It was a fun-filled day as children sang popular songs such as Hum honge kamyab and Itni si hasi along with their parents.
"The children relished these activities thoroughly as they were able to see the child in their parents as they spent quality time together making memories of a lifetime," said principal Carolyn Lionel.
Birla High School junior section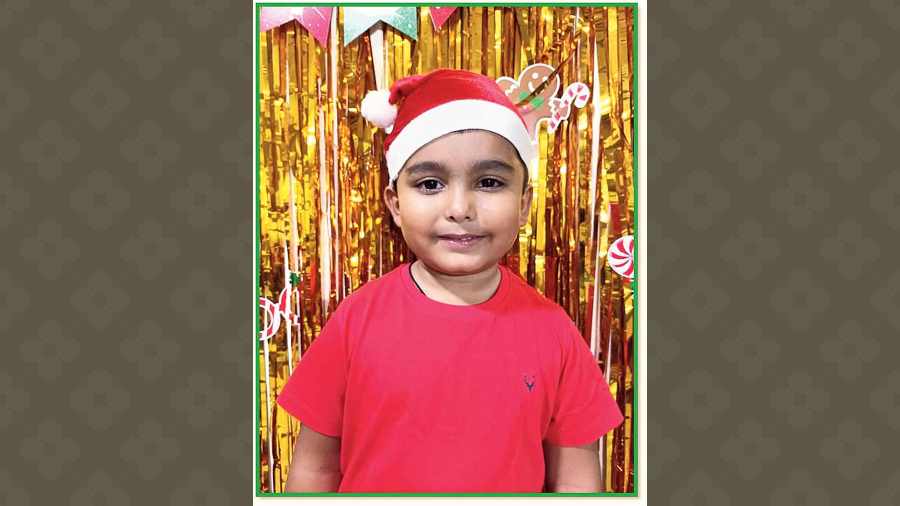 Tiny tots from Nursery and Kindergarten of Birla High School came together in red and white costumes to perform their version of nativity play online. They danced as elves and reindeers and enacted the story of the birth of Christ.
There was a Santa too who spoke about the true meaning of Christmas and how charity and kindness should be everyone's goal. Both parents and children joined in the colourful celebration that propagated love and happiness.
"To cherish peace and goodwill, to be plenteous in mercy is to have the real spirit of Christmas. The kids celebrated it with vitality. All were arrayed in red and white and performed the Christmas nativity play. The children spread cheer with their acting skills, smiles, and lovely attire," said headmistress Farida Singh.
Sushila Birla Girls' School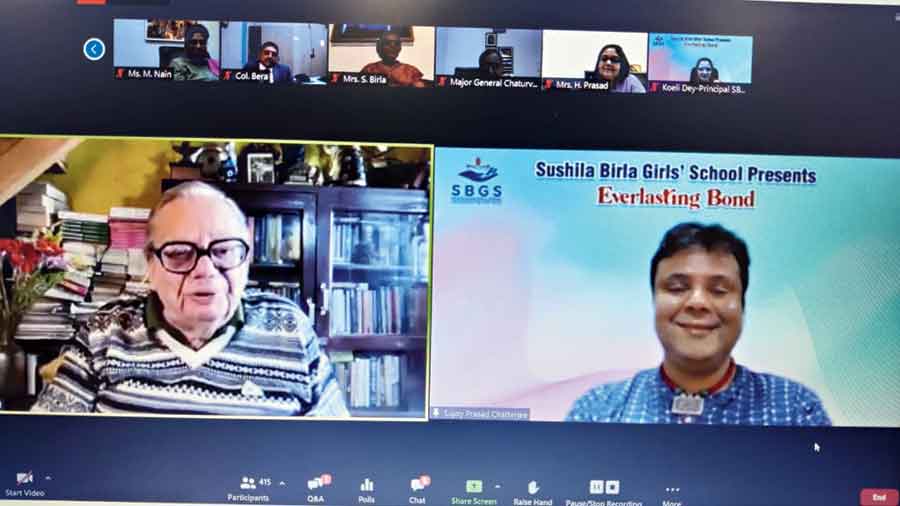 In celebration of Sushila Birla Memorial Day, the school recently organised a session with author Ruskin Bond. Bond was in conversation with Sujoy Prasad Chatterjee, an acclaimed interdisciplinary artist with a specialisation in spoken words and theatre, in an event which marked the culmination of a fortnight-long literary fest. Several literary activities such as book reading sessions, creative writing and sessions with authors were conducted.
Creative writing and reading workshops were organised for the students by ThinkArts and Scholastic, respectively. Students of the primary section were regaled with storytelling sessions. A book written and illustrated by students from classes IV to XII, Utopia in Dystopia, was launched and its e-version was uploaded on the school website.
"The literary fest, with its host of interactive sessions with celebrated children's authors, helped rekindle in students the joy of reading and reunited them with the magical world of books. Witnessing Ruskin Bond in person, though virtually, was truly enthralling," said headmistress Vidisha Panja. Principal Koeli Dey said: "The pandemic played havoc with our lives and gave it a 360-degree spin; home became the new school, online substituted offline and books were replaced with gadgets. With a specially curated literary fest culminating in a tete-a-tete with Ruskin Bond, we attempted to reverse the situation partially and lure children back into the magical world of books."
DPS Howrah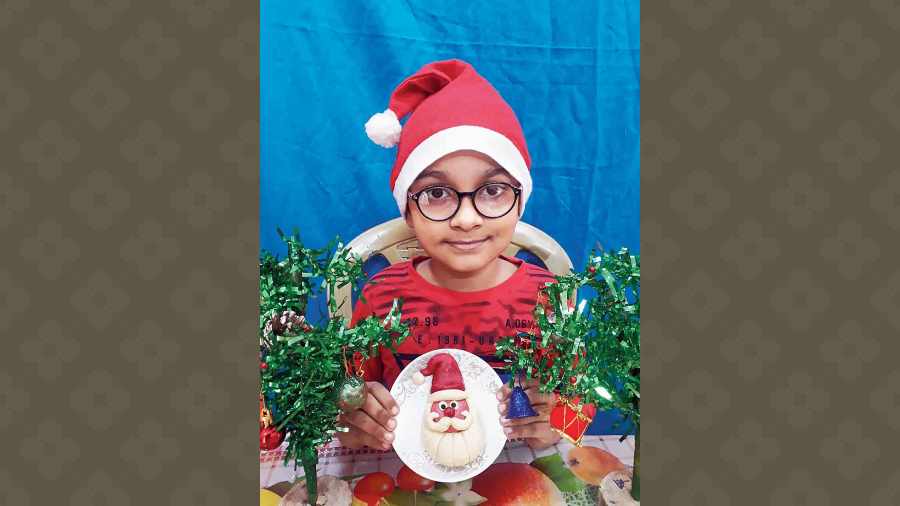 Young children were taught some Christmas lessons through performances, games and storytelling during a weeklong festival. Pre-primary teachers enacted the story of The Grinch online for them. The teachers were all dressed in costumes as they synchronised their parts and modulated their voices to suit their online performance. The story was about a Christmas-hating bitter man, who had a change of heart after he was mistaken for Santa by a little girl. "While the students loved the performance put up by the teachers, the latter had a wonderful time too as they improvised with the props and costumes from their homes," said Srijita Sajjan, a teacher, who played the little girl. There were lots of carol singing and fun activities throughout the week, including non-fire cooking in the colours of the season. Samarth Somani of Class VIII played little chef.
Some children made Christmas trees out of old and recyclable materials while a few turned Secret Santas giving up their pocket money for charity.
Every event taught the children important qualities such as forgiveness.
"Every year, I wait for Christmas and the festive flavour that comes with it. This year my students kindled the feeling of humanity in everyone through their own celebrations," said principal Sunita Arora.