The septuagenarian co-owner of a cinema that opened its doors in 1947 has been savouring the spectacular success of Pathaan, like many other exhibitors across the country.
For Debjiban Basu of Basusree, Shah Rukh Khan symbolises a much-needed antidote to the current atmosphere of hatred and divisions.
"He stands for an Indian cinema that cuts across social, geographical and cultural barriers. That is what films are supposed to do, bring people together," said Basu, 71.
Pathaan, a spy action thriller, has broken many box office records and has raised Rs 700 crore gross worldwide since its release on January 25, in spite of initial threats from the saffron ecosystem.
In doing so, the film has in a way restored the idea of Bollywood — boisterous, over the top, but lovable and inclusive — best represented by the films of Amitabh Bachchan in the 70s and early 80s. In recent years, that idealistic perception has been replaced by menacing fissures that reflect a paradigm shift in the political climate in the country.
No wonder then, that the bumper opening of Pathaan reminded Basu — and few other old-timers at the 76-year-old hall that stands on SP Mukherjee Road at the Hazra intersection — of Bachchan starrers like Deewar (1975), Amar Akbar Anthony (1977) and Muqaddar ka Sikandar (1978).
"Back then, there was no TV, leave alone OTT platforms. Cinema meant a big screen. The hype in the run-up to a superstar's film was often inevitable," he said.
The present challenges have made Pathaan's success more special.
The houseful board was up at the hall for almost every show from January 25 (Wednesday) to January 29 (Sunday).
A packed Basusree is a rarity because the hall has 1,010 seats. A modest air-conditioned single-screen theatre comes with 400-500 seats.
"Basusree houseful mane chhabir dom achhe (It takes some film to make Basusree houseful)," said Basu.
Almost every hall, plex or single-screen, witnessed back-to-back houseful shows of Pathaan.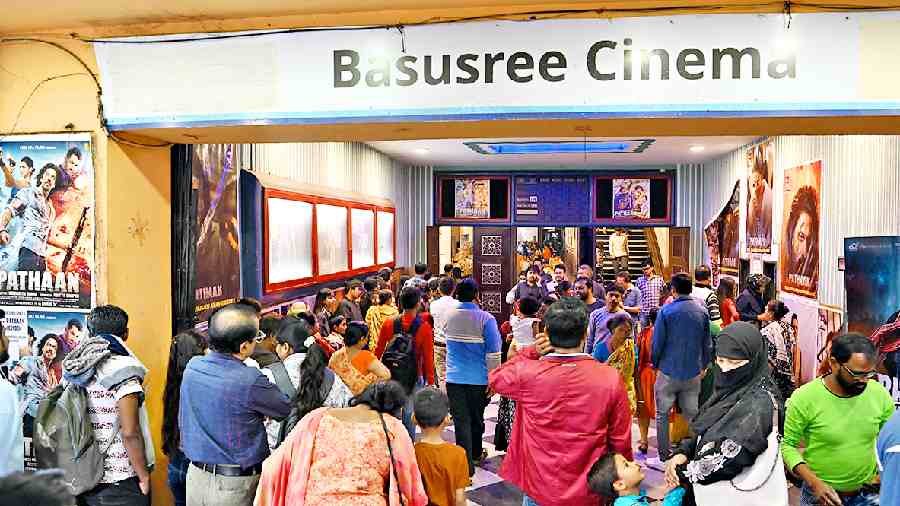 The crowd at Basusree on Saturday evening.
Picture by Sanat Kr Sinha
Arijit Dutta, owner of Priya Cinema, said "the success of Pathaan has no comparison in recent history".
A week after the release, even weekday collections were over 50 per cent at several halls, which exhibitors said was "phenomenal".
But the film was beyond just numbers.
"Shah Rukh is the last of the superstars in the truest sense of the term. You need a force like him to drive this craze. People rented mini trucks to come to the theatres. These things had gone missing. In Pathaan's success, cinema has won, the big screen has won," said Firdausul Hasan, who has produced significant Bengali films like Aparajito and Rupkatha Noy.
On Wednesday, there was a long queue outside Basusree for the matinee show, which started around 3.30pm
The hall was started by Satyabhushan Basu, Debjiban's uncle, on December 19, 1947.
"Satyajit Ray's Pather Panchali was screened here. Many of Uttam-Suchitra blockbusters had great runs, as did Hindi films like Mughal-E-Azam," said Basu.
One of the most enduring memories associated with the hall is that of the "adda sessions" — featuring the likes of Uttam Kumar, Soumitra Chatterjee, Bikash Roy and Bhanu Banerjee.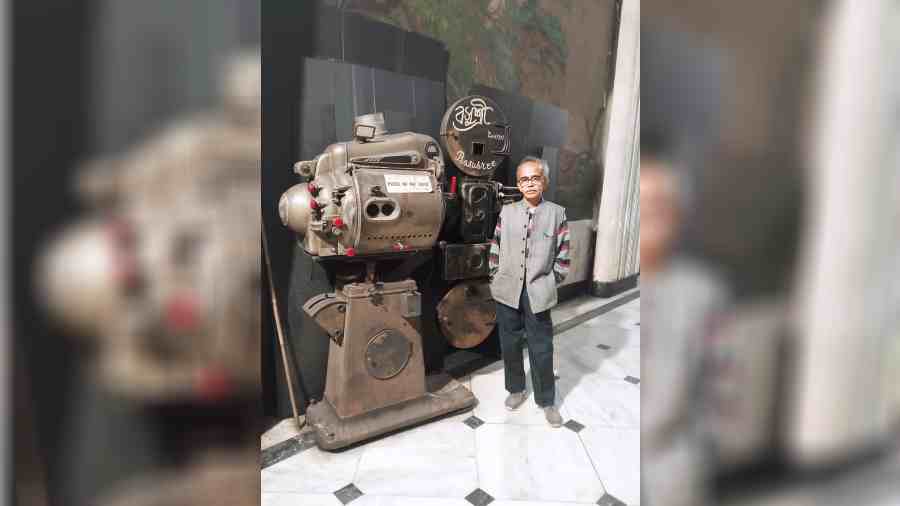 Debjiban Basu beside the 1947 projector that was in use at Basusree till recently.
The hall has withstood the onslaught of plexes, OTT platforms and the pandemic.
Basu said films like Pathaan have reaffirmed in him the belief that single screens were not dead.
"The tickets and food and beverage are so costly at a multiplex. A large section of the society cannot afford to go there. I am counting on them. But we need a supply of films that entertain the masses, like Pathaan," said Basu.
He attributes the film's success to multiple factors.
"It is a pacy action film but there is a little bit of everything. The packaging is very smart. The visual effects are outstanding," said Basu.
His take on the ban culture is simple. "We should play by the established rule. There is a censor board. After the board clears a film, it should not be opposed. The livelihood of thousands of people is dependent on a big film."
Pranab Roy, owner of Menoka in Southern Avenue, said the boycott calls and the "organised targeting" of Shah Rukh Khan backfired.
"People who were behind this meaningless campaign actually contributed to the film's success. Shah Rukh's appeal cuts across the barriers of age, gender, religion, caste and region. He is so loved by people, people who saw him being targeted and decided to back him," said Roy.
Ranadeep Mukherjee, 37, a Jadavpur resident, saw Pathaan on the opening night. It was the first film he had seen on a big screen in five years.
"Pathaan shows what was missing from the Indian screen for four years. The king is back," said Mukherjee.