The UK, Thailand, Singapore….
Finally, Kolkata's international travel graph is showing promises of an upward climb from May as interest in some popular tourist destinations is coming back with the withdrawal of most Covid restrictions.
Tour operators and airline officials said on Thursday that they had been getting bookings for Thailand, Singapore and the UK and were expecting the demand to go up in a few days, going by the high number of inquiries for the summer holidays.
Airlines are expecting a jump in the fares for Thailand, which were not high till Thursday evening, within a couple of days.
"International travel has not picked up much even after the resumption of commercial flights (after the Covid-induced suspension). Still it is hovering between 10,000 and 11,000 passengers departing and an equal number arriving at the Kolkata airport every day. However, with Thailand and Singapore easing restrictions, we are hoping the footfall will increase from the middle of May," said C. Pattabhi, director of the city airport.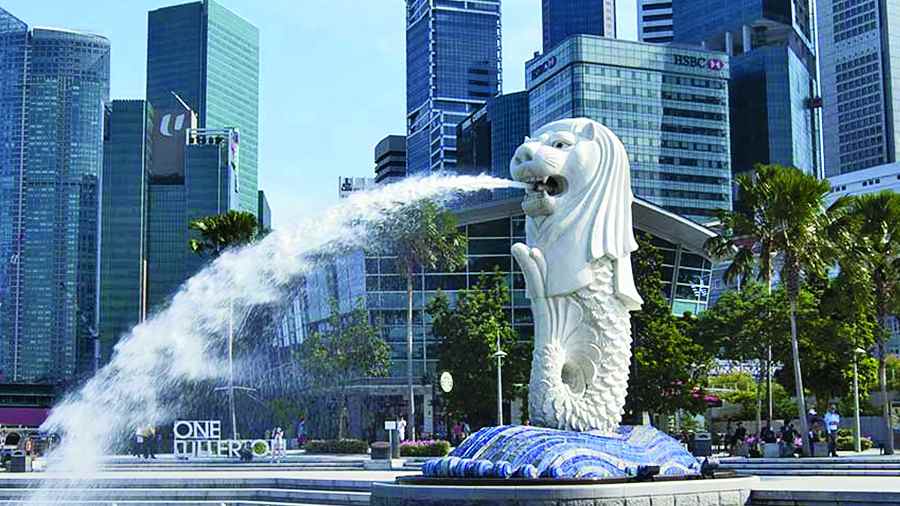 Singapore is back on the radar as a popular tourist destination.
Sourced by The Telegraph
The government of Thailand has relaxed Covid norms from May 1, exempting fully vaccinated travellers from getting quarantined at a hotel for a day on arrival. In Singapore, since April 26, fully vaccinated travellers are not being asked to produce negative RT PCR reports.
Officials at the city airport said a Singapore Airlines flight had on April 26 carried 138 passengers (129 in the economy class and nine in the business class) from Kolkata to Singapore. The number was just 12 when Singapore-Kolkata flights resumed on November 29.
The interest for Thai destinations, too, has gone up over the last few days.
"The market sentiment for Thailand has gone up sharply. Many tour operators are making queries for bookings in big groups for May and June. We are expecting these queries to get converted into bookings soon," said an official of a low-cost airline that operates flights to Bangkok.
Kolkata businessman Jaydip Das and his five friends have booked return tickets with Thai Smile for a four-night trip to Bangkok and Pattaya.
"Before Covid, I used to visit Thailand twice or thrice a year. Now that restrictions have been lifted, we six friends are going again," said Das. They have booked return tickets for around Rs 19,000 per passenger, he said.
Tour operators said till Thursday evening, the return fare to Bangkok was around Rs 20,000.
"After a long time, we are getting big groups who want to visit Thailand. The domestic market has been doing well during summer with people travelling to popular destinations like Kashmir, Himachal Pradesh and north Bengal. We are happy to see the demand for Thailand as well," said Raktim Roy of Dolphin Travels.
Travel agents are expecting the rush to go up further. "We are expecting the Thai government to withdraw the mandatory travel pass for tourists from next month. The demand will go up even higher. Also, for summer we are again seeing interest in the UK and other parts of Europe," said Anil Punjabi, chairman, east, Travel Agents Federation of India.
"However, a direct flight to Europe would have attracted more fliers," he said.
The UK government has also eased Covid norms.
Businessman Deepak Kumar Malhotra plans to go to London to visit his son and daughter-in-law and has renewed his visa. "However, I have become old and cannot travel when I have to fly to another city and wait for a connecting flight. If there is a direct flight, I will go," said Malhotra.
His wife and daughter have booked tickets on an Emirates flight to London on May 3. They have paid Rs 85,000 each for round trip.