Holi celebrations, which had been muted in the city for the past two years because of the Covid threat, were back in full swing on Friday.
From Sovabazar in the north to New Alipore in southwest Kolkata, people had their faces smeared in colours.
Rain dances and community feasts were organised at housing societies.
That the Covid threat perception was almost gone was visible. Masks were hard to find and social distancing seemed an alien concept.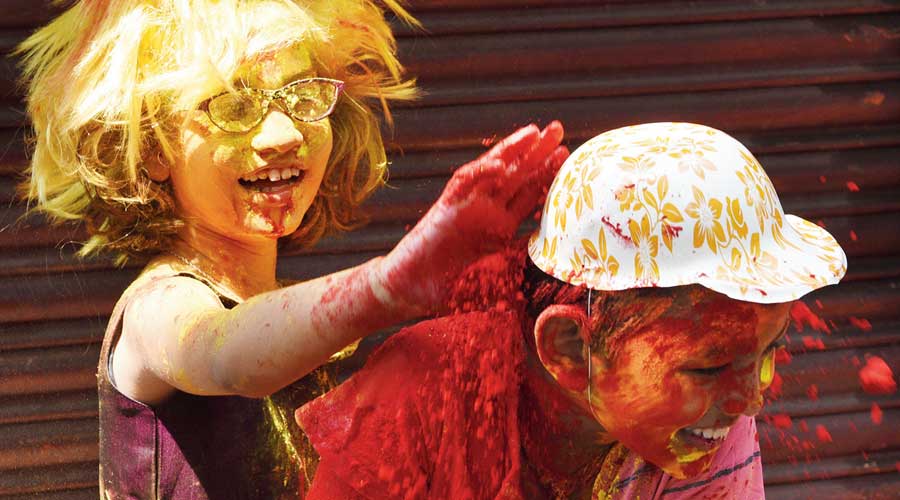 Sudder Street
A stone's throw from the television tower in south Kolkata's Golf Green, teenagers danced to Rabindra Sangeet as part of Basanta Utsav celebrations. It was around 11.30pm and the sun was blazing. The mercury was above 34 degrees Celsius but undeterred, the dancing continued.
"The fear of Covid had kept us subdued for the past two years. This year, we feel free. My four-year-old daughter is having her first outdoor Holi celebration," said Mrinmoy Ghosh.
At Mudiali, traditional dhamsa madol were at play, as people of all age groups took part in the Holi celebrations.
At Punjabi Bradree on Mayfair Road in south Kolkata's Ballygunge, the nerve centre of the Punjabi community in the city, the mood was upbeat since morning.
Around 1.30pm, The Telegraph saw about 300 people assembled outside a soft drink parlour at Golpark in south Kolkata's Gariahat area and a few neighbouring eateries. Almost no one had a mask on. People were chatting, shouting, celebrating and of course, clicking selfies.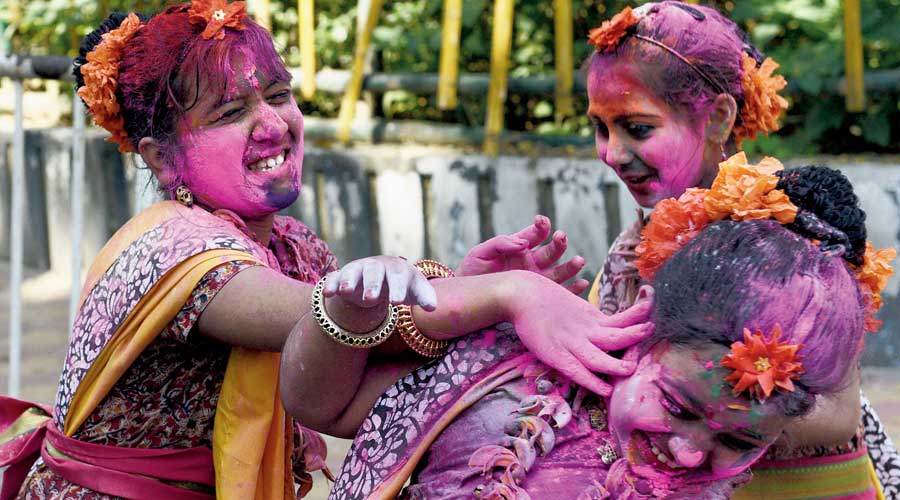 Golf Green
Bikers without helmets were also a common sight across city streets.
A doctor who lives in an upscale south Kolkata complex had locked himself up in his sixth-floor apartment during Holi for the past two years. From his balcony, the ground below looked almost deserted on both occasions.
On Friday, however, hundreds of residents had gathered to celebrate Holi. He took part in a community breakfast of luchi and alur dom. "But one in maybe 40 people wore a mask. The recklessness prompted many senior citizens to express concern," said the doctor.
"Why are we dropping guard when another wave looks possible," an elderly resident told the doctor.
In many localities, including Santoshpur and Golf Green in the south, Kasba in the southeast and Sovabazar in the north, residents organised Basanta Utsav where women in groups performed in front of a moderate crowd before indulging in some splashing of colours.
Thandai remained the choice of the drinks across most of these celebrations.
Children running around with water guns and balloons, men and women smearing each other with aabir was a common sight across Salt Lake, New Town as well as places off VIP Road as people stepped out with a vengeance to celebrate Holi after a hiatus of two years.
The fear of Covid-19 seemed to have been pushed to the back seat as people stepped out in numbers both in high-rises of New Town as well as residential blocks of Salt Lake, Bangur and Lake Town in northeast Kolkata to play not only with their relatives but neighbours as well.
Covid precautions went for a toss. At almost every corner in the city, youths told The Telegraph that wearing a mask would have been an impediment in the way of celebrating Holi.
"We have to take off the mask while smearing each other with colour. It is a lot of trouble taking off and putting on masks repeatedly," said a youth, part of a group near New Alipore petrol pump.