They are cheaper than other app cab options but scarce on the roads after 9.30pm. Charging stations are inadequate in number and are missing in most parts of the city. So the cabs, though prolific in the Salt Lake-New Town-Lake Town neighbourhood, often refuse to travel to areas where there is no charging facility.
Six months after Snap-E-Cabs was launched, they have scored with residents in the twin townships as the founders have devised strategies to plug the loopholes that emerged during the years of operation of the older app cab services. But several issues are also plaguing the environment-friendly app cab service.
The backstory
Snap-E-Cabs was co-founded by Mahendra Bindal and Jaydeep Mukherjee. They had a telecom business. In 2021, they got an order from a Delhi-based company for some electric chargers to charge e-vehicles. This was for a privately owned taxi fleet operating in New Delhi. That is when they decided to explore the market in Calcutta as well, starting from Salt Lake, Sector V, New Town and the airport area.
"Even our telecom customers wanted to explore EV equipment for a long time. So we decided to research the scope for growth of electric vehicle cabs. It worked to our advantage because people here were not quite aware of this segment. Calcutta also happens to be the among the most polluted large cities in the country and that is why we need such a green service even more," Mukherjee added.
Watch & learn
When they started exploring the market they realised that people had a lot of complaints against the existing app cab services, which still persist.
Arpita Chanda, a housewife who lives in Bangur Avenue, gives voice to one such complaint. "I first heard of e-cabs from my friends. Initially I was hesitant but later I realised that it is a lot cheaper in terms of fare. I go to drop off my daughter to school every day. Earlier I used to book an Ola or an Uber which cost me Rs 250 for a one-way ride. But now with electric vehicles, the fare has come down to Rs 120-130 one way. I don't use my personal car much these days, since the e-cabs are much cheaper and cost-effective," she says.
Mukherjee, who gave up his job in Bengaluru to be a part of this venture, said: "The biggest complaint of customers booking other app cabs is that the drivers either cancel rides, or ask for more money or cancel the booking on the app and tend to pocket the full fare themselves. This happens because after the deductions are made by app owners, the drivers have very little to take home. So, the first thing we did was hire drivers on a monthly salary for our cars, with extra incentives for more rides. The incentives are given on a weekly basis. Hence there is no cancellation from the driver's side. We monitor everything with our tracking system."
The policy seems to be working. Sanjay Das, who has been driving Snap E Cabs from the first day, said: "The fare is less than any other app cab in the city. The biggest advantage is there are no surge charges. Fares are uniform throughout the day. A customer is charged Rs 112 for the first four kilometers and Rs 21 every kilometer that is added. The AC is never switched off. As an employee of the organisation, I'm paid a monthly salary Rs 25,000-30,000 with incentives. All cars are owned by the company. This makes it easy to break even and work on low rates, because fuel cost is very low."
Also in app cabs, the drivers want longer rides and tend to cancel shorter rides. That has also led to customer dissatisfaction. "In such services, if a driver makes Rs 2,600 in a day, the app will take away Rs 1,800 and he will only have Rs 800-900 at any given point in time. That is why they always keep a sking for more money," explained a former Uber driver, who didn't want to be named.
Strength in numbers
The service will soon bolster its presence by adding to its fleet. EC Wheels India, the company that owns the cabs, has signed an MoU with the Tatas who have supplied them with their first fleet. They have also recently imported a fleet of cars from a French company which have landed in the city and are now under the process of registration. These will be added to their existing fleet.
However, there are various issues that the owners are facing with the venture. First, there are few charging stations in the city, which is said to be the reason why drivers are unwilling to travel to certain sections of the city towards the latter part of the day. At present they number barely 35 in the city. Closer to the township, there are one in Sector V, two in New Town and one in Kaikhali near Kestopur.
"As a result we are unable to provide our services in other parts other city. We are also building some charging points in a public-private agreement model with the government in Kidderpore, Science City area and Garia. Once that is done we can extend cabs to other parts of the city as well. The agreement is tthat the municipality will give us land and we will run the operations. The government will share profits," added Bindal.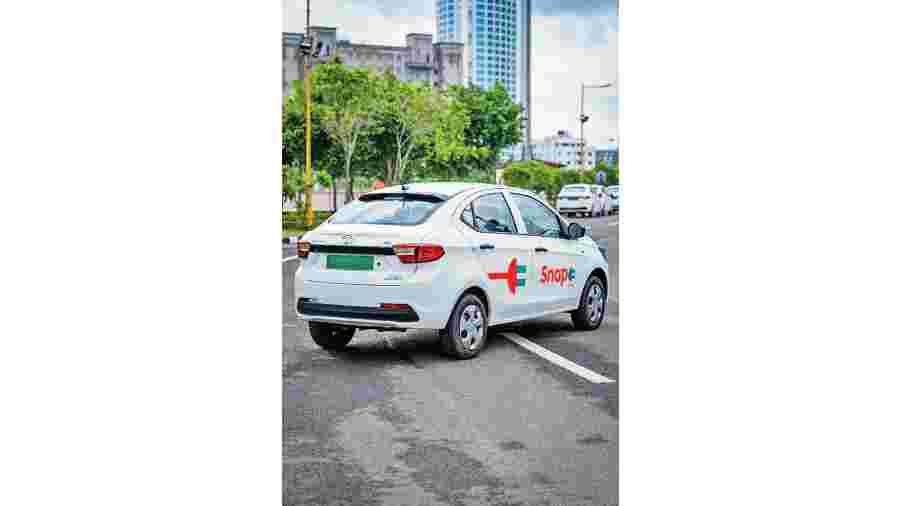 A Snap E-Cab on the road.
Second, the availability of the cars is low during the late hours. When asked about this, Ripan Mondal, another driver with the cab service, said: "Usually the vehicle's battery charge goes down after running the car throughout the day. That is one reason why so few cars are available at night to offer service."
Earlier this month, West Bengal Housing Infrastructure Development Corporation partnered with EV charging network Powerbank to establish what the company claims as the largest public fast charging hub for EVs in East India. This facility can charge 25 vehicles simultaneously. The one which was inaugurated by EC Wheels India Private Limited in Kaikhali can charge 60 cars simultaneously. Separate parking spaces have also been allotted by NKDA and airport authorities for e-vehicles.
An NKDA officer said: "There are quite a few charging stations in Sector V, New Town and Rajarhat. But we definitely need more stations. If you look at the statistics the sale of electric cars is going up. So we are in talks with several companies to set up more stations. We are working on it and hopefully we will be able to set up more stations within this year."
The demand for electric vehicles and charging stations is going to hit the roof soon, he predicted.
The NKDA has also requested residential highrise complexes to set up charging facilities in their garage space to reduce traffic at the public charging stations. "One cannot plug in his car battery to a socket in his house if he is living on the 14 th floor for example. There has to be an arrangement in the garage area or parking space of housing complexes. This is going to need cumulative effort from everyone," he added.