Images captured by trap cameras had confirmed the presence of a leopard in a forest in Purulia district in late February.
Four months later, more images have suggested the presence of not one but two leopards in the area, said forest officials.
Two sets of pictures were clicked by cameras placed at strategic locations in the Kotshila forest, around 280km from Kolkata, a few days ago.
"The pictures were clicked in the morning and at night. They seem to be of two different animals. The one clicked in the morning seems to be leaner than the one clicked at night. The pictures suggest there are two leopards, a male and a female. The male is slightly burlier," said Debasish Sharma, divisional forest officer of Purulia.
The night images have similarities with those clicked in February, he said.
But the official also said more pictures and a detailed examination of the images and other signs were needed to confirm the possibility.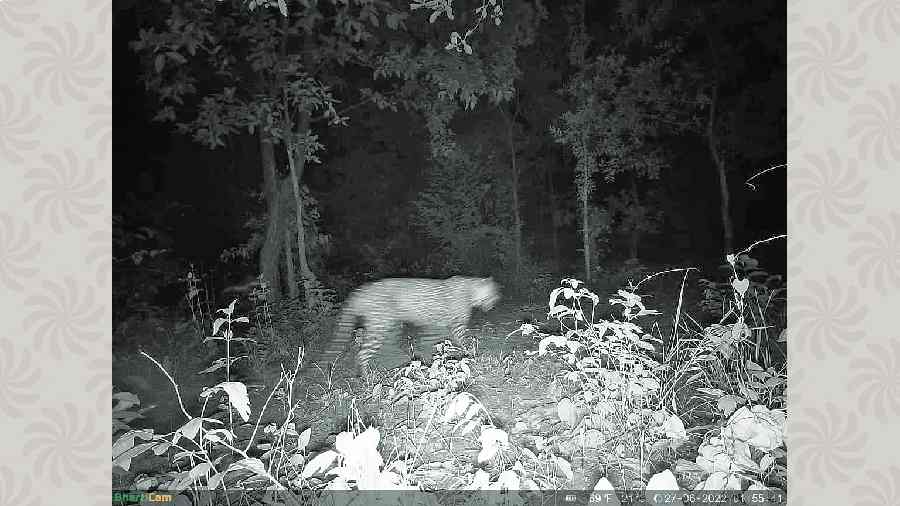 At night at Purulia's Kotshila forest. The pictures suggest there are two different leopards, a forest official.
"We need more pictures. We also need to scan pugmarks for confirmation," said Sharma.
The rainy season usually means a softer soil surface, which makes it easier for foresters to collect impressions of pugmarks. The marks are usually sliced off the ground after being cast in plaster of Paris, said forest officials.
In February, it was the first time a leopard had been photographed in the forests of south Bengal, according to the forest department. The trap cameras were set after the carcass of a cow was spotted near the Kotshila forest.
Anecdotal evidence has for long suggested the presence of leopards in the area. In 2015, a leopard that had strayed into a village on the fringes of the same forest was clobbered to death by residents, who hung the carcass on a tree.
Forest officials said they have been conducting regular awareness camps in the villages bordering the forest.
"The images have been clicked deep inside the forest. We have been asking villagers not to venture into the forest," said a forest official.
The Kotshila and adjoining forests span Purulia and Jharkhand. There is a steady population of barking deer in the forests. Wild boars and other smaller animals are also in good numbers. There is a sufficient prey base for the big cats, said the official.