A rising number of keen debaters with a stronger voice — students are becoming more confident and politically conscious as the city witnesses a spurt in inter-school debates and clubs.
As many as 17 schools locked horns in the recently-concluded LN Birla Memorial Invitational Debate, organised by the Birla High School. The takeaway? More interaction with a larger and more diverse audience.
"There are a lot of keen debaters from outside taking part in the city events. We are getting participants from Asansol, Durgapur and Patna. This makes the competition more intense and broad-based," said Dr Kunal Sarkar of the Calcutta Debating Circle, who moderated the finals. The programme had two schools from Lucknow and Pilani.
"Aspiring debaters need to keep updated in current affairs and take an interest in history," said Dr Sarkar.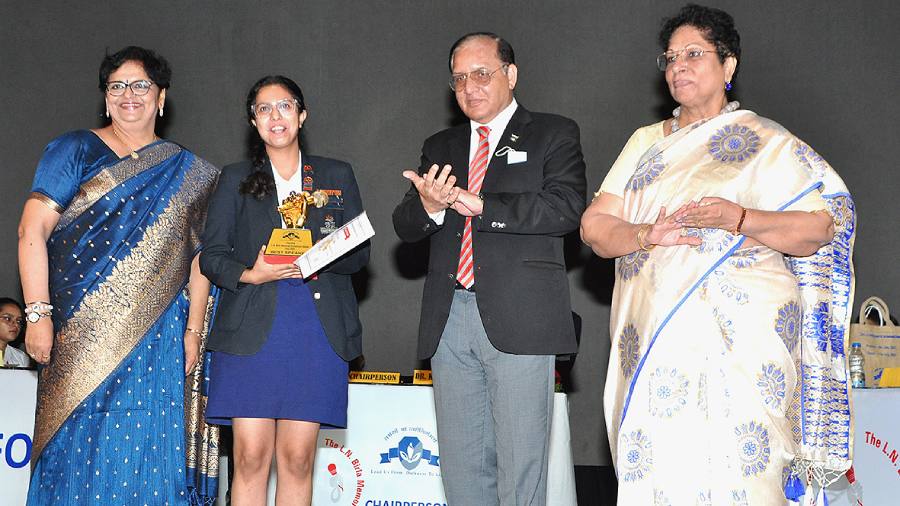 Birla High School principal Loveleen Saigal, best speaker Noyonika Ghose, secretary-general of Vidya Mandir Society major general VN Chaturvedi (retd) and Birla High schools director Mukta Nain at the debate event
More students are updated these days, say experts. However, over-exposure to the Internet often sees them rattling off more US-based issues rather than those at home.
"Debating is about thinking on your feet, and students these days are very well aware, they are confident and can speak for over four minutes just by thinking logically," said Birla High School principal Loveleen Saigal, who has seen the rise in confidence among the speakers over the years.
Several schools have started debate clubs for kids right from classes III and IV. This early opportunity allows them to spread their wings and become better speakers.
Events such as Model United Nations, on the other hand, expose pupils to global and political research as well as skills, including articulation and rebuttal.
"Debate clubs and competitions have honed the wit and repartee skills of many of our students. The city is turning into a cerebral capital with schoolchildren becoming so conscious of social and political issues," said Sushila Birla Girls' School principal Koeli Dey. The school clinched the trophy at the debate and has been a keen participant in many other meets as well.
Even during the pandemic, nothing had changed. Students from the city ended up winning multiple international honours in many online tournaments. The situation helped young debaters from different continents bond and exchange notes.
"Debates are no longer localised. Especially since the past two years, the world has opened up for our children with international debates taking place online," said Shri Shikshayatan School principal Sangeeta Tandon. Her students are also keen participants in debates in the city and outside.
"This is the age of debating for schools in Kolkata. There are now fests completely devoted to debating. Debating is no longer a part of school fests, there are school fests just for debate," added Swati Gautam of the Calcutta Debating Circle.