We may be counting the days to Diwali but to most of our pets, it's a night of annual horror approaching. The noise from firecrackers, the smoke in the air, the blinding lights, the house full of guests… it's unfamiliar and overbearing for them.
However, if you keep a few points in mind, the festival can be made pleasant for your pets. Karan Gupta, founder of Goofy Tails, a nutrition-focused online pet products company, shares some tips on pet care so you and your pet can both spend a safe and enjoyable Diwali.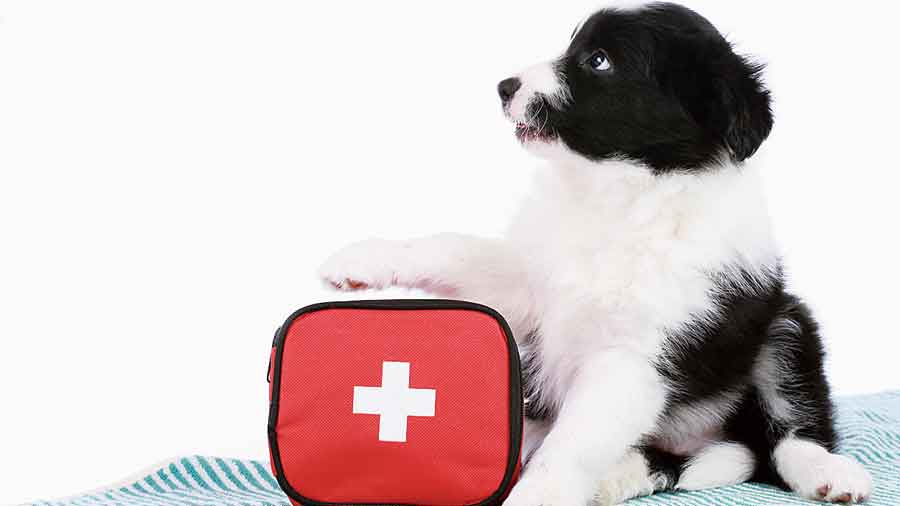 Keep a first-aid kit at hand
First aid kit: Keep dangerous objects out of your pet's reach. During Diwali, this would mean candles and diyas that could lead to accidental fires.
Nonetheless, you must have a first aid kit ready with essentials. Your pet's first aid needs will depend on his age, breed and lifestyle. The basic items, however, should be absorbent gauze pads, adhesive tape, cotton balls or swabs and tablets to induce vomiting, although you must always check with a veterinarian before using.
You never know what kind of emergency befalls so also keep handy disposable gloves, scissors with blunt ends, tweezers, antibiotic ointment, oral syringe, hand towels, small flashlight, alcohol wipes, styptic powder to stop bleeding and saline eye solution to clean eyes. Have the contact details of your primary vet and the nearest veterinary clinic handy.
You can also talk to your vet to help you customise your first aid kit based on your pet's specific medical needs. If necessary, visit the vet and have medication prescribed.
Serve the right food: Just because you gorge on sweets over Diwali, doesn't mean your pet does too. Rather, order from pet bakeries that make healthy treats for them. You can also order gluten-free laddoos and barfis from Goofy Tails, specially curated for Diwali. They are available online and would be delivered in three to four working days.
Also, keep your pet hydrated as it helps reduces anxiety. If the dog refuses to drink water, add bone broth to the water, that they find tasty and will not refuse. You can try Goofy Tails Bone Broth.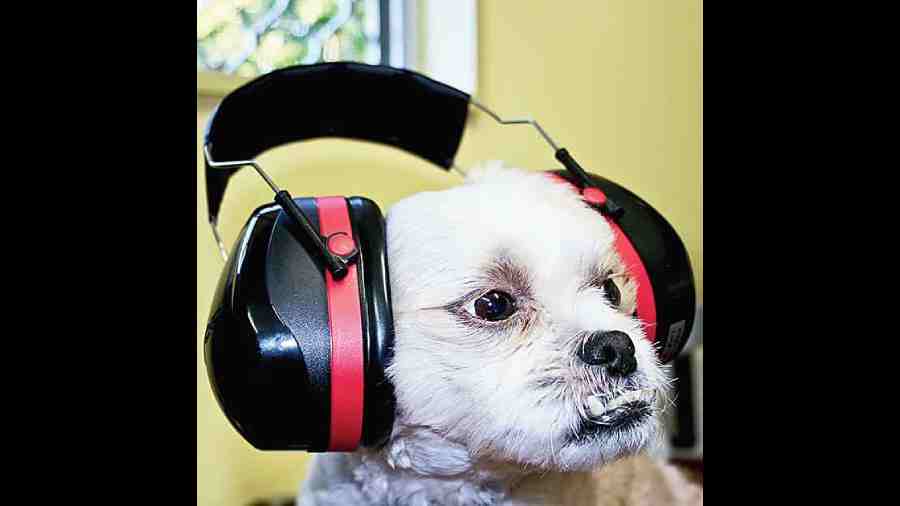 Ear muffs on a pet
Comfort him: Look out for changes in your dog's body language during festivities. Is he acting oddly due to loud firecrackers or when the house is full of Diwali party guests? Common changes in behaviour could be whining, hiding under the bed or table, not drinking water or eating their food.
They could also feel insecure and following you everywhere looking for comfort. To make them feel better, sit with them in a quiet room and make sure they feel safe. Analysis helps to understand the underlying problem.
Play soft music: Make sure your pet is in a comfortable room. While it is impossible to completely drown out the noise, close doors and windows to reduce the intensity. If necessary, insert cotton swabs into his ears. You can also play soft music to calm them down.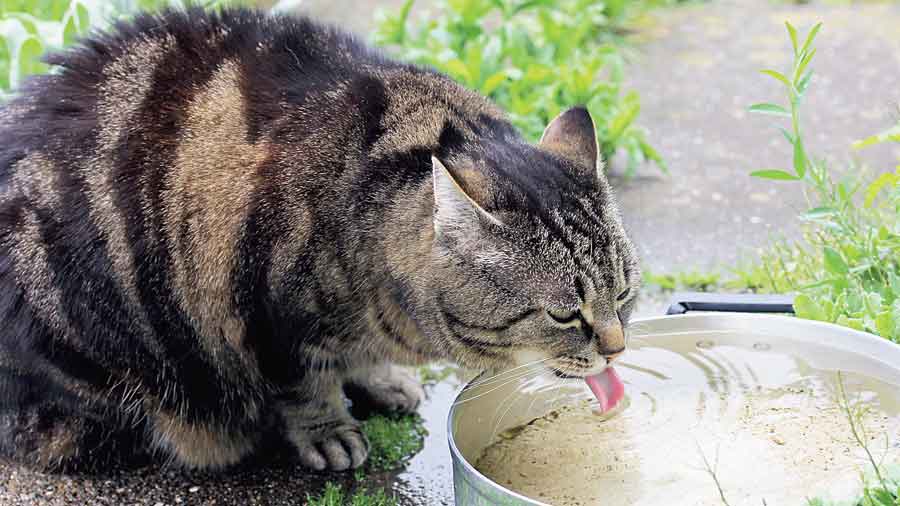 A cat slurps water. If they are nervous, they might refuse water.
Take your pet for a walk: Regular walks and play are essential for a dog's overall stability. It is also important for you to spend time with him. So no matter what the festival, don't deny him his walk. Since Diwali is celebrated at night, take him early in the morning to avoid the hustle bustle.
Have them wear collars: Make sure your pet wears a collar and has an identification tag around his neck. This should include your name and contact number. In the event that he bolts hearing the crackers, people who find him can immediately reach out.
Sedatives and calming treats: You know your pet better than anyone and if you feel they are showing signs of stress such as excessive barking, panting, yawning or constant zooming, talk to your vet about melatonin-containing medications. Melatonin helps control anxiety in dogs. Cats like to have scratching posts around because it can calm their anxiety.
Treats that contain hemp seed oil are great for calming your pet's anxiety. Lavender is probably the best-known essential oil against stress, fear, agitation, shyness and shock but consult your veterinarian about the dosage.
Our pets love to be cuddled and pampered, and since they can be nervous during the holiday season, talk to your vet about how you can treat them to a relaxing massage to help relieve stress.