The peak demand for power in CESC areas was the highest ever on Tuesday, April 18, and that was way more than the maximum consumption in the city on a Durga Puja day.
On Tuesday, the peak demand for power, recorded at 3.30pm, was 2,503MW (see chart).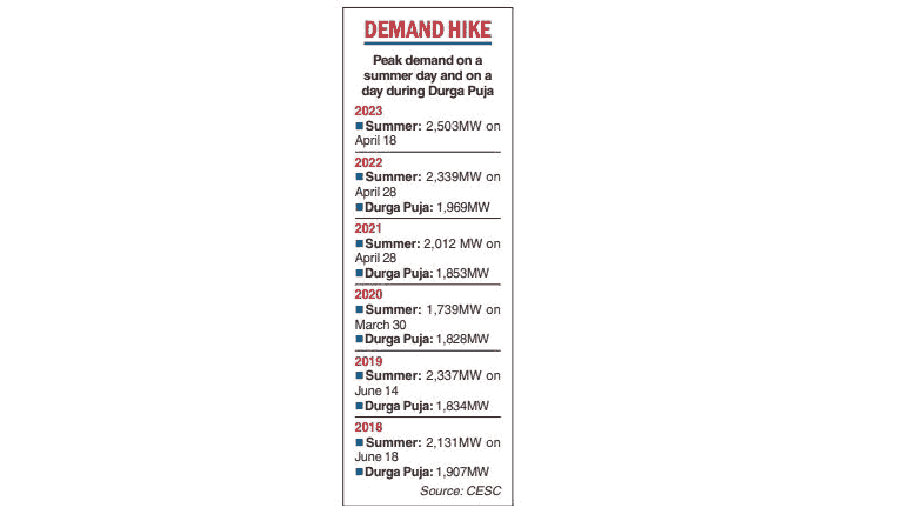 During last year's Durga Puja, the maximum power consumed in a day in the city was 1,969MW.
The contrast clearly underlines the impact that air conditioners have on power consumption. "There cannot even be a comparison between lights and ACs," a CESC engineer told The Telegraph on Wednesday.
According to CESC statistics, the peak demand on Tuesday was the highest ever. The demand on Monday, April 17, was the second highest ever.
The daily demand for power in the city during the Durga Puja season never crossed 1,969MW (Puja 2022) in the last five years.
CESC serves most of Kolkata and its adjoining districts, the zone that organises most of the grandest pujas in West Bengal.
During Durga Puja, thousands of puja committees in the city apply to CESC for additional load to illuminate their pandals. However, even after combining the entire load of all Durga Puja pandals and the normal power consumption by residential and commercial establishments during the festive season, the daily peak demand is way less than what the city witnesses on any summer day except on one or two occasions, a CESC official told this newspaper.
"During the Puja season, there is a drastic fall in the use of air conditioners as the weather is more favourable. That makes a huge difference," the official said.
"These days, people use LED lights to illuminate pandals. Those lights are much more energy efficient than the conventional ones. So the power consumption of an entire illuminated city during the Puja falls short of the peak summer demand," he said.
In a house, an air conditioner consumes almost 70 per cent of the entire sanctioned load.
This newspaper reported on Wednesday, quoting CESC officials, that parts of the city suffered prolonged power cuts in the past few days because many people were using electrical appliances beyond their sanctioned load. Most residents have allegedly not upgraded their meter in keeping with the number of ACs they are using, which resulted in frequent tripping of power.
"We have not appealed to restrict the use of lights or any other appliances. We are just appealing to the Kolkatans to use their ACs according to their sanctioned load so there is no power trip at home or in the neighbourhood," said a CESC official.