⚫ The CK-CL Block pandal was a lesson in history for all visitors, being themed on 75 years of independence and chronicling key moments before and after independence. But for some children, it turned out to be a history test as well. "Woh dekho Tagore ki photo. Yaad hai kab unhone ne Nobel jeeta? Yeh dekho Dandi March ka photo. Kis liye hua tha Dandi March?…" The questions came thick and fast. It was only after the mother of two was satisfied about lessons learnt or revised that the family proceeded for deity darshan.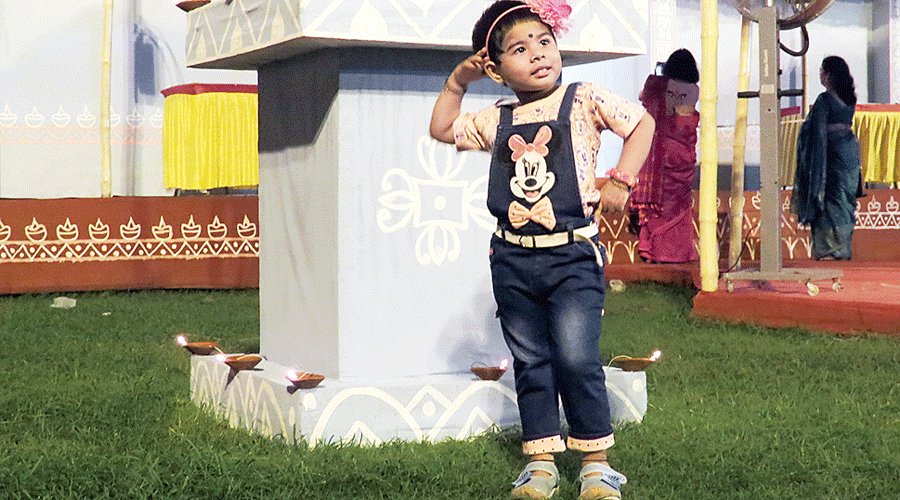 IB Block.
Sudeshna Banerjee
⚫ Tomra dekho go ashiya, Kamala nritya kore thomkiya thomkiya… As a guest artiste belted out the folk number over the loudspeaker from the adjoining stage, it was not Kamala but Nairita Das who started shaking a leg outside the pandal at IB Block. Her father, on seeing her move to the beat, put his phone on video mode. "She may be just three and half but she can play songs of her choice through voice control on YouTube. The moment I am home, she takes over my phone," said Raju Das, her father, who works in the linen department at AMRI hospital.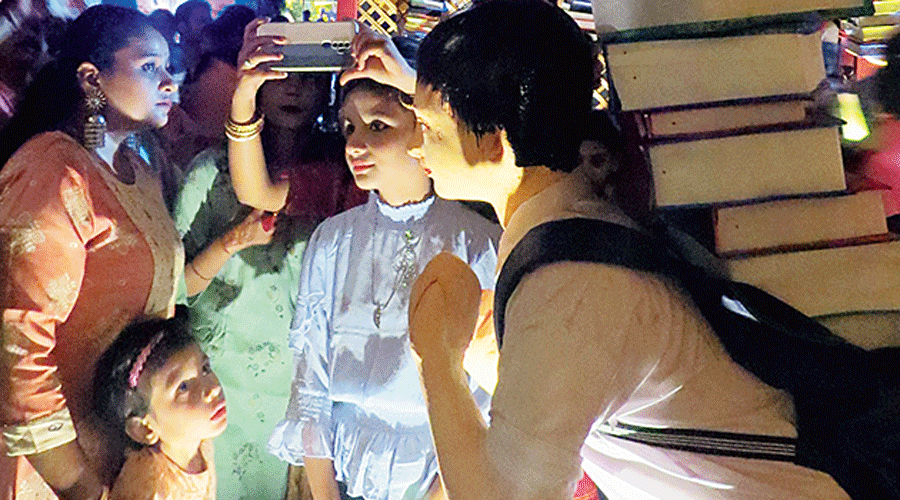 AK Block.
Sudeshna Banerjee
⚫ The pandal at AK Block struck a chord with children. Tots walked up to the figures of boys bent double with schoobags overloaded with textbooks and tried to touch them. The guards went hoarse shouting "O gulo dekhar jonye, chhoar jonye noy (Those are for viewing, not for touching)." One parent was riled by the theme poem playing, as part of which a mother scolds a child saying "Khelte jabe? Onko koro!" "Porashona na korle ki hatighora hobe?" she grumbled, perhaps worried that her son might get influenced by the pandal's theme of the burden of formal education.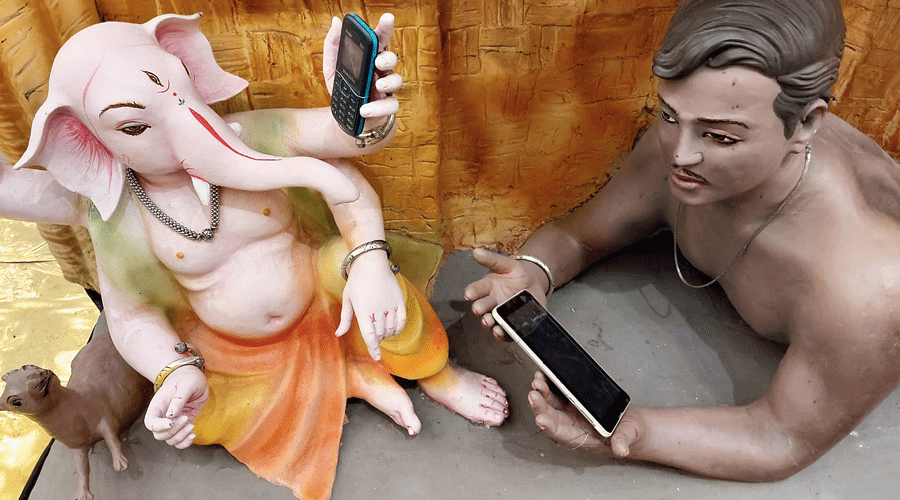 EC Block.
Sudeshna Banerjee
⚫ The biggest crowd at the EC Block pandal was behind the idol. If there was one security guard on duty in front there were three behind the goddess, trying to persuade the stagnant queue to move. The reason was a surprise — a second idol that was place behind the traditional one that was being worshiped. And every two-legged figure in the second frame was engrossed in his or her mobile phone. Durga was looking to her right, as all five right hands had a mobiles phone in each, while her left hands were empty. "Isn't it unfair that Kartik, Ganesh, Laxmi and Saraswati get old analogue mobiles while Mahishasura gets a tab?" complained a teenager. "He is an adult and a king. The others are children," reasoned his friend. "Kar kar notun phone lagbe? Tule nao," yelled another woman, alarming the guards. Thankfully, none acted on the suggestion.