Hans Verdonschot, a Netherlands-based male nurse and an environmental activist, has crossed 10 country borders by road to create awareness about the importance of public transport and raise funds for an NGO that works with street children in Kolkata. The 60-year-old traveller set out from home on January 3 and reached Kolkata on January 24, having spent less than 2000 euros on the trip.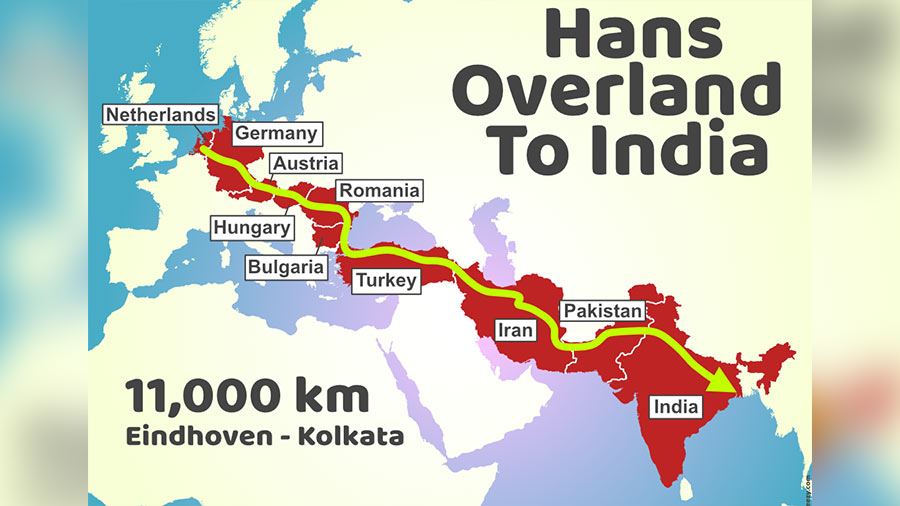 A map of Hans' overland journey to India
Amit Datta/My Kolkata
The beginning
The three-week trip was not on Verdonschot's mind even a few years ago. He was working as a nurse and activist, helping street children in Kolkata and going on occasional cycle trips with friends.
"After the pandemic ended, I realised I had not been on a long trip for decades. The primary reason was my ailing father. After I looked after him for 12 years, he passed away in July last year. I was finally free to roam around," said Verdonschot.
Verdonschot's friend Henk Loos, a consultant by profession, was keen to join him on a visit to Kolkata. "It was a cue for Verdonschot. He said he would make the trip but never get on an aeroplane. Being a climate warrior, he would make a mark by crossing the distance only by land and public transport. I was scared and shocked to hear his plan, but he went on anyway," said Loos.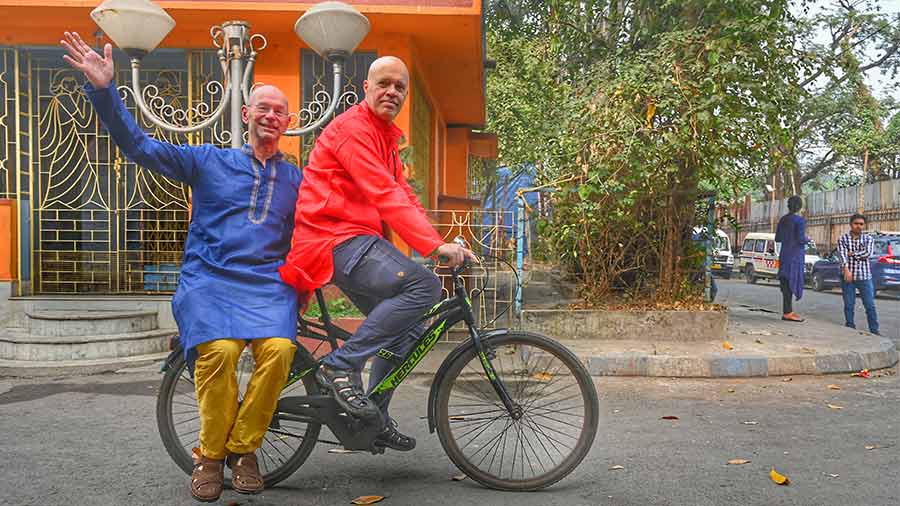 Hans Verdonschot and Henk Loos enjoy a cycle ride in Kolkata
Amit Datta/My Kolkata
The journey
After a few weeks of planning, Verdonschot set out to cover 11,000km on January 3 this year. "My first destination was Vienna, Austria, and I took a train from the north Netherlands. After a few days, I took a bus from Vienna to Budapest, Hungary. It was 30° degrees Celsisus and the journey was long. Finally, I reached Romania by bus and train," said Verdonschot.
From Romania, Verdonschot took a bus to Istanbul, Turkey, and soon realised the honeymoon period of his trip was over. "That 24-hour bus journey made me question my life choices for the first time. I was lying on the floor of the bus and it kept on jumping and wobbling on the bad road. Meanwhile, the driver took a longer route and I realised that the hell was real," said Verdonschot, while sipping hot tea on Tuesday afternoon.
Like everything, the bus journey too came to an end and after a few days' rest, Verdonschot set out for Iran by bus and taxi. He reached Tehran and when he tried to cross the Iran-Pakistan border, the authorities stopped him. "I had no other way but to take a flight to Karachi. I even planned to reach Pakistan via Balochistan, but it was impossible because of the political situation in Balochistan. The situation in Iran was equally bad," Verdonschot recalled.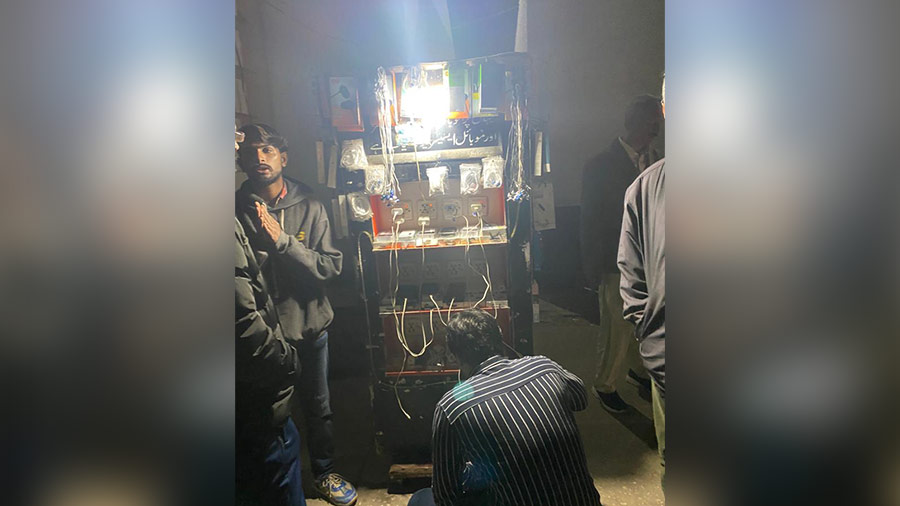 Men board Pakistan-bound trains with charging points for mobile phones, a facility passengers can avail
Hans Verdonschot
After facing many issues, Verdonschot reached Pakistan and finally entered India in cabs and buses via Wagah border. "I just had to cross 10 checkpoints to reach the Indian border. After every piece of document and every inch of my body had been examined and re-examined 10 times, I was finally free to go and I felt as welcomed as ever," said Verdonschot with a broad grin.
The challenges
After the hellish bus ride to Istanbul, the next set of challenges Verdonschot faced was in Iran. The present political unrest and his being white intensified the situation. "I have several female friends there and they met me without their hijabs. But when I roamed around Tehran with them, they were surprised. They asked me if I wanted to be seen like that with them," said Verdonschot.
Throughout his stay in Iran, he had this feeling of being constantly watched. "It reminded me of the situation in East Germany. Back in the day, I had seen young men sitting at one spot for hours without doing anything and everyone knew they were spies. In Iran, I also got the same feeling," he said.
Verdonschot was surprised when he went out to dine at a Tehran restaurant and was billed just two euros for "a lavish meal for three people". "When I got the bill I thought there were some mistakes," he said.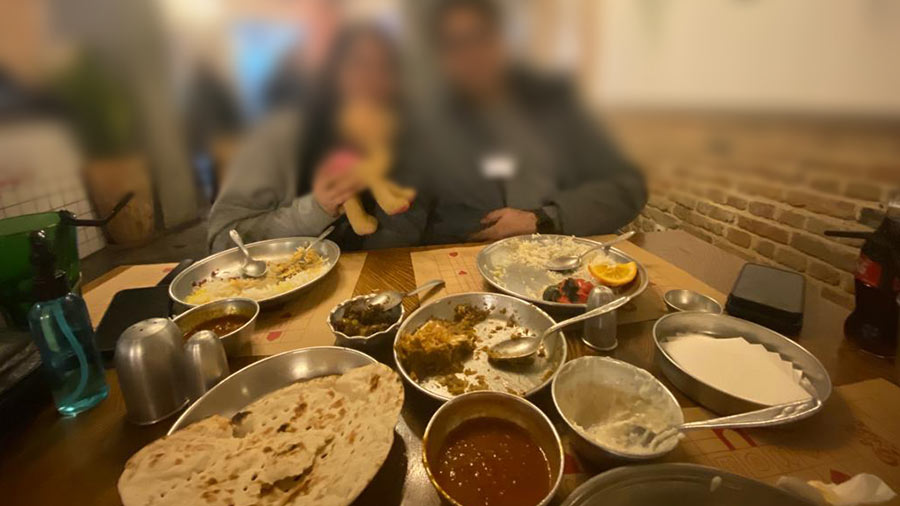 The two Euro meal that Hans Verdonschot paid for in Iran
Amit Datta/My Kolkata
The warmest welcome Verdonschot received was in Pakistan. "During my five days in Karachi and Lahore, I didn't have to pay a single penny for my food. Strangers would come to talk to me and they would pay for my food because I was their guest. I have met some amazing people during the trip," said the environmental activist.
But the illiteracy rate in Pakistan upset Verdonschot . "I think the Pakistan government should pay more attention and allot more funds to the education system. Without education even the greatest of countries can fall," he said.
The cost
From the Wagah border, Verdonschot reached Amritsar by bus and after a brief rest in Shimla, he reached Kolkata by train via Delhi. As of now, he has spent less than 2000 euros on the trip.
"We have spent 900 euros on travel expenses, 500 more on food, 500 on visas and another 500 on miscellaneous expenses," said Loos, who has been planning the trip and helping Verdonschot get visas.
The flight ticket to Kolkata alone would have cost around 500 euros, but he could not have seen all 10 countries. "Besides, if he had done the trip by air, the carbon emission would have been four to five times greater," Loos said.
The other reason behind planning this trip was to raise funds for the NGO and Verdonschot and Loos have already gathered more than 14,000 euros from the countries they have visited.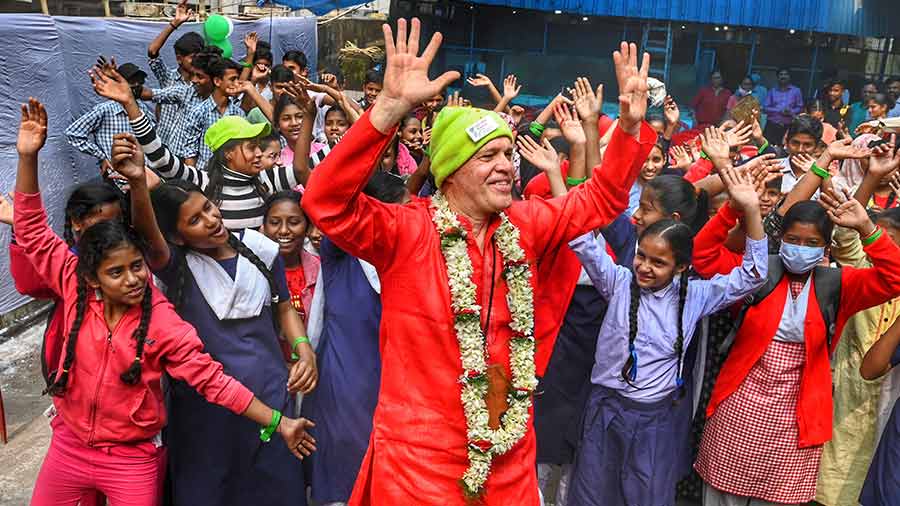 Hans Verdonschot shares a light moment with the NGO kids
Amit Datta/My Kolkata
Loos is certain that he will take a flight back to the Netherlands, buit Verdonschot is yet to decide on his route. "After a few weeks in Kolkata, I might take the same road back to my country," said the sexagenarian, with a child-like smirk.