A group of girls from underprivileged families, many of whom face discrimination at home, are being trained to make handicrafts to help them be independent.
The initiative aims at making them self-reliant, possibly earn a living and be able to resist discrimination and marriages that they are pushed into by family members.
Last year, the NGO that works with them had conducted a project with them aimed at reinstating their confidence drawing strength from Goddess Durga as a symbol of woman power in the run-up to the festival. Metro had reported how many of these girls were affected by the pandemic and felt a loss of self-worth.
A doctor who lives in the United States got in touch with NGO Calcutta Rescue after reading the article and provided them a grant to fund the training of the girls to help them become self-reliant.
Thirty girls from Classes IX to XII have been learning to make bags, jewellery, bags and handicraft items since February. The training will subsequently help them make a living.
"It was October 2020, and like so many, I was complaining about Covid-19 and the many changes in our life.
And then I saw an e-paper article... about this NGO 'Calcutta Rescue', working with underprivileged young girls.... These were children of pavement dwellers, who were unable to pass exams, forced by parents to get married or earn a living, made to feel worthless, demoralised," Lekha Subaiya, paediatrician anesthesiologist living in New Orleans, wrote to The Telegraph.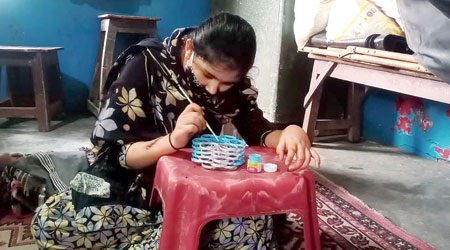 "So, I proposed to Calcutta Rescue that I would sponsor them with a personal donation, a project to teach these 13 to 17-year-old girls self worth, confidence, life skills and possible gainful employment," she wrote.
Subaiya called it the 'Durga project' since it was born in the Puja month last year.
"For surely, Durga resides within each of these young girls. They just need to get a chance in life," she wrote.
The pandemic has created havoc in the lives of these girls and they are now looking at the project as an opportunity.
Lucky Sharma, a Class XII student, is learning to make jewellery with wood and fabric.
"Even if I cannot continue with studies, this training will stay with me forever and help me earn a living," said Lucky, whose father is a van rickshaw puller.
The school administrator of Calcutta Rescue, Ananya Chatterjee, said that the skill training has raised the confidence of many of the girls.
"If they are able to earn something, they will be able to stand up for their rights at home and outside. Our aim is to make them independent and learning a skill and earning helps to do that," said Chatterjee.
"Not everyone is qualified or eligible to work in offices but this will help them make things and sell them," she added.